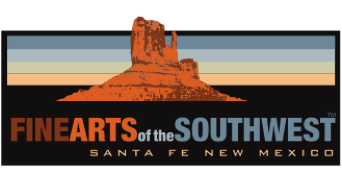 © 2010-2023 by Fine Arts of the Southwest, Inc. All rights reserved.
Unauthorized reproduction or use is strictly prohibited by law.
A beautiful Navajo Sterling silver belt
buckle with two sets of matched turquoise stones by A. Platero, c. 1950's-60's
We know almost nothing about the maker of this buckle, Navajo silversmith A. Platero, but the buckle speaks pretty eloquently for itself. It is a marvelous example of excellent design, superb craftsmanship and meticulous attention to detail. The buckle features two different and beautiful matched sets of very high-quality hand-cut turquoise stones set all the way around. There is a set of eight square-cut, blueish-green stones which are likely either Blue Gem or Royston, Nevada alternating with a set of six round-cut, dark-green circular cabochon stones which appear
to be from the King's Manassa mine in Southern Colorado. The square cut blue stones are also beautifully and carefully faceted upwards in a diamond-like shape and catch the light very nicely. The stones are all set in old
style "foldover" type silver bezels.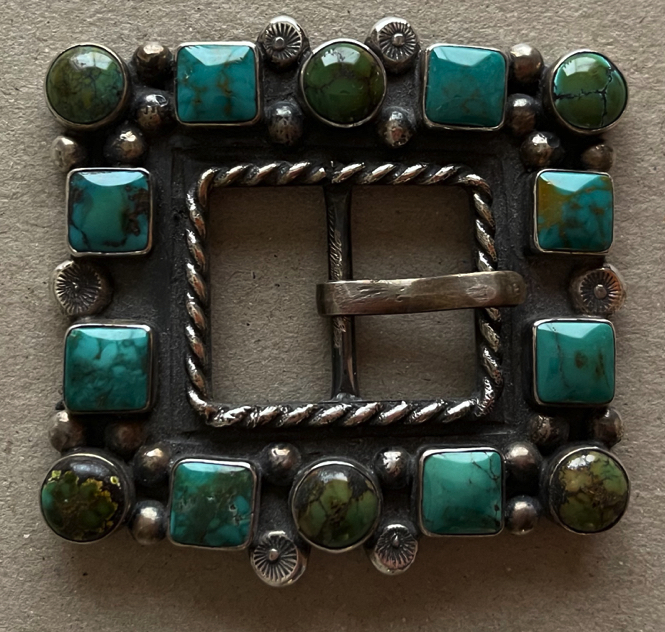 The turquoise stones are bordered all the way around by two rows of applied silver "raindrops" some of which have been beautifully stamped. The belt's center opening is decorated with a silver twisted wire surround. The buckle measures 2 1/4" in width and 2 1/4" in height and it weighs a very comfortable and easy to wear 40 grams or
1 3/8 ounces. It can accomodate a belt strap of up to 3/4" in width. The buckle is in excellent original condition
and is signed "A. Platero" for our unknown but obviously very skilled Navajo silversmith and is also marked "Sterling" on the back.
It occurs to us to mention with slight tongue-in-cheek that the unknown silversmiths name can be interpreted
thusly: "Platero" means "silversmith" in Spanish so the signature can be read simply as "A silversmith."
Achieve what the Navajo believe is the ideal state of being; "Walk in Beauty" with this beautiful buckle.
Please note that the leather belt shown here is for demonstration purposes only and is not included
in the sale of this buckle. If desired, we can recommend an excellent custom leathe belt maker in Santa Fe.
SOLD