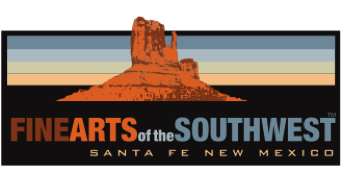 © 2010-2023 by Fine Arts of the Southwest, Inc. All rights reserved.
Unauthorized reproduction or use is strictly prohibited by law.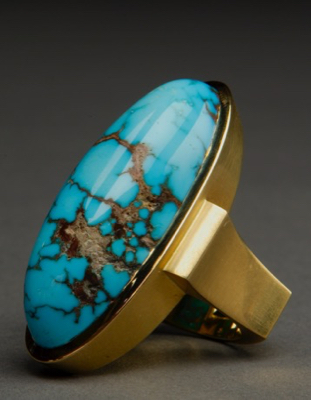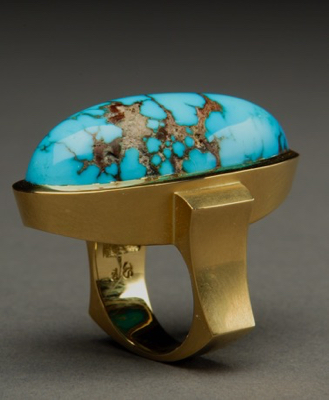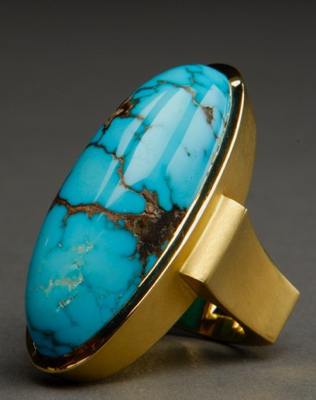 The nearly 4,000 year-old ancient "Egyptian collar of Senebtisi" made of gold with turquoise inlays, c. 1850–1775 BC.
Photo source and © Metropolitan Museum of Art, New York, NY.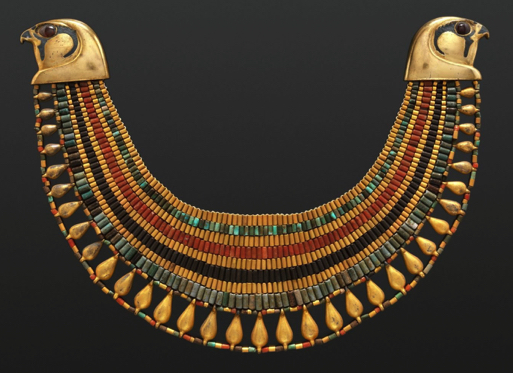 A spectacular 18K gold Cocktail-style ring set with
a magnificent large gem-quality Kingman, AZ turquoise stone by Ann Ziff, "Tamsen Z", New York City, 2005
Ann Ziff is an outstanding contemporary American fine-jewelry designer based in New York City. Ann very recently opened her first free-standing boutique under her company name, "Tamsen Z" on Madison Avenue in Manhattan. Ann took a very different path into creating art than many artists; she began as a prominent and enthusiastic art collector specializing in exotic jewelry creations with unique and unusual stones. Her intense interest in all aspects of jewelry creation led her to more deeply explore jewelry design and fabrication herself.
For the past twenty-five years or so, she has designed her exceptional rare jewelry creations for a discriminating audience of serious collectors, most often to custom order such as with this ring, and she has the pieces fabricated by several outstanding artisans whom she selects based on their abilities to properly execute her specific designs. In this way, she operates very much like the International fine jewelry houses of Cartier, Harry Winston, Buccellati, Bulgari, Van Cleef and Arpels and others who all have a cadre of fine craftsmen executing their Atelier's various designs.
We provided Ann with this outstanding, large, gem-quality Kingman, Arizona high-domed cabochon turquoise stone
which weighs approximately 85 carats and which measures an impressive 1 3/4" in length, 3/4" in width at its widest
point and a very considerable 1/2" in depth and commissioned her to design a ring around it in 2005. We asked her
to leave the back of the stone uncovered for maximum luminosity and to have another visual perspective on this marvelous stone. In our 35-plus years of dealing with fine turquoise, we have never seen a stone quite like
this one. It is a work of art in itself and requires a dramatic and artistic setting to match.
To say that Ann succeeded magnificently with the creation of this ring is to understate it by half, her elegant
swooping Modernist design showcases and accentuates the unique stone perfectly and impressively combining and melding the notions of historic Native American Southwestern turquoise jewelry with ultra-modern International jewelry design. This unique creative interpretation builds upon a long historical tradition of precious gold and turquoise jewelry having been made for several thousand years all around the world; Egypt, Persia, Greece, Rome, China and the various Pre-Columbian cultures of Meso-America. Even some of the British and other European
country's Crown Jewels are set with fine Persian turquoise.
The gracefully indented cut-out side panels of the ring's shank not only look beautiful but allow for a marvelous
and comfortable fit between the fingers on either side. The brushed matte "Florentine" style finish of the gold highlights the highly-polished surface of the stone to great visual effect as does the highly-polished rim of the bezel surrounding the stone, the polished gold under rim of the bezel platform and the equally-polished interior of the ring's shank. The wonderful contrast between the Florentine-finished brushed matte gold areas of the ring and the highly-polished gold areas provides for a wonderful and surprisingly unexpected visual appeal. The overall level of superior artistry and exalted quality craftsmanship on display here is simply outstanding; this is a world-class piece
of precious jewelry in every aspect.
The ring measures a size 8 1/2 to 8 3/4 on a professional graduated ring sizer. The ring's face measures 1 7/8"
in height, 1" in width at its widest point and the ring weighs a substantial yet extremely comfortable on the hand
40 grams or 1 3/8 ounces. The ring is quality-marked marked ".750" to denote its 18K gold content on the interior
and it is also stamped with the "JS" hallmark of the European craftsman who built it to Ann's original design specifications. The ring is in outstanding "like-new" original condition ready to delight and thrill its next fortunate owner for the foreseeable future.
This is a unique opportunity to own a unique custom precious jewelry creation by one of the most accomplished
and dynamic jewelry designers at work anywhere in the world today. It is a "statement" piece on steroids.
SOLD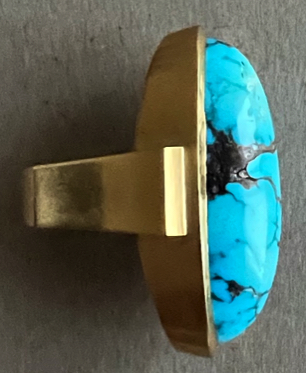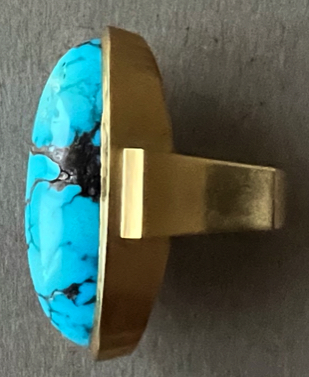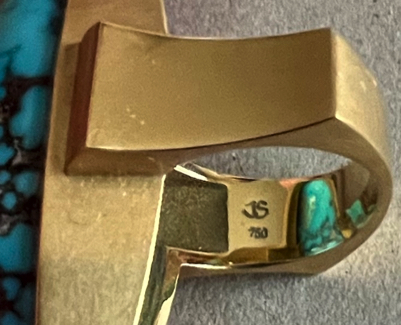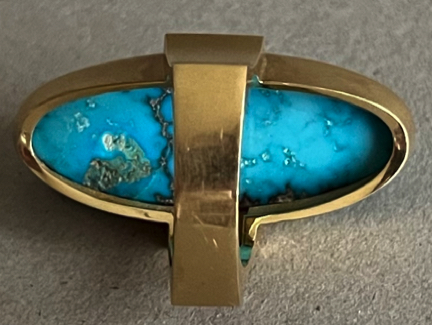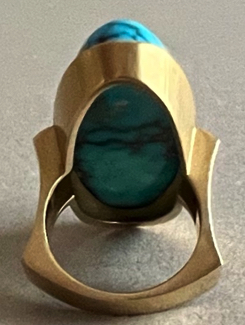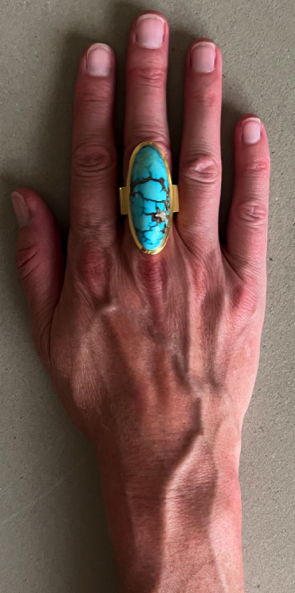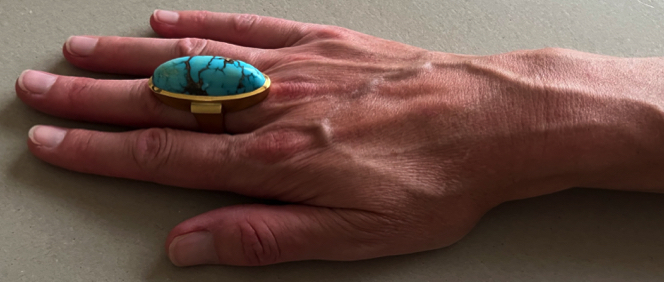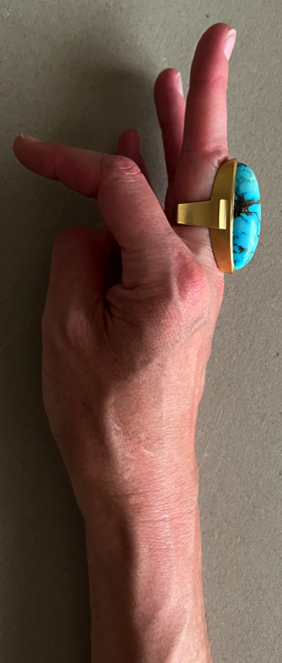 Kingman Turquoise
Copper mining in the Mineral Park Mining District around Kingman has produced a large supply of turquoise through the years. The Kingman mine re-opened in September 2004 after being closed since the 1970's. About 95% of Kingman is stabilized which makes it very affordable. The remaining 5% of the Kingman turquoise stays in its natural state. High-grade Kingman turquoise is medium to dark blue color and frequently flecked with pyrite and sometimes quarts. In its high-grade form it has always been considered among the top quality turquoise. The best Kingman being produced today is deep blue with black matrix with some being spider web.
-Kingman turquoise photo and text source and © Waddell Gallery, Scottsdale, AZ

Top row of photos by Addison Doty, Santa Fe.