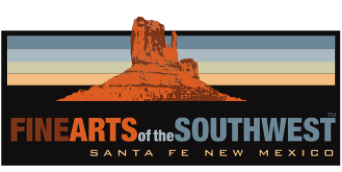 © 2010-2021 by Fine Arts of the Southwest, Inc. All rights reserved.
Unauthorized reproduction or use is strictly prohibited by law.

An outstanding historic Navajo cast-ingot silver and turquoise letter opener by Austin Wilson, c.1935-45
AUSTIN WILSON (1900-1976) is one of the major figures of 20th Century Navajo silversmithing; an extremely important artistic figure with a formidable imagination and talent. He came to prominence in the 1930's and 1940's working in a number of trading posts in and around the Gallup, New Mexico area where he lived, such as Kelsey's, Kirk's and Charles Ilfeldt. He eventually spent a number of very productive years working with the famed Zuni Indian trader, Charles Garrett (C.G.) Wallace. His modernist style designs were completely striking and his stamp work abilities can only be described as "astonishing."
It is very likely that given his obvious abilities, location and Modernist design sense that Wilson also did work for The Navajo Arts and Crafts Guild which was first based in nearby Fort Wingate, NM and later a few miles west in Window Rock, AZ. This cannot be known for certain without further documentation as NACG's regulations strictly forbid the use of individual artist's hallmarks on Guild pieces. Only the Guild's hallmark could be used.
Interestingly, Austin Wilson was one of the very first Navajo silversmiths known to sign his work and his now-famous bow and arrow hallmark prominently displayed on the back of this letter opener is an indication of exceptional beauty and superior quality. This letter opener measures 7 1/4" in length and is 3/4" in width at its widest point. It weighs 49 grams or 1 3/4 ounces and it is very precisely stamped on the reverse with Wilson's characteristically inventive and beautiful Modernist designs.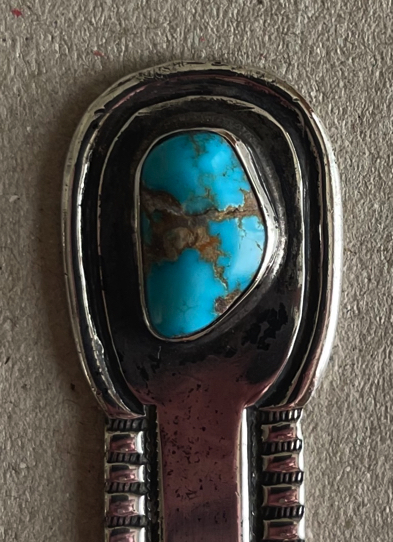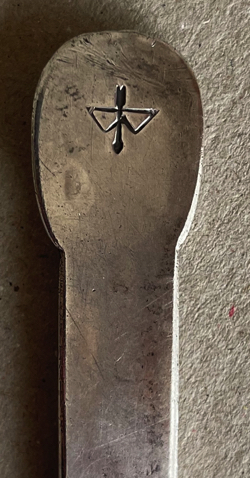 The opener is also set at the end with a fine turquoise stone which appears to be Cerrillos, New Mexico or Blue Gem Nevada, both of which were among the earlier turquoise Mines in America to produce turquoise with Cerrillos being the earlier. The letter opener is in excellent original vintage condition with some age-appropriate wear. The turquoise stone has a natural fissure running through it, but no damage or problems. Austin Wilson was also very influential as an esteemed colleague and teacher; his wife, Kathy, was also an accomplished silversmith and his two Nephews, McKee Platero and Harry Morgan both became distinguished silversmiths.
Have a truly splendid piece by one of the all-time greats on your desk or coffee table; take it in hand from time to time and feel its beauty, quality and history. Oh, and it also opens letters!
SOLD