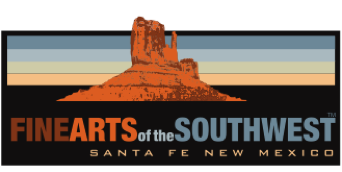 © 2010-2023 by Fine Arts of the Southwest, Inc. All rights reserved.
Unauthorized reproduction or use is strictly prohibited by law.
A particularly beautiful Charles Loloma Hopi
tufa-cast 18K gold band ring, c. 1975-80
Charles Loloma (1921-1991) is by any measure the gold standard of modern Native American jewelry. And, in our view, this gorgeous ring is an especially pure and essential expression of his exalted work. The finely-textured golden central band evokes the eternal timelessness and beauty and color of the shifting desert sands of the high mesas of his Hopi homeland and the delightful visual contrast between the somewhat roughly-textured center panel and the very highly polished edges catches and reflects the light perfectly highlighting the sun and the preciousness of the golden metal. It may look simple, but artistically and technically it is anything but. Rather, it is the distilled product of an extremely high degree of artistic and technical intelligence and discipline. To us, it is an ultimate and unadulterated artistic expression of precious metal and human adornment.
There are certainly many far more complex Loloma jewelry pieces, beautifully filled with intricate inlays and set
with multiple stones, but there is something essential and basic and timeless in this purposeful piece; think of it as
a perfectly-crafted precious metal body sculpture. The great Modernist architect Ludwig Mies van der Rohe captured this idea well in his famous dictum "Less is More".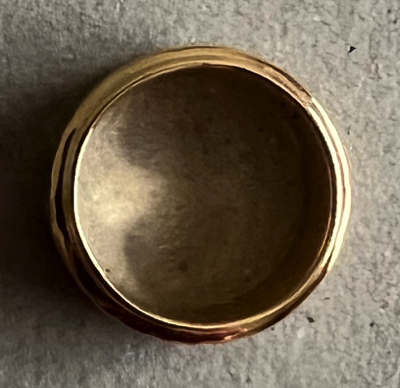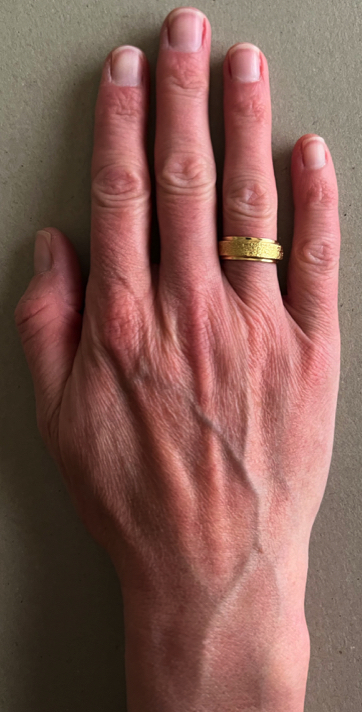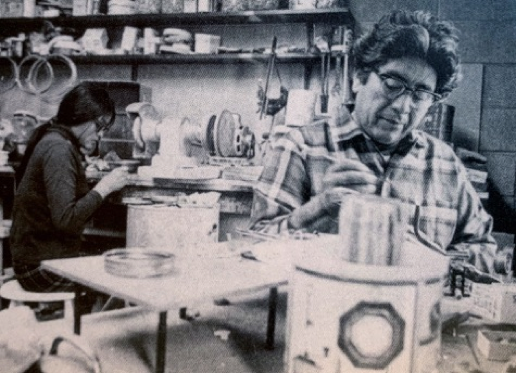 At left, a modern day view of Charles Loloma's former studio in Hotevilla, Arizona where this ring was made.
At right, Charles Loloma and his apprentice Verma Nequatewa at work in the Loloma studio, 1970.
Right photo source and © Eveli Sabatie, published in Martha H. Struever "Loloma, Beauty Is His Name", Wheelwright Museum of the American Indian, Santa Fe, 2005, pp.21
The eternal and essential nature of this ring makes us think that it would make an especially marvelous engagement
or wedding ring. We personally have worn gold wedding bands made by Charles Loloma, one inlaid with stones on the outside, one not, for the past two decades plus and we can well speak to how much beauty and satisfaction they have put into our lives both individually and together, but this ring would certainly be able to do exactly that when worn
in a completely different context as well.
The ring is 5/16" in width all the way around and it measures a size 7 1/4 to 7 1/2 on a professional graduated ring sizer. It weighs an extremely comfortable 10 grams or 3/8 ounce and it is in outstanding original condition and looks for all intents and purposes as if it has never really been worn. The ring is properly signed "Loloma" on the interior
and it is also marked "18K".
This essentially perfect object in essentially perfect condition also has an essentially perfect provenance.
It passed directly from Charles Loloma's hands into the hands of his niece, former apprentice, valued colleague and
for decades now one of the world's great jewelers in her own right, Verma "Sonwai" Nequatewa, who many years later passed it on to us. It was an honor for us to acquire such an essential piece in such a pure and direct way from the family of its distinguished creator and this will also be the case for whoever is the next very fortunate custodian
of this extremely precious piece.
SOLD
Provenance:
The Artist, Hotevilla, AZ
Verma "Sonwai" Nequatewa, Hotevilla, AZ
Fine Arts of the Southwest, Santa Fe, NM