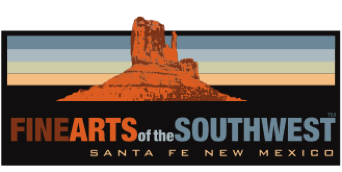 © 2010-2023 by Fine Arts of the Southwest, Inc. All rights reserved.
Unauthorized reproduction or use is strictly prohibited by law.
It's relatively little known today, but the world-renowned Hopi jewelry artist Charles Loloma (1921-1991) actually began his long artistic career as a young teenager in the late 1930's working as a painting assistant for the great Hopi artist and educator, Fred Kabotie (1900-1986). The young Loloma had been recognized by Kabotie at an early age as something of an artistic prodigy and, in this capacity, he helped paint a beautiful series of large Hopi Kachina murals for the landmark Golden Gate International Exposition on Treasure Island in San Francisco Bay in 1938-39 some of which are pictured below.
Another of Loloma's early Kachina murals, formerly from The Hopi High School, is presently on display in the permanent collection of The Heard Museum in Phoenix, AZ as pictured here. Loloma's fine artwork is little known as well because in general his abstract and figurative paintings and drawings have very seldom been publicly seen until quite recently but truth is Charles Loloma could hold his own with the very best of America's and Europe's great abstract Modernists, Picasso, Miro, Kandinsky, de Kooning, Rothko, Pollock, Kline etc.
An early Charles Loloma Kachina mural formerly in The Hopi High School now on display at The Heard Museum in Phoenix, Arizona.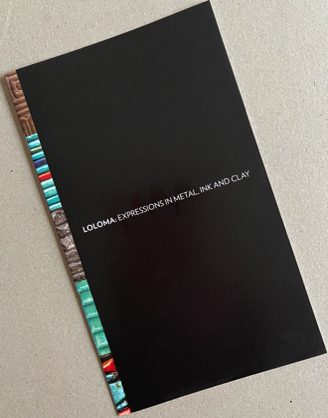 At left, eighteen year-old Charles Loloma in one of the Indian Court galleries of the Federal Building, Golden Gate International Exposition, San Francisco, 1939. At right, Charles Loloma's Hopi kachina paintings on display at the 1939 Golden Gate International Exposition in San Francisco.
Left and right photo source and © Denver Art Museum, Native Arts Department. Left photo reproduced in "Loloma, Beauty is His Name", by Martha Hopkins Struever, Wheelwright Museum, Santa Fe, 2005, pp. 5.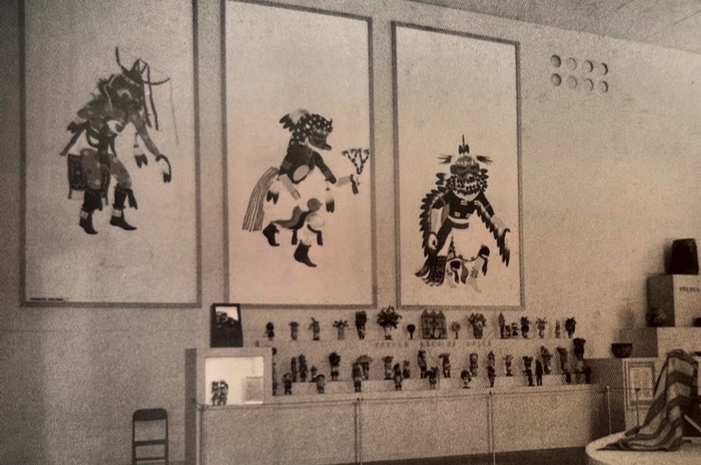 Above left, some of Charles Loloma's abstract drawings on display in The Heard Museum, Phoenix, AZ, 2015. At right, The Heard Museum's catalog of the exhibition, "Loloma: Expressions in Metal, Ink and Clay", 2015.
Wassily Kandinsky (1866-1944) "Untitled", 1922
Photo source and © wassilykandinsky.net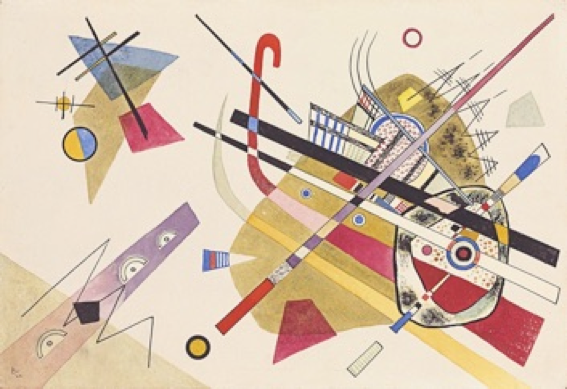 The drawing is most beautifully and archivally island matted to display the entire paper sheet and it is framed under "TruVue" conservation "Museum" glass in a finely hand-carved and beveled light maple wood frame crafted by Goldleaf Framemakers of Santa Fe, Santa Fe's finest fine art framers. The drawing's sight size is 4" in height and 6" in width and the framed dimensions are 11 1/8" in height and 13 1/8" in width. The drawing is in excellent original condition and particularly so given its forty-plus years of age. The drawing is properly signed "Loloma" at the lower center in a lovely signature quite similar in appearance to Charles Loloma's famous jewelry signature. The drawing is also titled "Untitled Original #28" in Charles Loloma's hand on the bottom of the verso.
The drawing has an absolutely letter-perfect provenance having come directly from the personal private collection
of Charles Loloma himself and his second wife Georgia Voisard Loloma. That Loloma kept this drawing for years after he
made it and for the rest of his life says quite a lot about how much he valued the piece and how much it meant to him. After Charles' death in 1991 the drawing passed on to Georgia Loloma and after her death in 2021 we acquired it from her estate.
This drawing is a rare, fresh and lovely Modern Abstract work from, and a direct and intimate personal connection to,
one of America's greatest Modern artists, who in his day job also happened to be one of the world's most renowned and
most innovative jewelers of all time, a true artistic polymath.
SOLD
In addition to his already highly-accomplished painting skills, Loloma went on to undertake a serious study of ceramics
in the late 1940's and, along with his first wife, Otellie Pasiyeva Loloma, became a distinguished professional art pottery maker. Only starting in the very late 1940's and early 1950's did Loloma begin his initial experimentations with jewelry-making which would eventually become his defining artistic career and legacy, yet through it all he kept on making drawings; of abstract compositions such as this one, of various Hopi village scenes, architectural renderings, landscapes, personal portraits and Hopi kachinas. There is no solid evidence that Loloma ever sold his drawings in any sort of commercial manner, however, he mostly made them for himself or gave them as gifts to various friends, colleagues and
family so in the marketplace they are quite scarce and very difficult to come by.
The fact that he basically lived a million miles from the world's contemporary art centers in remote, dusty, tiny Hotevilla, Arizona in the far reaches of the Hopi Indian Reservation contributed to this relative obscurity although throughout the 1970's and '80's he had plenty of jewelry shows held regularly at important Southwestern and California galleries and never once to our knowledge held a show of his marvelous and completely unique original drawings. To our knowledge, the only occasion on which a sizable number of Loloma's drawings had ever been exhibited until quite recently was at The Heard Museum in Phoenix, Arizona which staged a wonderful exhibition of Loloma drawings (several of which are pictured below) along with jewelry and pottery pieces in 2015 entitled "Loloma: Expressions in Metal, Ink and Clay.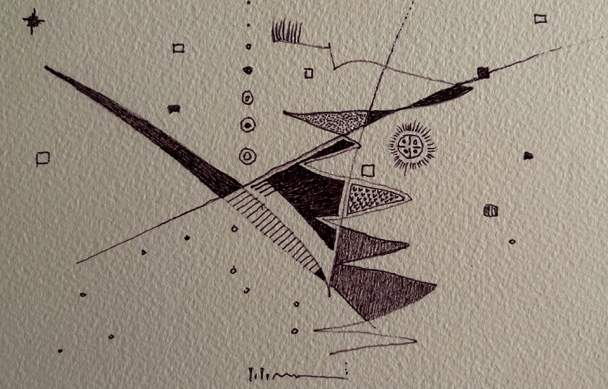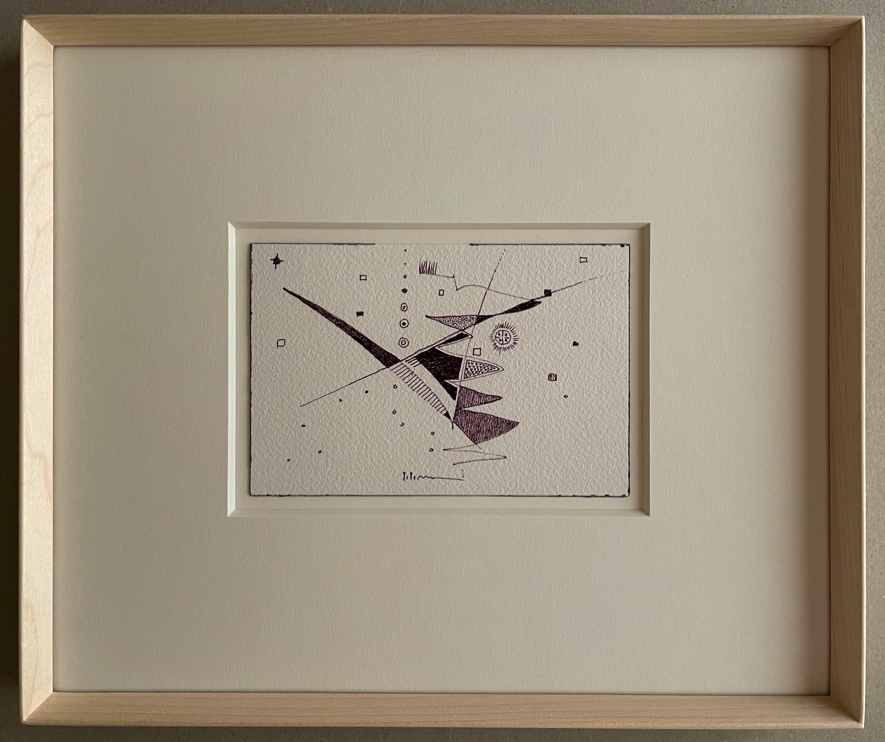 "If there is beauty in a piece of art, a person
can absorb it and become more beautiful."
-Charles Loloma
And not only are they extremely rare, Loloma's drawings are simply remarkable in their breathtaking quality and beauty.
We have had only a relatively small number of them in all over the past 35-plus years and in our opinions this is one of the finest and most interesting ones we have had yet. This drawing is done in fine black ink on beautifully-textured French Arches paper, the famed "Moulin D' Arches", one of the world's finest handmade artist's papers. The composition is an abstract form floating in space surrounded by a multitude of smaller satellite forms as if constellations circling around a large heavenly body. Loloma's command of the line is extraordinary and there is a unique freshness and spontaneity to the piece as if he suddenly had the idea, sat down and did it in fifteen inspired minutes, a beautiful thought that just came right out perfectly and fully realized; a polished and sophisticated presentation. The feeling here of the abstract forms being suspended or floating in air and space and time is lovely and otherworldly, at once spontaneous, harmonious and peaceful and somewhat whimsical. Wassily Kandinsky would be proud, and probably a bit jealous!

The drawing pictured with an original Hopi ceramic vessel by Charles Loloma,
signed and dated 1952. This ceramic will be available for sale here soon.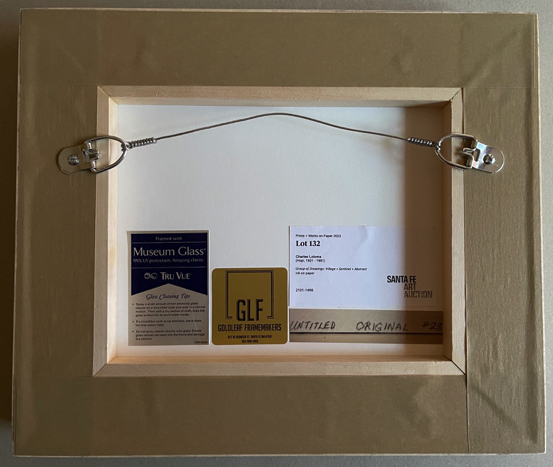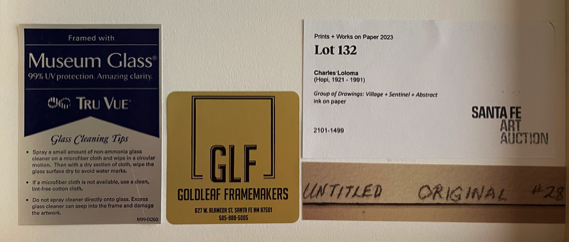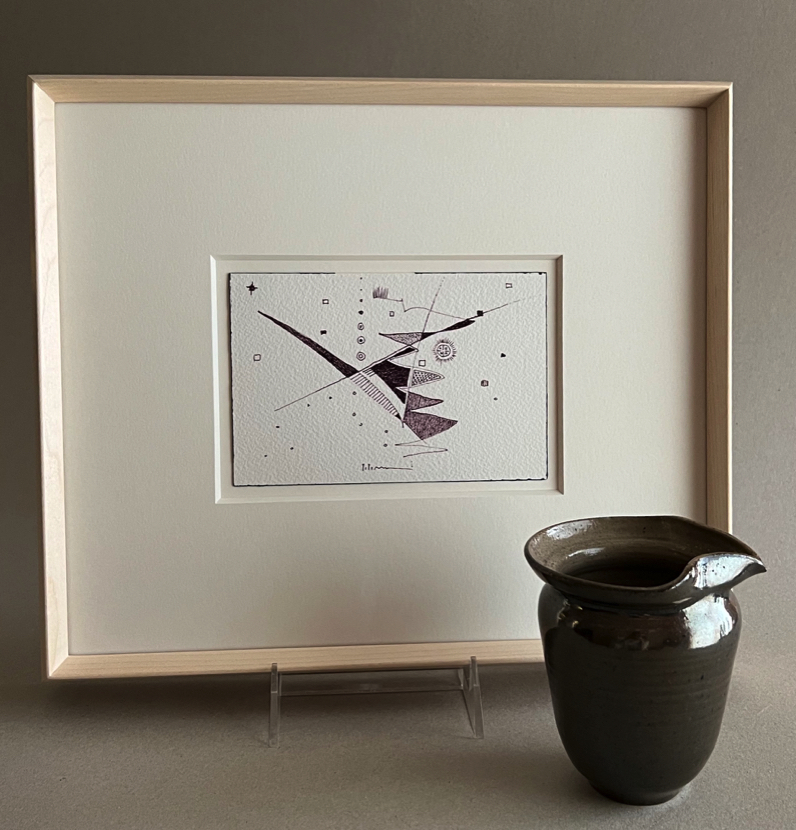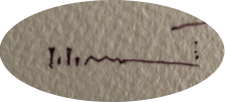 A beautiful, original Hopi Abstract Modernist ink on Arches paper drawing by Charles Loloma, c. 1980
Ex: Charles Loloma Personal Collection