© 2010-2022 by Fine Arts of the Southwest, Inc. All rights reserved.
Unauthorized reproduction or use is strictly prohibited by law.

A spectacular pair of silver, turquoise and hand-blown stained glass earrings by Eveli Sabatie, c. 1980's
Even by the extremely high standards of Eveli Sabatie's (b.1940) unusual and distinctive jewelry work, these earrings are out of this world beautiful. They have a marvelous and completely original composition, beautifully combining Native American influences and materials Eveli learned during her close apprenticeship with the renowned Hopi jeweler, Charles Loloma (1921-1991), with earlier North African, Arabic, French and Spanish influences from the elaborate and colorful, inlaid mosaics and tiled floors and the exotic carved woodwork she saw around her during her childhood and young artistic life in Algeria and Morocco.
The general shape of the earrings is that of the Native American "Morning star" or four-pointed, contoured star design, delineated by a finely inlaid, complex, beautifully-beveled panel composed of 17-18 separate pieces of different types of turquoise. Surrounding this inlaid turquoise panel is an elaborate and even more complex perimeter border of carved and filed silver work with floral motifs which bears a distinctively Moroccan appearance. Possibly, the most interesting feature of all are the earrings large diamond-shaped central panels which are composed of purplish-pink pieces of handblown stained glass, a completely unexpected and absolutely delightful touch. How this came to be is an interesting story. Eveli made these earrings for the stained glass artist, Mary Myers, who created the stained glass windows in Charles Loloma's home and studio where Eveli then worked in Hotevilla Village on the Hopi Third Mesa.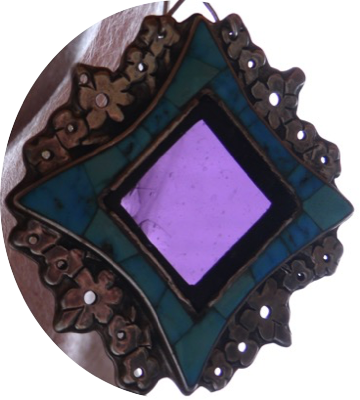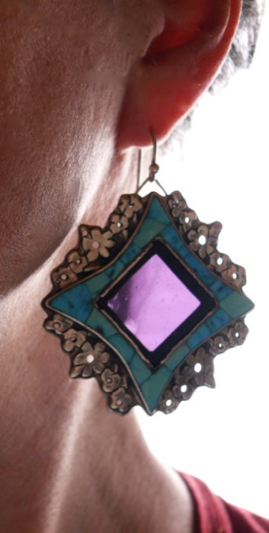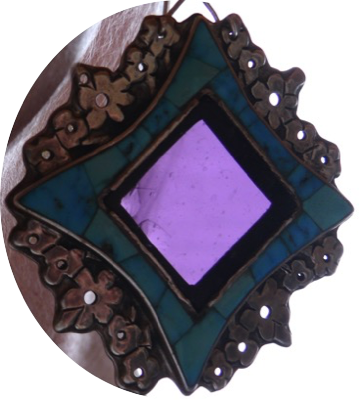 As is Eveli's custom, she gave the earrings the somewhat mysterious name "Mirrors of Oblivion" as their somewhat exotic almost otherworldly appearance might suggest. Eveli also featured a photo and description of the earrings in her very recent book, "A Jeweler's Memoir". To view our website listing of this beautiful book, please click here.
The earrings measure 2 1/4" in height and 2 1/8" in width and have a drop length of 2 3/4". They weigh a substantial,
yet very wearable, 21 grams or 3/4 ounce each. They are in excellent original condition overall. There is a tiny chip
in one of the stained glass panels. Both earrings are properly signed "Eveli" on the back.
Eveli Sabatie's work was the subject of a beautiful and comprehensive retrospective exhibition at Santa Fe's Wheelwright Museum of the American Indian in 2016-2017. We have been buying and selling Eveli Sabatie's exceptional jewelry work for over 30 years now, and, in that time, we have had only 19 of her pieces. (They are not easy to come by, to say the least.) In our personal opinions, these fascinating and extraordinary earrings are among the best and most interesting of those pieces we have had.
SOLD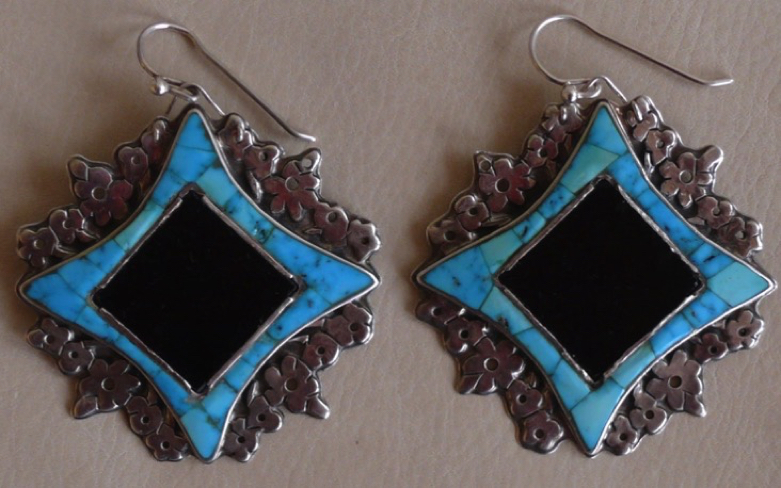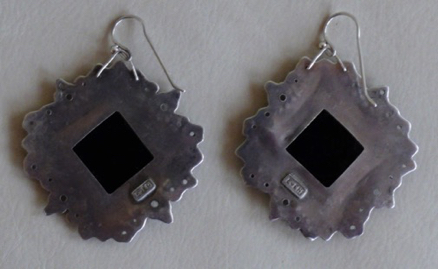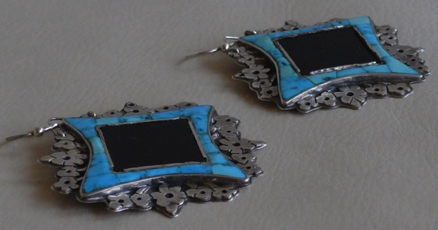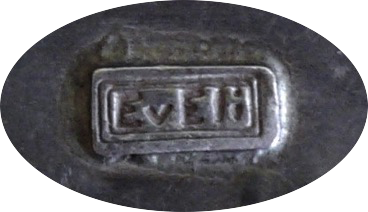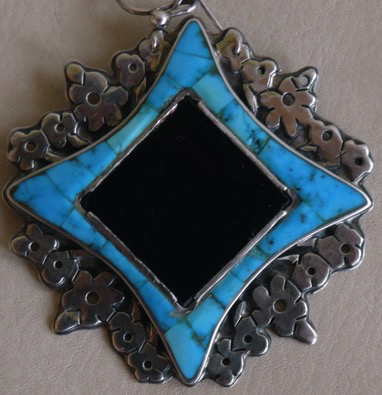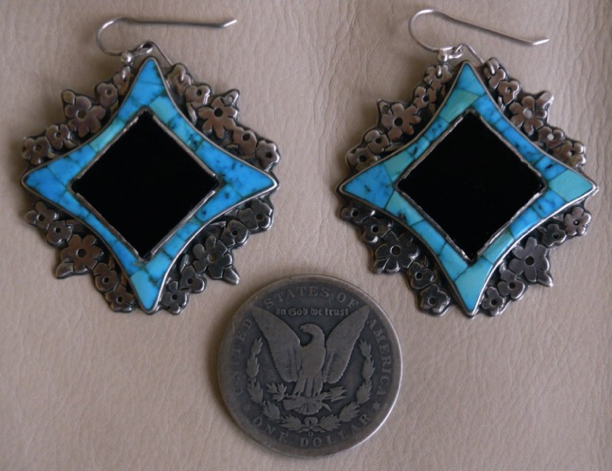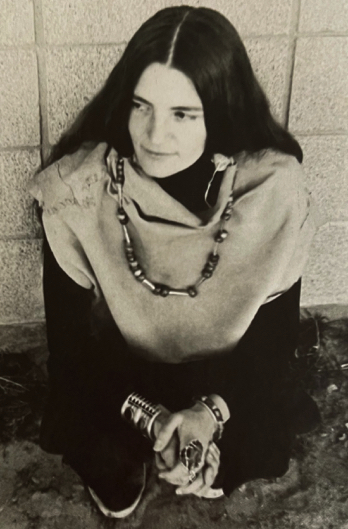 At left, the front door of the Loloma studio with inlaid stained glass by Mary Myers, c. 1970's. Charles Loloma, Eveli Sabatie
and Verma Nequatewa passed through this door each day. At right, Eveli in Hotevela, Arizona, March 1972.
Left photo source and ©"Visions of Sonwai", by Verma Nequatewa, Sonwai, Inc., 2007. Right photo source and © Eveli Sabatie, "A Jeweler's Memoir", ACC Art Books Ltd., 2022