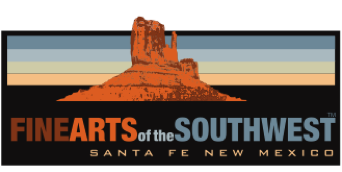 © 2010-2023 by Fine Arts of the Southwest, Inc. All rights reserved.
Unauthorized reproduction or use is strictly prohibited by law.
A magnificent large silver, turquoise, lapis lazuli
and moonstone ring by Eveli Sabatie, c.1970's-80's
This exceptional piece came from the infinitely fertile imagination and highly-skilled hands of the extraordinary, French-Moroccan jeweler, Evelyn (Eveli) Sabatie (b.1940). Eveli's career was launched in rocket-like fashion with her several years long apprenticeship to and very close collegial collaboration with the legendary Hopi jewelry artist, Charles Loloma from 1968 to 1972 after which she moved to Santa Fe, New Mexico to continue working on her own.
From Loloma (1921-1991), Eveli learned the basics of jewelry fabrication and design and she incorporated her own inspired sense of design, colors and materials gained from her childhood and young adulthood spent making art amidst the sophisticated designs and elaborately inlaid, extravagantly-colored tiles, complex ivory and wood carvings of her native Algeria and Morocco into her jewelry. Because initially money was very tight, Eveli began making her jewelry by often incorporating simple, inexpensive materials such as bleached beef bones, various woods and a variety of semi-precious stones into her pieces.
In this way, the student taught the teacher, as well as vice versa, since Loloma was clearly influenced by many of Eveli's innovative ideas, designs and materials and several developments which Charles is generally credited with creating, such as peek-a-boo inside inlay and elaborate, multiple interior and exterior mosaic-style inlays might very possibly have originated with or been inspired by Eveli. In any case, one can easily see their considerable influence on each other and how Loloma incorporated some of Eveli's ideas into his own jewelry creations and vice versa
as he said in his own words.
"She is innovating even more on her own—her style has some influence because she was trained here….Her style is really…her own and is now starting to have a strong flavor of North Africa…parts of her innovation I also incorporated back."
—Charles Loloma discussing the work of Eveli Sabatie in a later interview with Erin Younger, May, 1978, Heard Museum Phoenix.
Quoted in Martha Struever, "Loloma, Beauty Is His Name", © Wheelwright Museum, Santa Fe, 2005, pp.19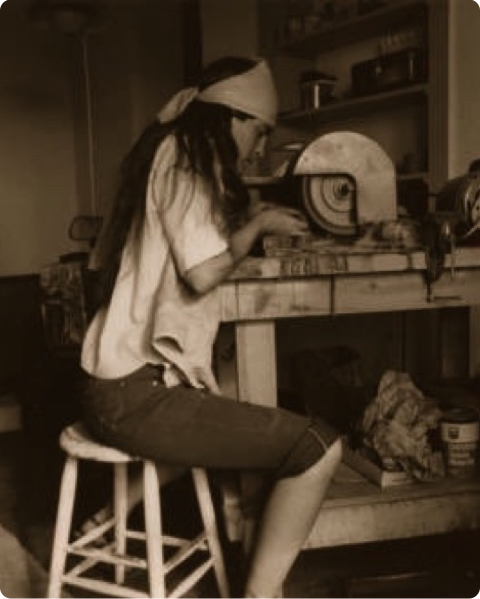 At left, Eveli Sabatie making jewelry in her Santa Fe studio, c. 1970's. At right, Eveli's view of the Hopi Buttes as she walked to work each day from her home in Kykotsmovi Village to the Loloma Studio in Hotevilla Village on the Hopi Third Mesa.
Left photo source and © Richard Smith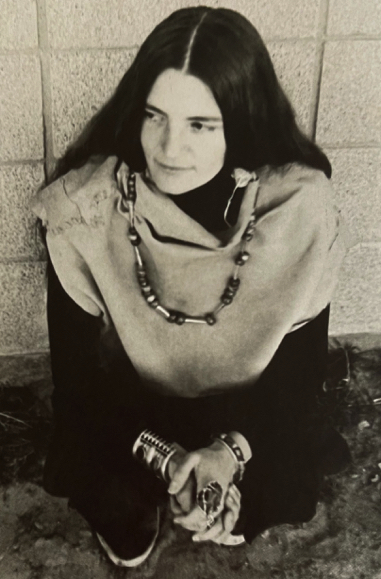 Eveli in Hotevela, Arizona, March 1972.
Photo source and © Eveli Sabatie, "A Jeweler's Memoir", ACC Art Books Ltd., 2022
"To wear the jewelry of Eveli
is to walk the path of a wanderer,
of a story teller,
stopping along the way to mirror
North Africa, Paris, Hopi—
to find the road home."
-James McGrath, "To Wear the Jewelry of Eveli"
Quotation source and © "Eveli Sabatie,
A Jeweler's Memoir", ACC Art Books, 2022, pp.1V
"Looking through a jeweler's lens, I see myself as an offshoot of the great movements of history. I see myself literally carried by its trading waves, from North Africa, to Spain, to South and Central America, and the modern American Southwest. It seemed like I had walked these roads many times before, and jewelry seemed to be in my blood."
-Eveli Sabatie
Quotation excerpt source and © "Eveli Sabatie,
A Jeweler's Memoir" by Eveli Sabatie , ACC Art Books, 2022, pp.23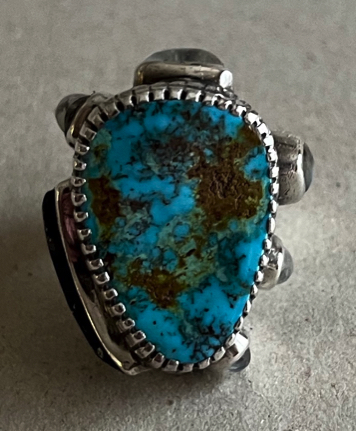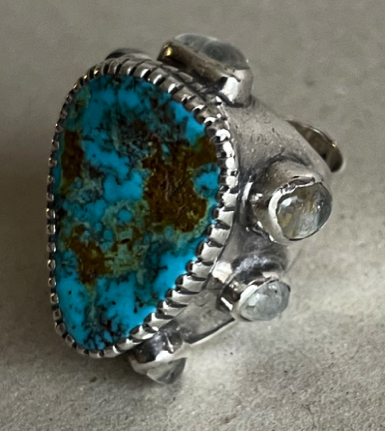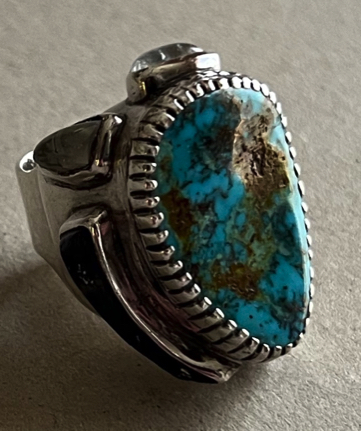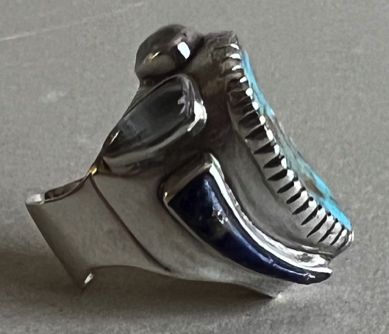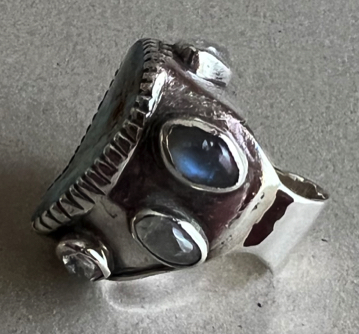 This ring is an elaborate Eveli composition done on a fairly large scale; the fabricated silver shank is made with a very deep bezel platform into which a multitude of stones are set, a beautiful large triangularly-shaped piece of hand-carved and deeply-contoured high-grade Pilot Mountain, Nevada turquoise is set into the ring's top mounted into a complex, finely-serrated silver bezel. Around the entire outside perimeter of the ring are set seven more stones, one marvelous crescent-shaped large piece of blue lapis lazuli and six blue-grey moonstones of various sizes, all individually set into separate old-style "foldover" type silver bezels. Due to its wonderful dynamic interplay of various surfaces, shapes, colors and textures, the entire composition has a marvelous organic "alive" quality and projects an almost fairy-tale sense of preciousness and luxury. Cinderella meets The Arabian Nights, if you will.
The ring measures a size 6 1/2 to 6 3/4 on a professional graduated ring sizer, but due to the unique oval shape of
the shank and the somewhat top-heavy nature of its shape and construction, we believe that it would fit best on finger sizes from 7 1/2 to 8. The ring's face measures just under 1 1/2" in height and it is 1 1/4" in width and it weighs a substantial 36 grams or 1 1/4 ounces. It rises about 1/2" above the finger. The ring is in generally excellent original condition overall with a minor degree of age-appropriate wear. There are very small chips in two of the moonstones on one side of the ring, but these are of no real consequence. The ring is properly signed "Eveli" in the artist's usual signature on the interior.
This ring makes a wonderful and striking artistic and physical statement, it will literally take over whatever room
it is in. And this is precisely as it should be as this is a most imaginatively-conceived and beautifully-crafted piece
from one of the most innovative and accomplished Southwestern jewelers in history; a uniquely precious, wearable three-dimensional modern sculpture of silver and stone.
If you are interested in Eveli Sabatie's jewelry, you might be interested in "EVELI, A Jeweler's Memoir".
To view our website listing of this unique and wonderful book, please click here.
Price available upon request
SOLD