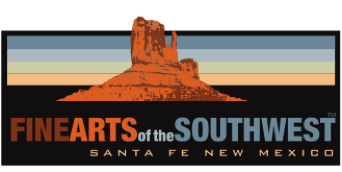 © 2010-2023 by Fine Arts of the Southwest, Inc. All rights reserved.
Unauthorized reproduction or use is strictly prohibited by law.
An exceptional, large vintage Hopi Polychrome
pottery bowl by Garnet Pavatea, c.1940's to 50's
ex: J.L. Hubbell Trading Post, Winslow, Arizona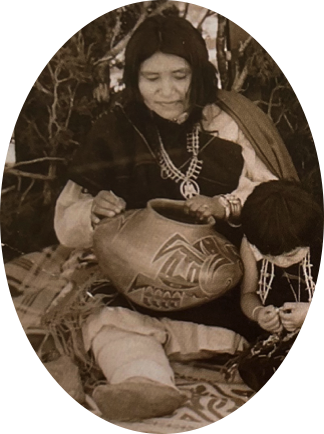 At left, Juan Lorenzo (J.L.) Hubbell, c. 1900-1905. At center, the old Hubbell Trading Post in Winslow, AZ. At right, Garnet Pavatea painting a pottery jar, c. 1950's
Left photo source and © National Park Service. Center photo source and © Wikipedia. Right photo source and © Frashers Fotos.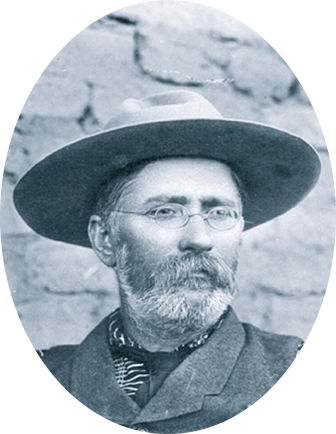 The provenance here is also noteworthy, this bowl comes from the collection of the famous old J.L. Hubbell Trading Post in Winslow, Arizona. Juan Lorenzo (J.L.) Hubbell (1853-1930) was one of the most prominent and perceptive Indian Traders of his day and was well known for always carrying the finest Hopi pottery by the finest Hopi potters in his extensive network of Southwestern trading posts anchored by his flagship posts at Ganado and Winslow, Arizona; a tradition well carried on by his son Roman when he took over the Winslow Hubbell Trading Post operation in 1921. The work of emminent potters such as Nampeyo, Fannie, Annie and Rachel Nampeyo to Paqua Naha and later, Garnet Pavatea, her sister Myrtle Young, Priscilla Namingha and Joy Navasie could all be found there. The Hubbells themselves or their various purchasing agents scoured the Hopi mesas regularly looking for great pottery examples to purchase or trade for.
We do not know when or how this particular piece came to be in the Hubbell trading post, but it could easily have been brought there and traded by Garnet Pavatea herself or purchased from her at Hopi by one of the Hubbell Trading Post's various buyers or agents. An old period Hubbell Trading Post trade token, pictured above, is included in the sale of the bowl as a small memento of this excellent provenance.
This superlative bowl by this distinguished and highly-accomplished historic Hopi artist would be a fine addition
to any collection anywhere.
SOLD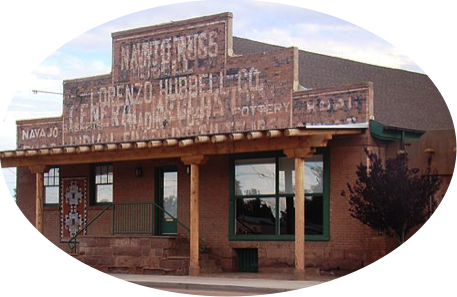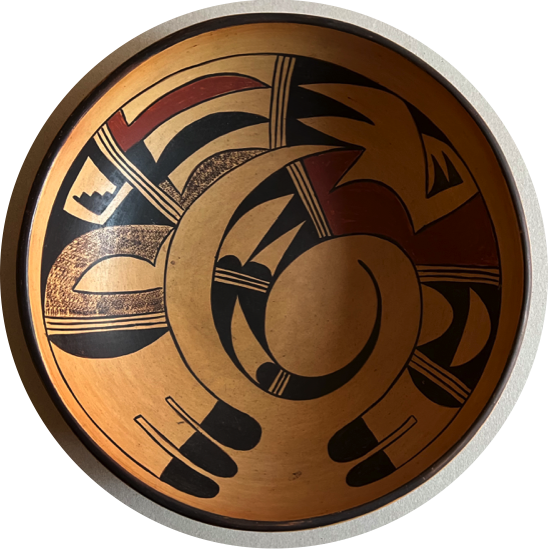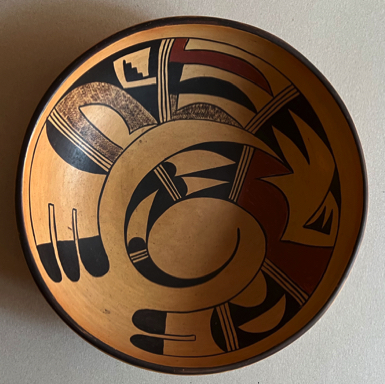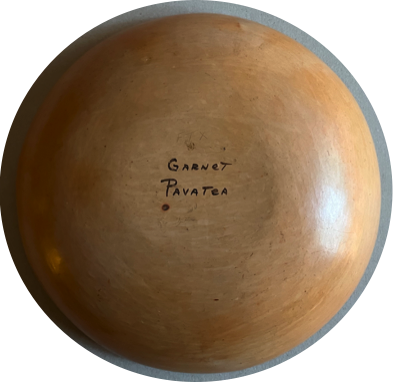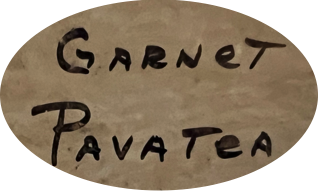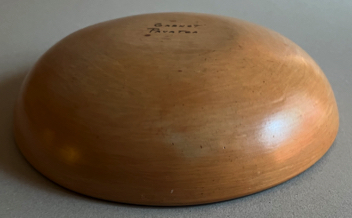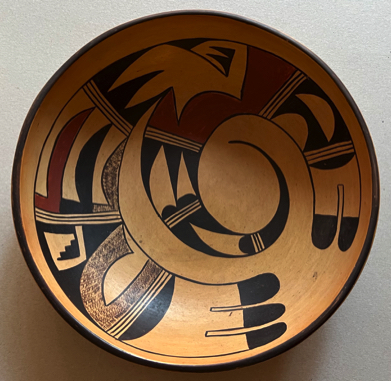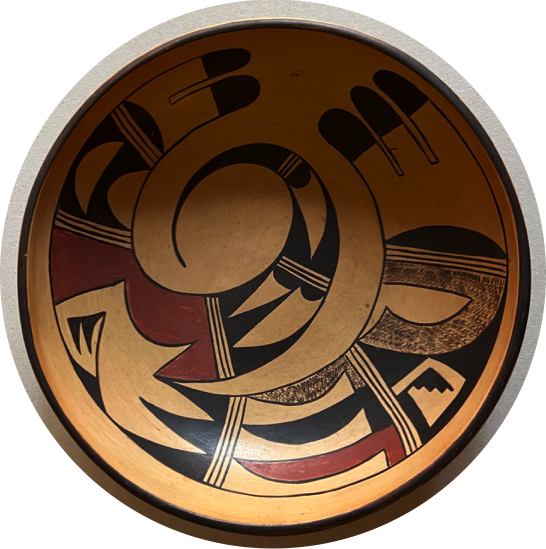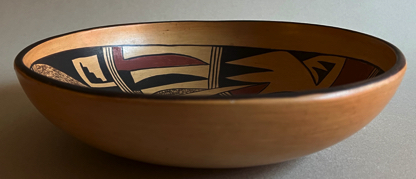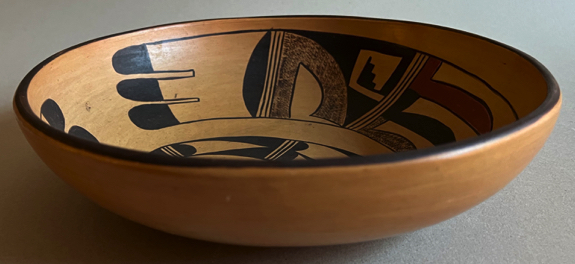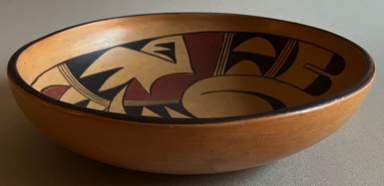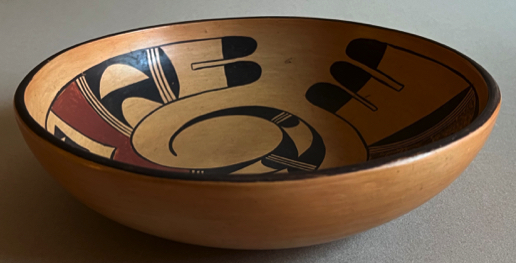 One of our very favorite Hopi potters of the 20th Century is the great Garnet Pavatea (1915-1981). Her pottery,
like her personality was intense; strong, decisive and powerful. Her pieces were always very beautifully formed and boldly and distinctively decorated.
Garnet was a woman and an artist of strong opinions, she notably carried on a running feud of sorts over the years with various members of the Nampeyo family over their continued complaints that she was using what they viewed as "their" proprietary family pottery designs such as the "eagle-tail" design and the "Migration" pattern. Garnet famously and loudly responded to anyone who would listen her view that all Hopis owned and thus were all entitled to use all Hopi designs and that these designs were not and should not be considered the property of any one particular Hopi family.
This wonderful, larger-sized polychrome bowl is completely typical of Garnet's excellent work; beautifully formed and stone-polished, boldly painted with stylized bird and feather designs and perfectly fired. Interestingly, the majority of the designs are executed in black paint only with just two panels painted deep red which gives them a beautiful and
subtle emphasis within the overall design.
The bowl measures a very good-sized 10" in diameter and is 2 3/4" in height. It is in remarkably excellent original
condition, particularly for its 70-80 years of age. There is a small ding or scratch here and there, but nothing of real consequence. A thorough examination of the vessel under Ultraviolet light reveals no evidence of any restoration
or overpainting anywhere. The bowl is properly signed "Garnet Pavatea" in her customary signature on the bottom.