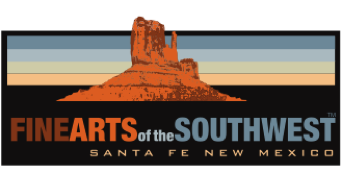 © 2010-2022 by Fine Arts of the Southwest, Inc. All rights reserved.
Unauthorized reproduction or use is strictly prohibited by law.
A pair of extraordinary Modernist-style Sterling
silver and Nevada spiderweb turquoise nugget earrings
by H. Fred Skaggs, Scottsdale, AZ, c. 1950's-60's
It is a stark truism that the art world is inherently unfair and that exceptional talent and ability is not always exceptionally noticed or rewarded. One of the most notable examples we know of this is the case of H. Fred Skaggs (d.1982), an unsung hero of the jewelry world. Unlike his now world-famous jewelry student, Charles Loloma (1921-1991), Skaggs is not a household name today, but he was a fantastic, far ahead-of-his-time jeweler with great artistic vision and truly exceptional technical virtuosity. In the late 1950's, there was a potent artistic witches brew of sorts occurring at The Kiva Craft Center on downtown Scottsdale Arizona's 5th Avenue. Conceived of and facilitated by the talented Native American fashion impresario and Educator, Lloyd Kiva New, the idea was to provide live and work space for various artists to make and sell their creations within a defined artistic community and in the process to feed off each others proximity, creative energy and inspiration.
In addition to Kiva New himself, some of the most prominent artists in residence at Kiva Craft were Modernist jeweler, H. Fred Skaggs and Hopi Indian painters and ceramic artists Charles Loloma and his wife Otellie. This idea of one artist inspiring another worked perfectly with Skaggs and Loloma. Skaggs admired Loloma's pottery pieces and he offered to trade him jewelry-making lessons for them. Loloma, who found Skagg's jewelry fascinating, readily agreed to the arrangement and history was thus made.
For almost the entirety of his career, Skaggs worked quietly and modestly in his small Scottsdale shops where he made and sold his daring Modernist silver and gold jewelry for decades from 1956 until his death in 1982. Skaggs shunned the limelight, but he influenced generations of jewelers to come with his innovative shapes, technical mastery and creative uses of metals and stones. For the rest of his storied jewelry career, Loloma always credited Skaggs with being his biggest influence and indeed you can see the genesis of many of Loloma's "signature" ideas in earlier work done by Skaggs; the triangular "Shield" style earrings such as the ones you see here, the daringly shaped bracelets and rings and the use of multi-colored often unusual stone settings and the dramatic manipulation of polished and unpolished metal surfaces in the same piece.
These exceptional earrings are a perfect example of Skagg's using his imaginative aesthetic and exceptional craftsmanship to create a beautiful and unique artistic Modernist Southwestern statement. The earring's large triangular undulating folded silver bodies themselves are an extraordinary and daring conception with their mixture of highly-polished bright silver areas and darker textured silver areas. This contrast between the bright polished surfaces and the darker inner recessed surfaces sets up a marvelous contrast and visual tension which serves to perfectly frame and highlight the large, outstanding beautifully matched pair of large asymmetrically-shaped natural blue spiderweb turquoise nuggets which we strongly believe are from Nevada's world-renowned Lone Mountain turquoise mine. The undulating surfaced nuggets are very nicely set in plain silver bezels. All in all, it's an exceptional visual presentation. Simply put, these earrings are a knockout.
The earrings are mounted on their original clip closures which could easily be converted to posts by a qualified professional jeweler, if ever desired. The earrings measure 1 1/2" in height and are 1 1/2" in width. Despite their impressive size, they weigh a very comfortable and easy-to-wear 16 grams or slightly over 1/2 ounce each. They are in com/pletely excellent original condition with a very slight amount of age-appropriate wear and they are properly signed "H. Fred Skaggs" and are also marked "Handmade" and "Sterling" on the backs. These earrings are precious, beautifully-fashioned pieces by someone who was one of America's most imaginative and accomplished jewelry artists himself and who was the formative teacher of and inspiration to the most significant and renowned Native American jewelry artist of all time.
These startlingly, almost wildly modern earrings were created in modest and humble circumstances by a unique
and self-effacing individual who spoke loudest and most eloquently through his art. They were created at a great distance and under conditions vastly different from those in the fancy high fashion jewelry houses in the major jewelry capitals of the world, but we are certain that the great artisans at Tiffany, Cartier, Van Cleef and Arpels, Bulgari and Harry Winston would all have been proud to say they had conceived and created these earrings.
SOLD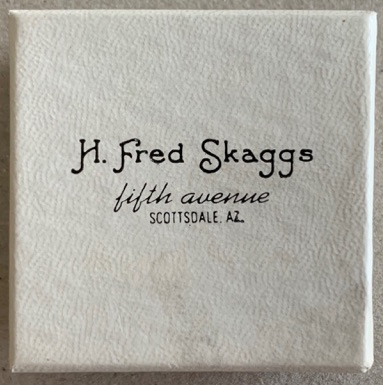 The "Skaggs Fifth Avenue" Box
Fred Skaggs clearly had a very sly sense of humor. Notice the distinct resemblance in name and design presentation on his jewelry box to the famous "Saks Fifth Avenue" department store in New York City. Fifth Avenue in dusty, little Scottsdale, Arizona in the mid-to-late 1950's had yet to become a world-famous shopping destination, but a small group of talented and dedicated artistic friends, colleagues and collaborators at Scottsdale's Kiva Craft Center led by Lloyd Kiva New, H. Fred Skaggs and Charles and Otellie Loloma were in the process of changing that forever.
Sorry, this cardboard box is not included in the sale of this pair of earrings.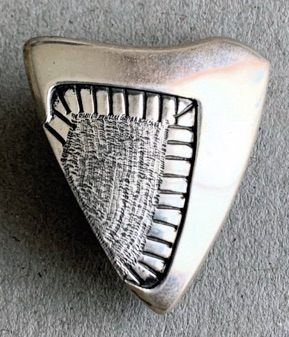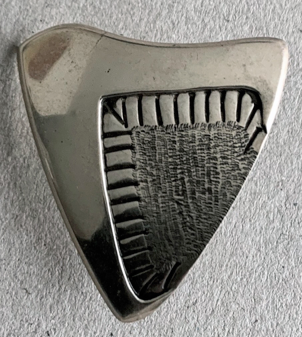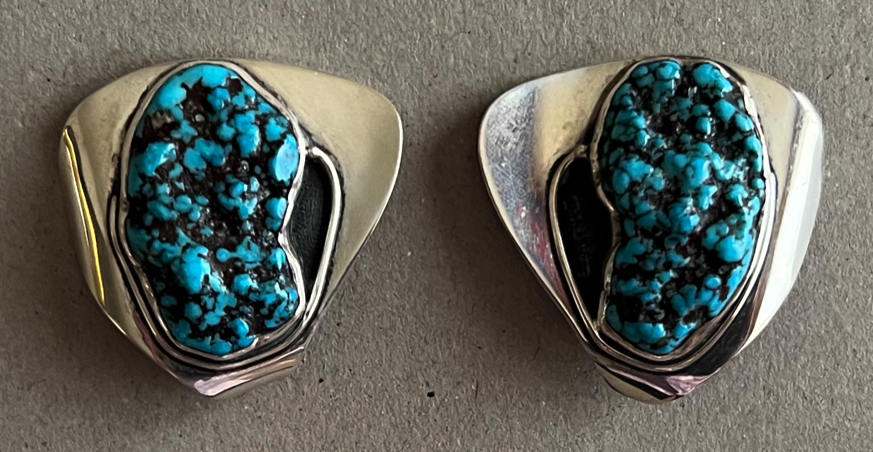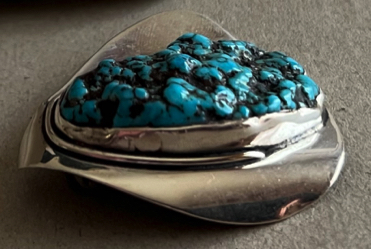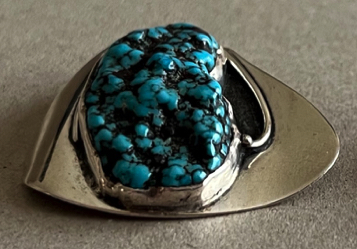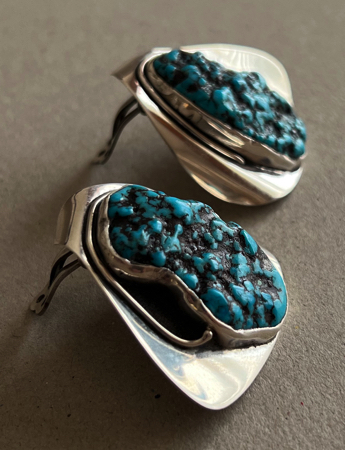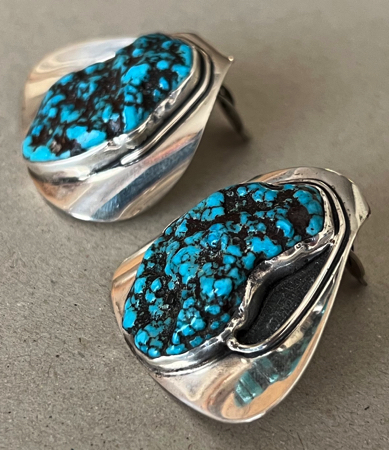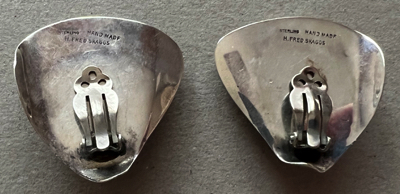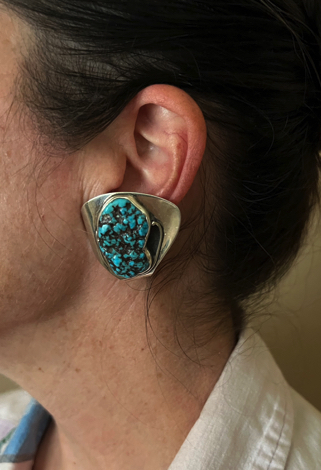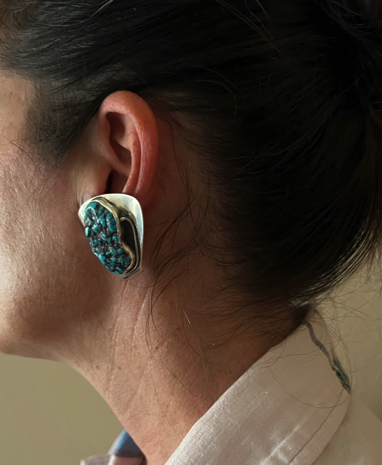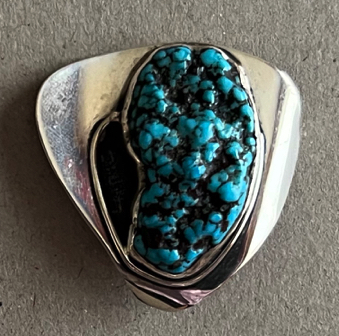 At left and right, Charles Loloma "shield" style silver earrings from approximately the same time period. Skaggs' influence can be seen in the general shape, contour and the contrast between brightly colored silver areas and darker more textured silver areas. To view our website listing of these Charles Loloma earrings, please click here.