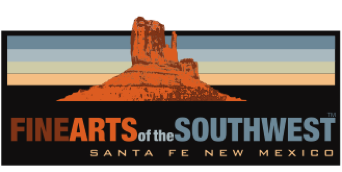 © 2010-2023 by Fine Arts of the Southwest, Inc. All rights reserved.
Unauthorized reproduction or use is strictly prohibited by law.
An extremely rare and historic Navajo silver and Lone Mountain Nevada spiderweb turquoise nugget ring made for The Fred Harvey Company and hallmarked with the Fred Harvey Company's signature logo, c.1930-1950
This is only the third Navajo jewelry piece marked like this that we have ever seen in our 35-plus years of experience and the other two pieces, a bracelet and another ring were both on the same exalted quality level
as this superlative ring. There are two parallel discussions here; first of the ring itself and then of the famous company under whose renowned signature it was made and sold.
The ring is an extraordinary and exceptional melding of outstanding traditional Navajo jewelry artistry and superlative craftsmanship. It is constructed in a signet ring type of style to hold and showcase a large central stone. And what an incredible stone this one is; a large and splendid natural nugget of rare Lone Mountain, Nevada spiderweb turquoise, one of the world's finest, most desirable and now most expensive varieties of turquoise. Lone Mountain is renowned for its stunning blue color and for holding it which means that the color never changes, fades or darkens over time. This luscious stone nugget was lightly polished, but some of its natural rugged surface remains and has a marvelous look and tactile feel. The nugget is presented in a fascinating and most dramatic manner. Initially, the stone was set into a finely nandwrought serrated or sawtooth circular bezel which in turn
is surrounded by a circular panel of chisel work, perfectly applied in parallel strokes all the way around.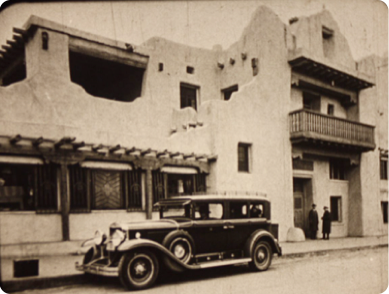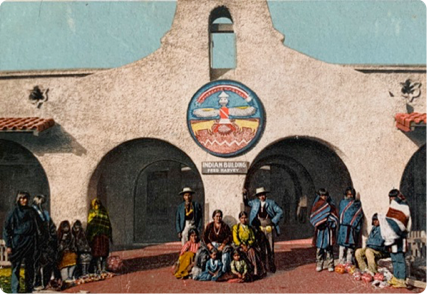 At left, a Fred Harvey "Indian Detours" touring car in front of the La Fonda Hotel in Santa Fe, c. 1920's. At center, Fred Harvey Company Founder and namesake, Fred Harvey, c. 1901. At right, the famous Fred Harvey Company Indian Building at The Hotel Alvarado in Albuqerque, c. 1907. This ring could have easily been purchased at either La Fonda or at The Indian Building.
Left photo source and © "Scenes from the Indian Detours" by Farona Konopak. Center photoo source and © Kansas Historical Society. Right photo source and © Fred Harvey Company.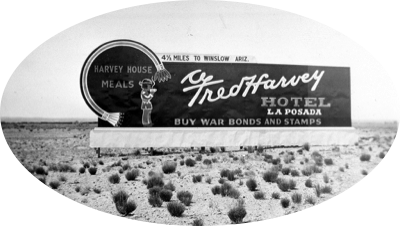 This unusual and extremely rare signature appears to us to have been a special mark reserved by the Harvey Company for their most special Navajo jewelry pieces to either be sold in their high-end trading posts and retail outlets or possibly given as gifts or awards to various executives, special friends and clients and/or family members. The rarity of the mark would seem to indicate a more personal rather than commercial usage but that
is unknown. The two of our very knowledgable colleagues who owned the other two such pieces we have seen also believe this mark was a special mark to denote the finest Navajo silver pieces specially made for the Harvey Company and sold in their stores. These two believe this was a 1920's to 1930's dating. A third colleague who also formerly owned such a piece agrees with this assessment, but put the dating somewhat later in the 1940's. Two other knowledgable and experienced colleagues we discussed this issue with report that they have never seen this particular hallmark.
So there is a bit of a mystery here. What is not in any way a mystery is the outstanding and pivotal role the Fred Harvey Company played in the history of the American Southwest and particularly tin he history of Native American and other indigenous Southwestern arts within that overall larger history. The Fred Harvey fine arts departments scoured the region over the decades to acquire the finest examples of Navajo silver work and textiles, of various types of Pueblo pottery, of various native basketry and of Spanish Colonial devotional artifacts to sell in their famous trading posts such as The famed Indian Building at Albuquerque's Hotel Alvarado, the La Posada Hotel in Winslow Arizona, The La Fonda Hotel here in Santa Fe and The Fred Harvey Hopi House on the South rim of the Grand Canyon right across the way from the Fred Harvey Company's flagship hotel the renowned El Tovar, which is still going strong after all these years. This ring could have originally been purchased at any of these places.
It has some of the visual effect of twisted silver wire, but it is done in an earlier more hand-crafted manner.
The visual effect of this double bezel so to speak is dazzling and highlights the stone very dramatically. The ring shank is a traditional old -style split-chisel construction inside with silver plates being applied on both sides of the ring to form a smooth surface which was then decorated with several finely applied and restrained stamp worked designs. All in all, it's an absolutely knockout visual presentation by a clearly virtuoso silversmith.
The ring measures a size 9 1/2 on a professional graduated ring sizer, but because of the somewhat more squarish profile of the ring's shank it will fit fingers up to size 10 1/2 to 11. The ring's face measures approximately 1" in height and 1" in width. The ring weighs an extremely comfortable 13 grams or 1/2 ounce. Both the ring and the turquoise nugget are in excellent original condition. There is a certain amount of age-appropriate wear to the silver body of the ring which has given it a lovely overall patina over time. The ring is very prominently and most beautifully signed on the interior with the Fred Harvey Company's famous script name logo and is also marked "Navajo" and the entire signature panel is bordered on the top and bottom by two stylized snakes very similar in appearance to snake images one sees in Navajo sandpaintings and textiles.
Along the way and in conjunction with the Native American art pieces the Harvey Company acquired and
commissioned Native artists to make for them to sell, the Company also under the guidance of longtime senior employees Herman Schweizer and J.F. Huckel assembled one of the finest private Southwest art collections ever assembled, a good deal of which is now held in The Heard Museum in Phoenix and The Nelson-Atkins Museum in Kansas City. In their unique role as host and innkeeper to untold numbers of Southwestern travelers for decades, the Fred Harvey company housed these travelers, fed them, showed them around, sold them fine artwork and souvenirs and made them millions of lasting memories, all in utmost comfort and style.
This rare, historic ring proudly bears this famous company's iconic signature as a hallmark of the finest quality.
SOLD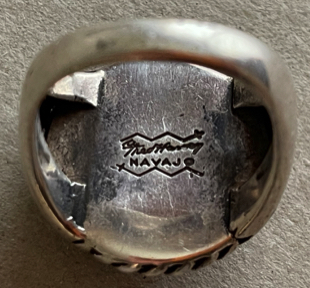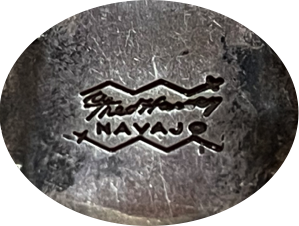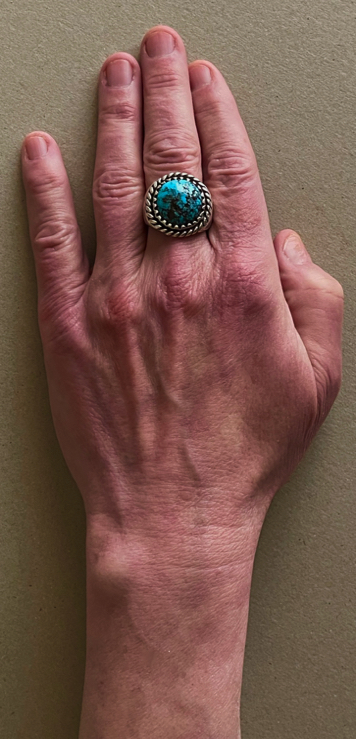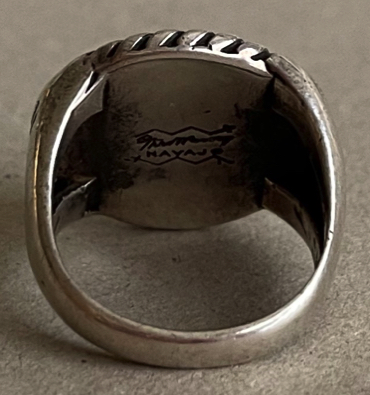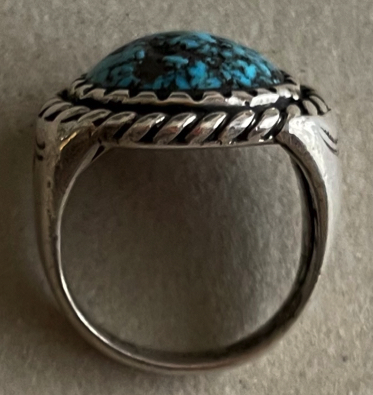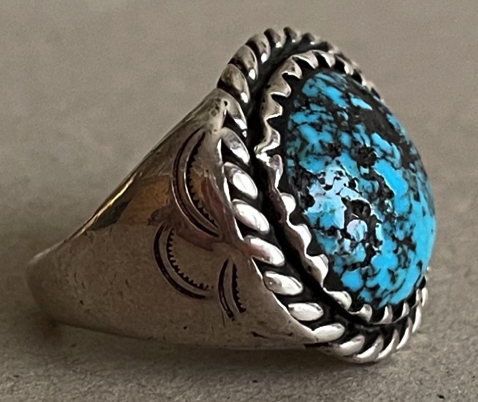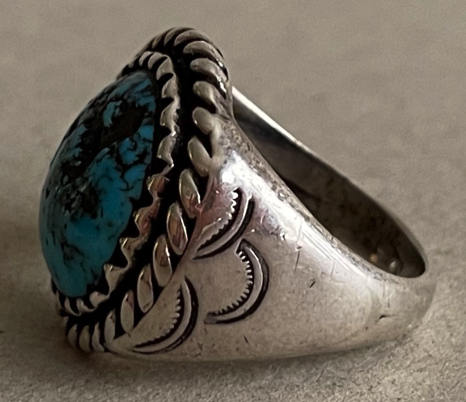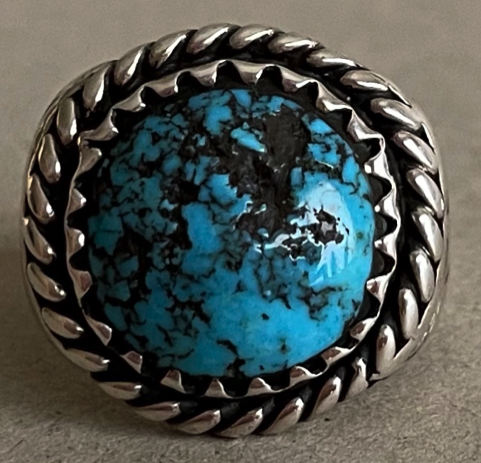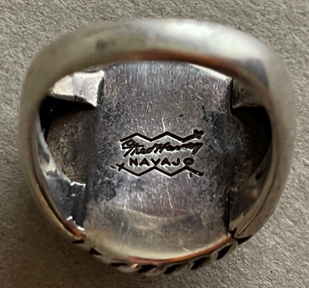 Above, a 1940's-era Fred Harvey Company billboard advertising their La Posada Hotel in Winslow, Arizona on historic U.S. Route 66.
Photo source and © La Posada Hotel, Winslow, Arizona
Lone Mountain Turquoise
This mine once produced a great variety of turquoise, included some of the finest examples of spider web turquoise as well as clear, deep-blue stones. Lone Mountain turquoise has always been noted for holding its color. Among all "classic" Southwestern turquoise, only Lander Blue is more valuable. A rare occurrence has been the "fossil turquoise" found in this mine. The fossil is of a crinoid stem. The Lone Mountain mine consists of a series of haphazard tunnels dug by miners chasing the veins of turquoise. The mine was claimed by Lee Hand in 1920 first as the Blue Jay Mining Lode and later, after seeing that so many mines had been named Blue Jay, Hand changed the mine's name to Lone Mountain. In the 1960's Lone Mountain was converted to a small open pit operations by Menliss Winfield. It continues to be mined in this fashion today. In 1979, I purchased Lone Mountain with the King family of Austin, Texas and Santa Fe, New Mexico. I have had different partners over the years and the property has only been mined 6 over the last 28 years. The reason for this is the expense of mining and the regulations for small mine owners, makes it very difficult to be profitable. But with the value of the classic American turquoise mines being so great, it is feasible for this great mine to once again be of great value.
-Lone Mountain turquoise photo and text source and © Waddell Gallery, Scottsdale, AZ