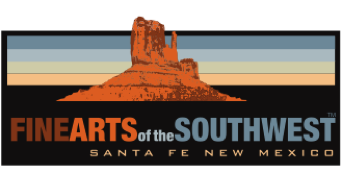 © 2010-2023 by Fine Arts of the Southwest, Inc. All rights reserved.
Unauthorized reproduction or use is strictly prohibited by law.
This is one of the most interesting Nampeyo pieces we have seen in some time and that is saying a lot. This bowl is remarkable for any number of reasons, first of which is its extremely pleasing shape, nice size and its unique, distinctive and beautifully rendered interior and exterior painted designs both of which are artfully conceived and very finely realized. This is a fairly traditional shape which occurs regularly in historic Hopi and related Zuni Pueblo pottery of the late 19th Century and onwards. Due to its outward flaring shape and deep profile such bowls have variously been referred to as "Stew" or "Helmet" or "Mutton" bowls but these are mostly fanciful descriptors, not always an indication of their actual function. The bowl is most beautifully formed and shaped with graceful flaring symmetrical sides which is consistent with the Nampeyo family's generally superior potting skills as is the superb stone piloting and expert firing. The delicacy and accuracy of the painted designs on the interior leads us to believe that they were likely painted by Nampeyo while the bolder more forthright Zuni-influenced exterior designs were likely painted by Fannie Nampeyo as her painting style tended to be more bold with somewhat thicker lines.
As for the particulars of the painted designs, the detailed interior design of the bowl is reminiscent of historic Zuni-influenced arabesque designs and yet is typically Nampeyo in presentation, with an encircling band composed of
six horizontally opposed bilaterally symmetrical repeating design motifs of lozenge and diamond forms all arranged
in circular pattern around he bowl's interior rim. The designs are very finely hachured, the painting is just exquisite
in quality and execution. The overall design here is simultaneously graceful, complex and elegant. The depth and emptiness of the bowl's highlights the interior rim's design elements in a strikingly effective way, giving them an airiness which makes them appear to literally float above the surface of the bowl. It is our opinion that Nampeyo (1858-1942 made the bowl herself and she also painted the interior design of the bowl and that her youngest daughter Fannie Nampeyo (1900-1986) painted the somewhat bolder and thicker-lined exterior design. Both designs are accomplished with the typical Nampeyo family skillful use of negative spaces as an integral part of the overall design.
Another similar Nampeyo and Fannie Bowl
Just a few years ago we had this very similar pottery bowl by Nampeyo and Fannie Nampeyo with a somewhat more complex interior design and a somewhat deeper shape. The hachured designs encircling the bowl's interior rim are almost identical, but this bowl's interior had additional designs. The exterior designs on both bowls were also quite similar. This other bowl was also just lightly larger at 12" in diameter and 5 ½" in height. Clearly, the Nampeyos liked this particular design and apparently made it more than once or very possibly a potential buyer who missed the first one whichever that one happened to be, might have asked them to make a similar piece.
Nampeyo of Hano (1858-1942) and her youngest daughter, Fannie Polacca Nampeyo (1900-1986), c. 1920 right around the timed this bowl was made.
Photo source and © Frashers Fotos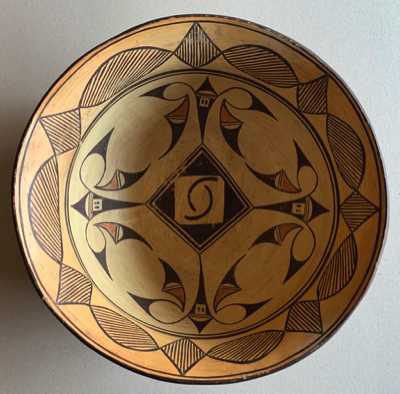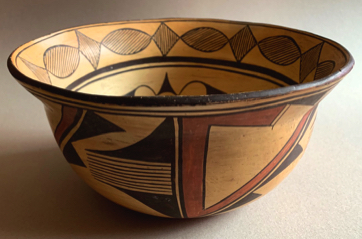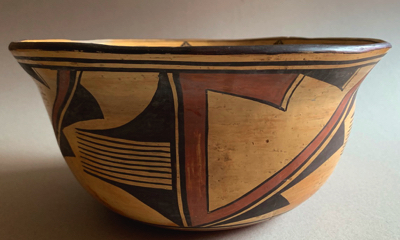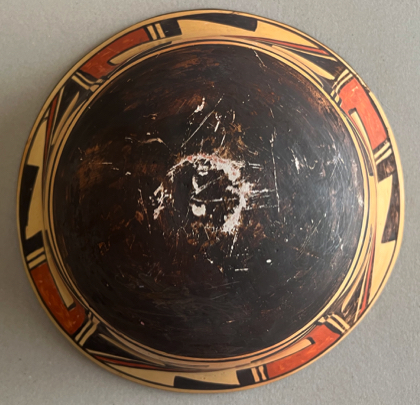 Please also take careful and special note of the incredibly beautiful yellow-colored clay interior and exterior surfaces of the bowl; this is the fine Hopi Antelope Mesa grey clay prized and used at Hopi for centuries which fires
to a lovely, rich creamy lightish-yellow to orange color. The extraordinary quality of the vessel's stone polishing should also be well taken notice of here too, the polished surface is smooth as a baby's bottom, another Nampeyo family pottery characteristic.
The bowl measures an impressively-sized 10 1/8" in diameter and is 4 1/4" in height. It is in generally excellent original condition with no cracks, some minor chips and areas of abrasion to the sides of the vessel and particularly to the bottom of the bowl. This is a fairly normal occurrence especially in a century-old piece which has been rotated on shelves and tables many time in its life and made even more so by the fact that Hopi black paint is somewhat fugitive in nature and can rub off relatively easily when abraded. A thorough examination of the bowl under Ultraviolet light reveals no restoration or overpainting in evidence.
This is a special bowl which radiates a particular profound peacefulness, harmony and beauty and it is also a
rare and reasonable opportunity to acquire an unusually distinctive and attractive historic piece made by two of America's most celebrated historic Native American pottery artists; a marvelous and meaningful Mother-Daughter
artistic collaboration.
SOLD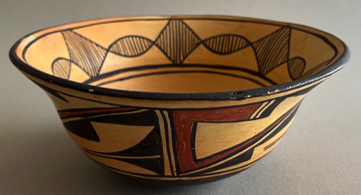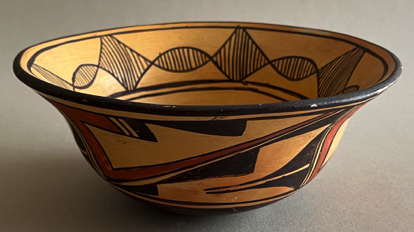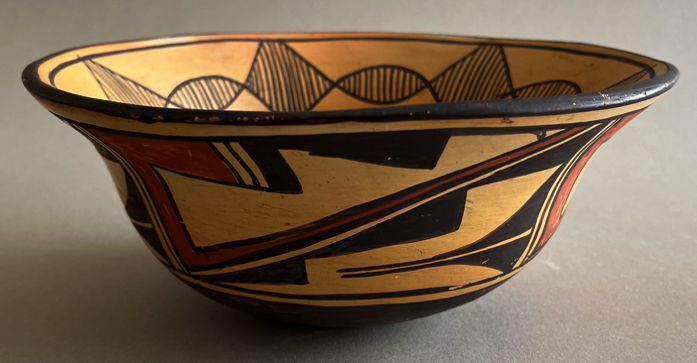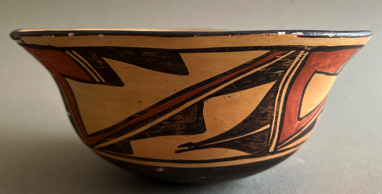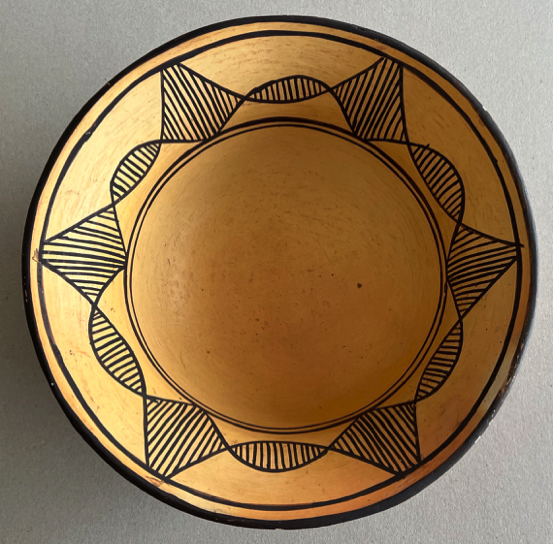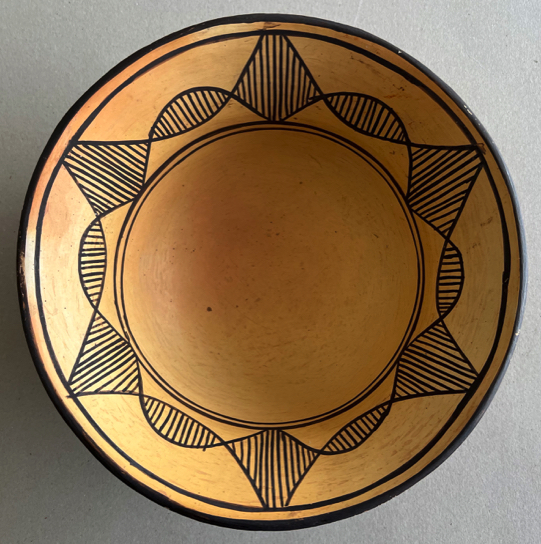 A wonderful Hopi "stew" or "helmet"
style polychrome pottery bowl by Nampeyo
and Fannie Nampeyo, c. 1918-1920