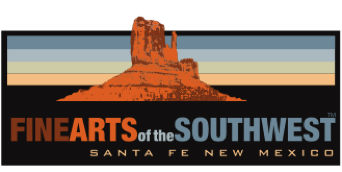 © 2010-2023 by Fine Arts of the Southwest, Inc. All rights reserved.
Unauthorized reproduction or use is strictly prohibited by law.
"Things of Land and Sea", a 1947 New Mexico Modernist abstract mixed-media painting by
Howard Behling Schleeter, Albuquerque, NM
New Mexico Modernist artist, Howard B. Schleeter (1903-1976) was passionately devoted to painting, it was literally his entire life, to the point where he lived in a tent for some time and frequently worked at odd manual labor jobs such as ditch-digging to support his artistic habit. He was hardcore, to say the least.
After studying at New York's prestigious Albright Art School, Schleeter moved to New Mexico in 1929 and struggled
for his early years in the 1930's, but eventually found some commercial artistic support from 1936-1942 in the form
of several commissions from Franklin Delano Roosevelt's Works Progress Administration's artist's program. In 1954, Schleeter achieved some important recognition when he was the only Southwestern artist whose work was included in The Guggenheim Museum's prestigious young artist's exhibition. Perhaps with some assistance from this recognition, Schleeter went on to teaching positions in the 1950's at The University of New Mexico, but he never stopped painting. Even later in life as his faculties diminished due to the ravages of Parkinson's disease he taught himself to paint with
his other hand and even with his teeth as his condition worsened.
The subject of this early 1947 mixed-media painting is a fantastic imaginary abstract panorama of religious churches topped with crosses, houses, human-like forms, fish, stars and various geometric shapes all layered atop and throughout a shifting and varied color landscape of blues, reds, oranges, ochres, green and greys punctuated with white outlining and detailing. It's a fascinating, near hallucinogenic abstracted inner world that completely draws you in.
The painting is done in gouache and wax on what appears to be artist's board and measures 14 1/2" in height and is
18 1/2" in width (sight) and the framed dimensions are 19 1/8" by 23 1/4". The painting is signed "H.B. Schleeter" and is also dated "47" at the upper left. The painting is framed under glass in a dark wood frame with a light fabric liner and
it should be noted that the frame is an original framing by Schleeter himself which he was clearly very fond of for reasons unknown to us, as it appears to be a fairly standard commercial issue piece for the time period, but he did, in fact, actually and very precisely hand paint in the same white gouache paint as he used in the painting a specific and strict direction, rather a direct order, on the back of the painting which sternly reads:
"NOTE!!
DO NOT remove this painting from ITS frame".
Of course, you can feel free to disregard his instructions if you prefer a different type of frame. There is considerably more information about the painting along with an additional signature all very carefully and artistically hand-lettered on the back by Schleeter as follows:
"60
Gouache
Series
"Things of Land and Sea" by Howard B. Schleeter
Albuquerque, New Mexico
Date: August 13th, 1947
14 1/2" x 18 1/2" 47/28 Gouache/wax"
The painting has a very interesting provenance, it comes from the estate of Wilke H. Smith (1919-2015), an Albuquerque, New Mexico designer and graphic artist, a recognized and respected authority in her field, who delivered a presentation on architecture and design at the first American Institute of Architects' conference in Albuquerque in 1967. It is most likely that in her professional capacity Ms. Smith was well acquainted with Howard Schleeter and acquired the work from him directly. There are no gallery or other labels on the verso, only the artist's detailed painted inscriptions
as mentioned above.
Howard Schleeter's work was exhibited widely during his lifetime in the U.S. and internationally and today is held in the collections of numerous prominent American institutions including The Art Institute of Chicago, The Guggenheim Museum, The M.H. De Young Museum, The Dallas Museum of Art and The Museum of New Mexico.
This is a lovely, relatively early painting by a unique and highly distinguished American Modernist artist,
well worthy of serious consideration.
Price $3,150 plus shipping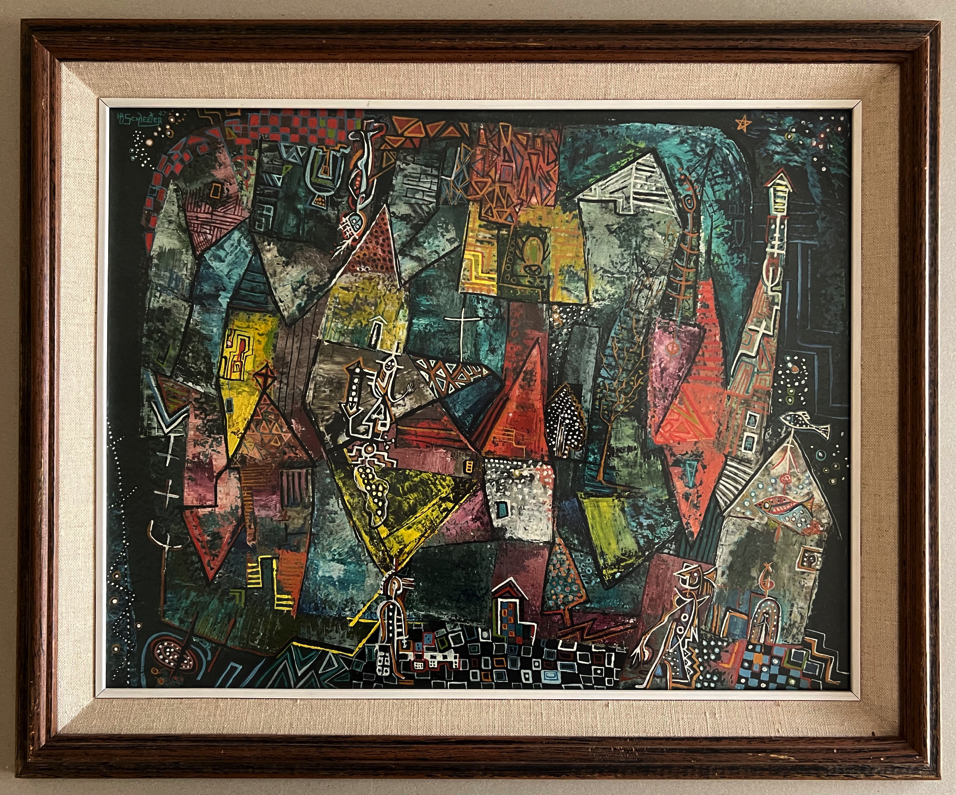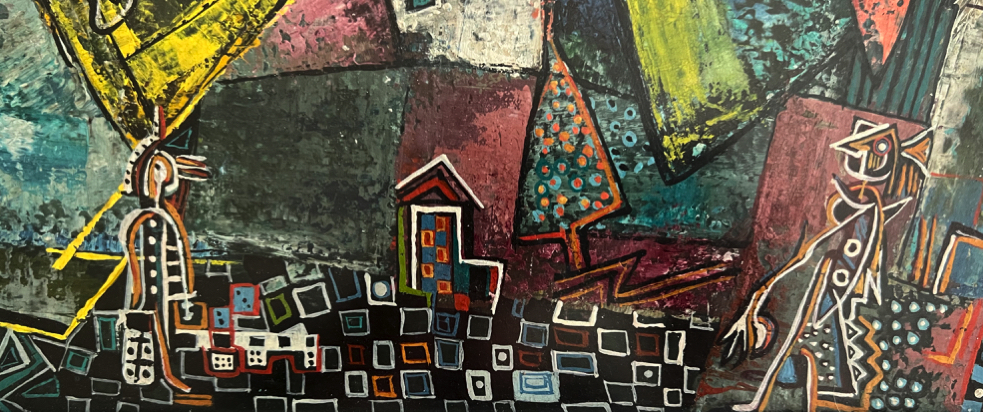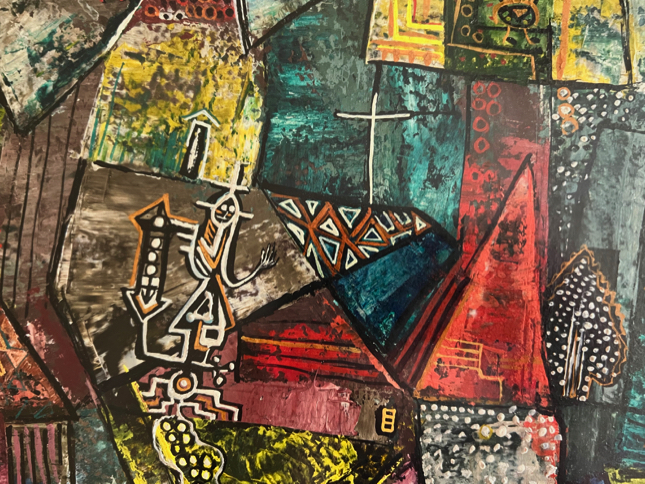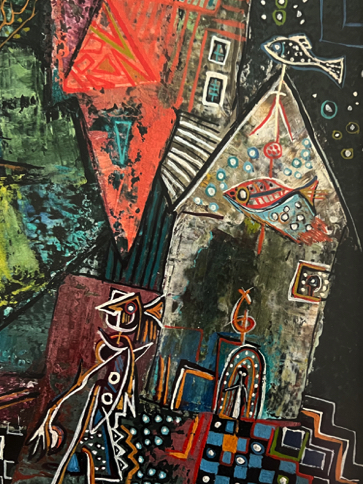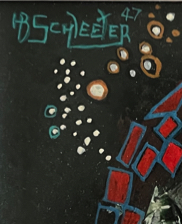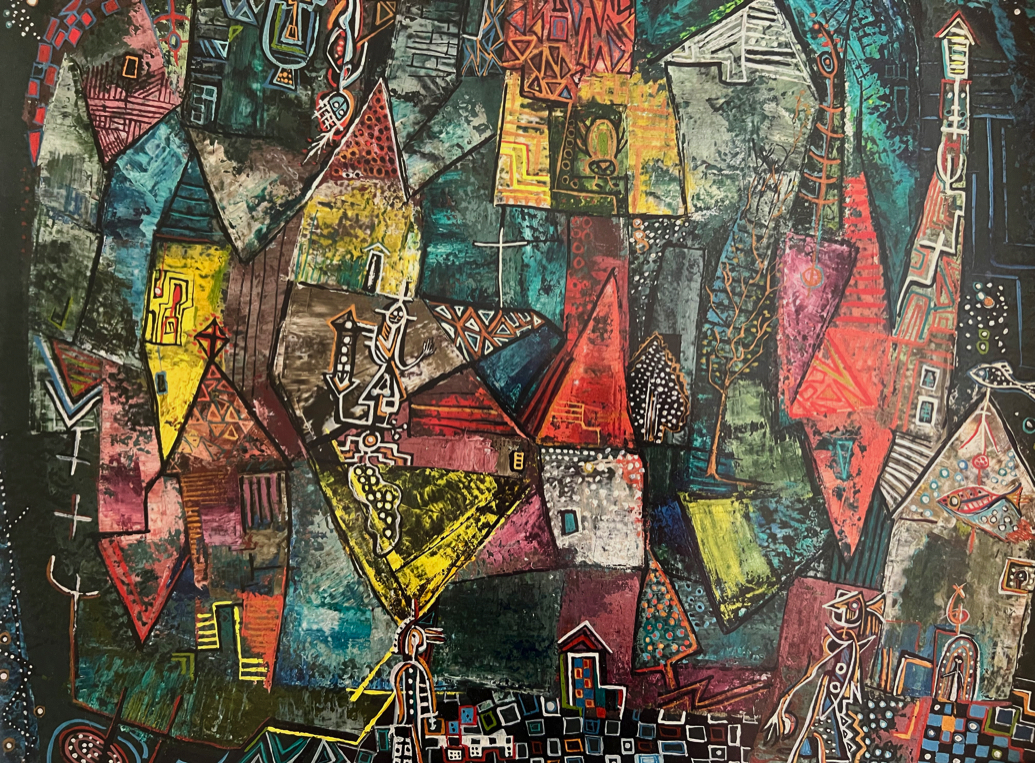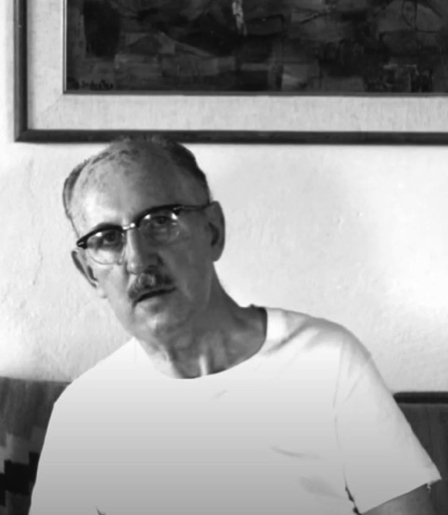 Howard Schleeter, c. 1950
Photo source and © Mathews Gallery