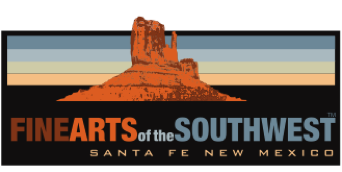 © 2010-2023 by Fine Arts of the Southwest, Inc. All rights reserved.
Unauthorized reproduction or use is strictly prohibited by law.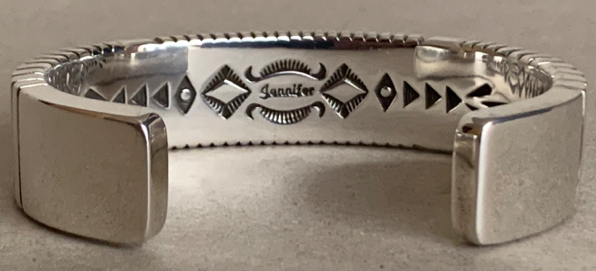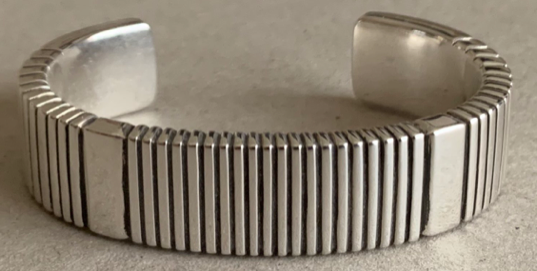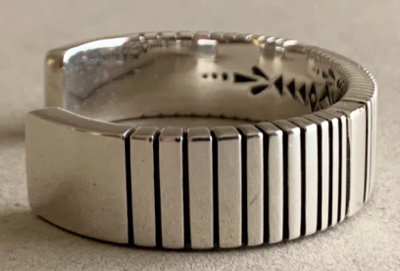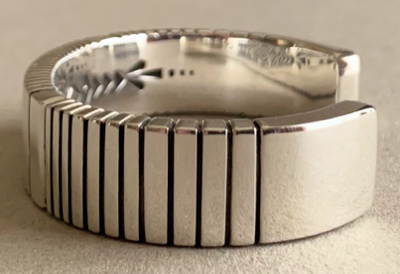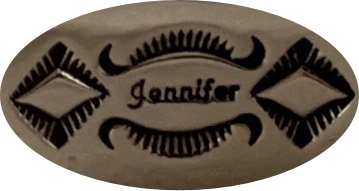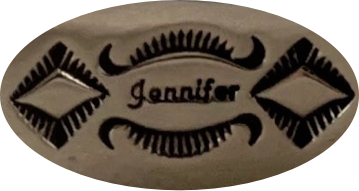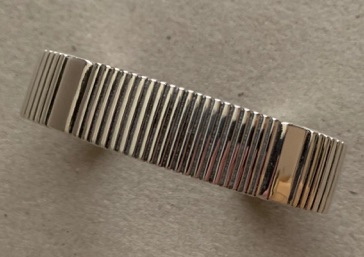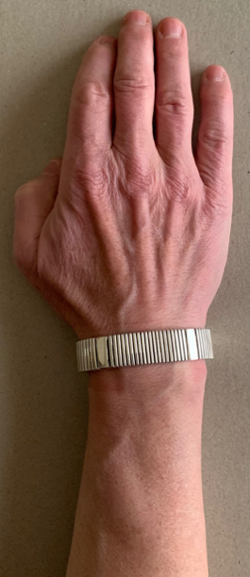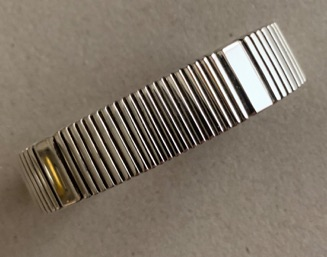 A contemporary Navajo silver cuff bracelet decorated on the outside and inside with elaborate chisel and stamp work by Jennifer Curtis
How many little girls grow up literally with a heavy silversmith's hammer in their tiny hands? Jennifer Curtis (b.1964) is one of the few who did, first beginning to work silver at the very tender age of eight at the side of her famous Father, the outstanding Navajo silversmith Thomas Curtis, Sr. (1942-2013). The old adage "Like Father, Like Daughter" certainly applies here and it applies in spades. Jennifer Curtis is a very serious and especially talented chip off her Father's old block; Thomas Curtis Sr. taught and mentored the young Jennifer in all aspects of traditional Navajo silversmithing and you can clearly see the marvelous similarities in the work of these two fine artists; use of heavy solid silver, intricate, precisely and deeply-applied stamp and chisel work and a powerful, bold and compelling traditional design sensibility with a distinctly Modernist twist and attitude.
This fine cuff bracelet is a simply sensational example of Jennifer Curtis' work. Aesthetically and technically, it is absolutely first-rate in every aspect. The thick and elegantly chiseled shank is mesmerizing and perfectly executed while the interior stamp work comes as a beautiful surprise in a lovely cartouche surrounding the artists signature; its all incredibly inventive and refreshingly modern. So crisply is all this work done that the stamped and chiseled decorations actually appear to almost be alive, literally pulsating with energy and intensity.
The bracelet's shank is 5/8" in width all the way around and it is approximately 1/4" in thickness. The bracelet's inner circumference from end-to-end is 5 5/8" and the gap between the terminals is 11/4" for a total interior circumference of
6 7/8". The bracelet weighs an impressive, yet extremely comfortable 109 grams or 3 7/8 ounce and is in new original condition. The bracelet is properly signed on the interior center inside the stampworked designs with Jennifer Curtis' customary cursive hallmark of her first name "Jennifer".
"My work is an extension of my history, my family. My biggest influence is my master, my teacher, my father. His recent passing has brought special meaning to each swing of the hammer, each design I create."

--Jennifer Curtis, 2014


This bracelet is an extremely attractive, stunningly-crafted and easily wearable piece by one of the very finest Navajo silversmiths working today. It is an elegant and direct artistic statement with a commanding presence in a perfectly-sized package. This is a large and in charge bracelet; subtle and simply spectacular all at the same time.
SOLD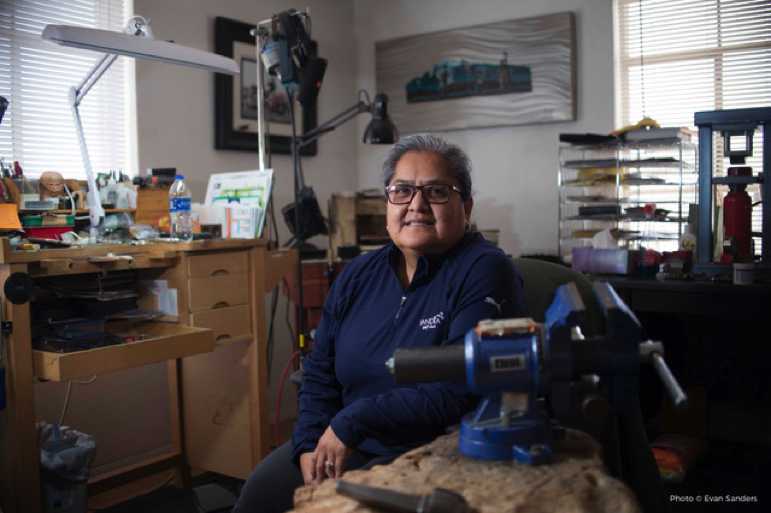 Jennifer Curtis in her studio.
Photo by and © Evan Sanders. Photo courtesy of Four Winds Gallery, Pittsburgh, PA