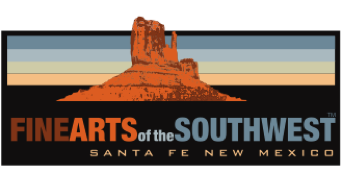 © 2010-2023 by Fine Arts of the Southwest, Inc. All rights reserved.
Unauthorized reproduction or use is strictly prohibited by law.
A particularly fine Hopi polychrome pottery
plate by Lena Chio Charlie, c.1940's
LENA CHIO CHARLIE (1888-1978) was one of the finest Hopi potters of the 20th Century although not nearly as
widely known as she should be by merit of her outstanding pottery work, in our view. Lena was a niece and a close neighbor in Hano Village on the Hopi First Mesa of the renowned pottery Matriarch, Nampemyo of Hano (1859-1942).
Lena, like her Aunt and her cousins Annie, Nellie and Fannie Nampeyo, began making pottery at a very early age.
By her late twenties she had become so proficient that when her Aunt Nampeyo began suffering from periodic bouts of the degenerative eye disease Trachoma she would often ask Lena to help paint her vessels which Lena did with increasing frequency in the 1920's and 30's after one of Nampeyo's other helpers, her youngest daughter Fannie, got married.
The design of this plate is fascinating; first it's painted in red and black paints on a white-slipped background in the style Nampeyo favored in the early years of the 20th Century. The outer design band is composed of eight separate and unique rectangular panels none of which are the same as any of the others, some of these panels are partially rendered in splatter paint and cross-hatching. The black painted design floating prominently in the plate's center is a unique composition based around a pair of opposed stylized bird's heads.
"View in Tewa Looking Towards Malpi, AZ" by William Henry Jackson, 1875. (Nampeyo the Potter and her brother Tom Polacca on the roof of the Corn clan dwelling in the village of Hano). Hano Village on the Hopi First Mesa is where Hopi potters, Nampeyo and her niece, Lena Charlie both lived.
Photo by William Henry Jackscon. Photo source and © Obscura Gallery, Santa Fe, NM.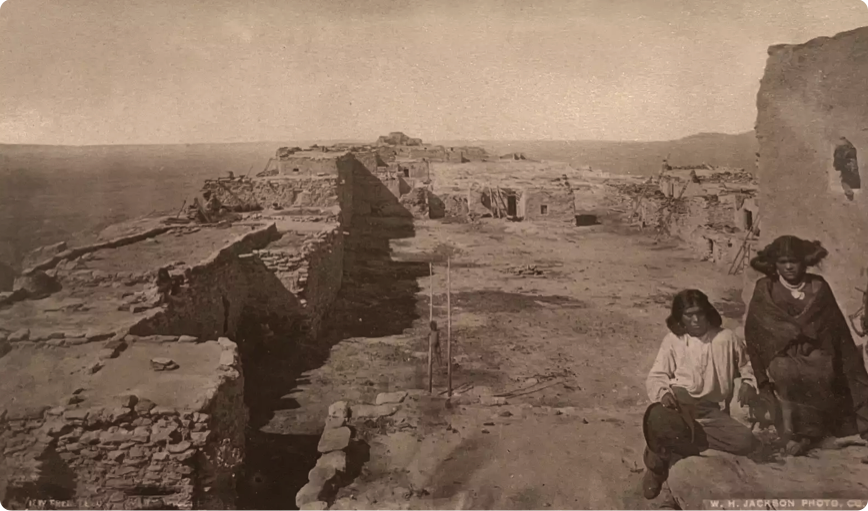 The plate measures a nicely-sized 8 3/4" in diameter and is a very low-profile 1 1/2" in height. The plate is in very
good original condition for its eighty or so years of age with several noticeable areas of surface abrasion. There
are no cracks and no significant chips and a thorough examination under Ultraviolet light reveals no restoration
or overpainting in evidence on the vessel. The plate is properly signed with Lena Charle's characteristic ear of corn
insignia signifying her membership in the powerful Hano Corn Clan of which Nampeyo was the Matriarch. There is also
the remnant of some kind of inventory or informative paper label on the back of the plate.
This plate is an excellent and beautifully made historic piece by an important and excellent historic Hopi potter,
a significant and satisfying object to display and contemplate.
SOLD