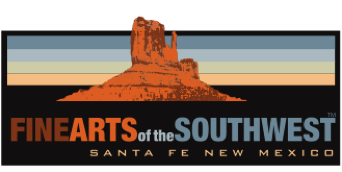 © 2010-2022 by Fine Arts of the Southwest, Inc. All rights reserved.
Unauthorized reproduction or use is strictly prohibited by law.

A spectacular large Navajo silver and high-grade
turquoise cuff bracelet by Mark Chee, c.1950's-60's
This extraordinary silver and turquoise cuff bracelet by the great Mark Chee (1904-1981) is an astonishingly beautiful
and impressive piece and the large, asymmetrically-shaped sky blue turquoise stone is exceptionally compelling. We are not completely certain exactly which mine this beautiful stone came from, our fairly strong opinion is that it is the so-called "Robin's egg" variety from the famed Morenci mine in southern Arizona. The stone is a luminous blue and is very lightly and subtly matrixed in areas, the light grey color matrix giving it an ethereal summer sky-like quality. There are also several small inclusions of iron pyrite visible in the stone, a strong indicator of a Morenci mine origin. The stone is nicely set
in an old-style "Foldover" type silver bezel.
The overall design and hand craftsmanship on this bracelet is remarkable in every aspect, the wide silver shank and stone setting are beautifully and gracefully proportioned and the detailed stamp and chisel work on both sides of the central stone down the bracelet's shank is most perfectly and evenly applied in precisely executed stampworked panels composed
of various geometric and floral designs covering virtually every part of the silver shank.
Mark Chee was a completely traditional Navajo silversmith in every way and he used only a few simple tools, most of
which he made himself. To attain such a degree of elegance, finesse and refinement with such basic materials and methods
is a testament to his exceptional imagination and ability.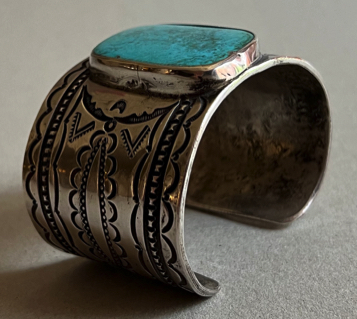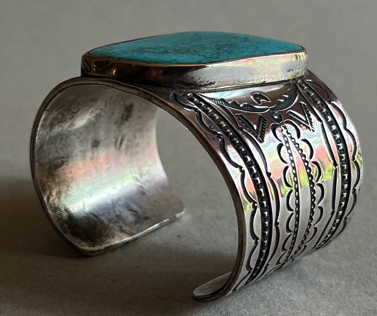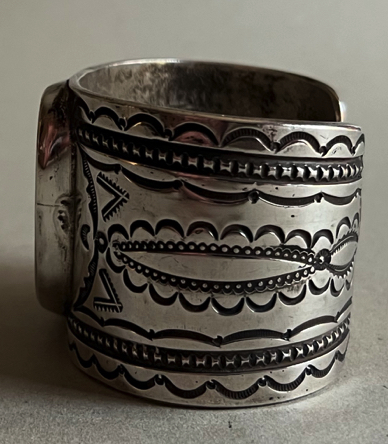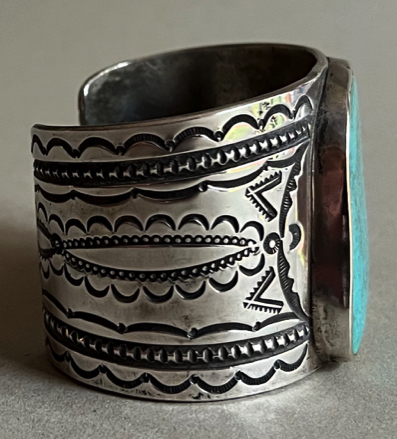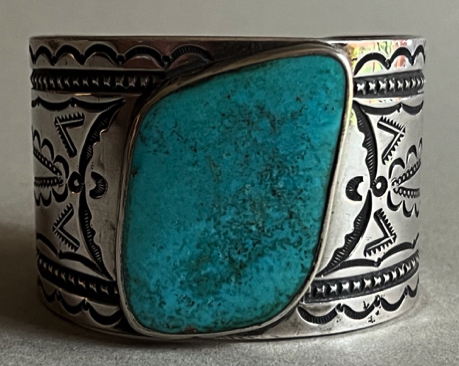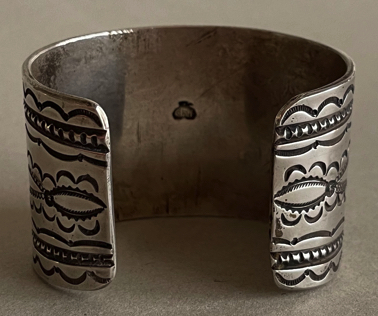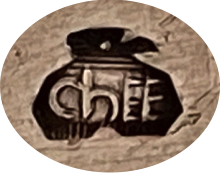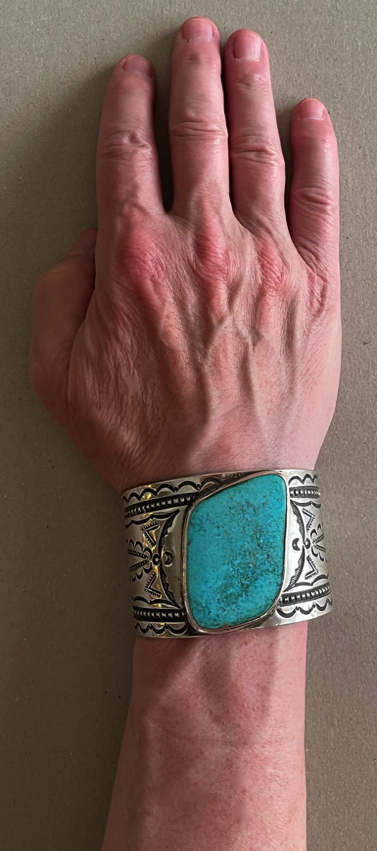 The bracelet measures 1 7/8 in continuous width all the way around. The inner circumference end-to-end is 6" and the gap between the terminals is 1 1/4" for a total interior circumference of 7 1/4". It weighs a very substantial 169 grams or
6 ounces. The silver shank is 1/8" in thickness. The bracelet is properly signed on the interior with Mark Chee's customary last name inside a bird hallmark and it is in excellent original vintage condition with some age-appropriate wear but no damage or problems.
We have seen a good many of Mark Chee's fine bracelets over the years, and we can conclusively say that while quite of few of these were very very good or really really excellent, in our view this particular piece stands very near the very top of the hill literally glowing with the aura of true and unique artistic greatness.
Price available upon request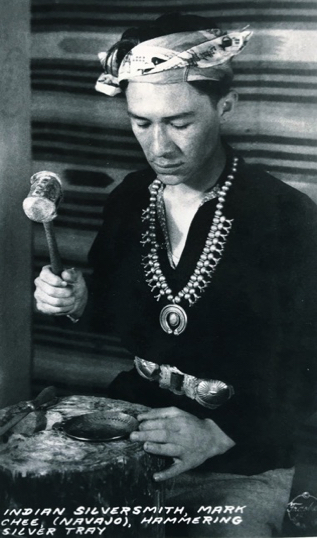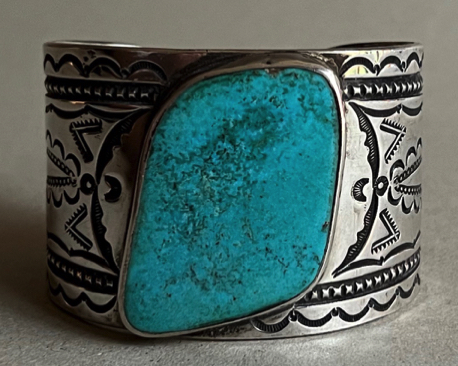 Mark Chee at his bench, Santa Fe, c. 1940's.
Photo copyright Frasher's Foto Postcards, Pasadena, CA