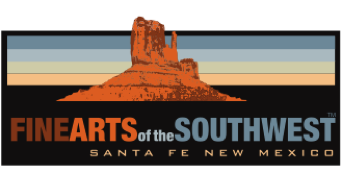 © 2010-2022 by Fine Arts of the Southwest, Inc. All rights reserved.
Unauthorized reproduction or use is strictly prohibited by law.

A unique vintage Navajo silver ring set with a spectacular high-grade Number 8 Mine Nevada spiderweb turquoise stone by Mark Chee, c. 1950's-60's
A truly gorgeous and impressive piece of jewelry by one of the all-time greatest superstars of Navajo jewelry, Mark Chee (1904-1981). Born in the tiny, remote one-horse hamlet of Lukachukai Arizona out in the far reaches of the vast Navajo reservation Mark Chee came to Santa Fe as a young teenager to work as a jewelry apprentice polishing stones for $5.00 a week. Due to his exceptional talent and instruction by some of the finest Navajo and Pueblo silversmiths of their day, people such as Ambrose Roanhorse, Sam Roanhorse and Joe Quintana, Chee rose rapidly becoming an ace silversmith whose pieces were always in high demand. Chee always worked in a completely traditional manner using a simple set of tools he mostly made himself and always insisting on using only the finest stones as he did here with this spectacular silver and Number 8 mine Nevada spiderweb turquoise ring.
"Today Number 8 turquoise is one of the most valuable stones that can be collected. High-grade Number 8 turquoise is by far some of the finest turquoise to ever have come out of Nevada."
-Turquoise authority and mine owner, Gene Waddell
Number 8 Nevada Spiderweb turquoise which comes from one of America;'s oldest turquoise mines, near Carlin, Nevada is considered to be one of the world's greatest and most valuable turquoises; well-known and very highly-prized for its exceptional blue color and golden, red or black matrix and Chee made wonderful use of
it here; the remarkable large parallelogram-shaped high-grade stone is a completely commanding presence and
it is most beautifully set in a lovely old-style "foldover" type silver bezel which is nicely accented on both sides by a finely chiseled ridged silver border. The entire bezel platform is nicely mounted on a very superbly-crafted triple split-silver shank. The exceptionally fine all around detailing and the classic simplicity of the ring's appearance belies the complexity of its construction. The great ones always make it look easy.
The ring measures a size 6 1/4-6 1/2 on a professional graduated ring sizer, but due to the slightly oval-shaped shank it fits slightly larger than that, more like a size 7 on the finger. The ring's face measures 1" in height and
it is just slightly over 1/2" in width at its widest point. It weighs a very comfortable 11 grams or 3/8 ounce.
The ring is in excellent original vintage condition and is properly signed on the inside with Mark Chee's customary last name "Chee" inside a bird's head hallmark.
This stunning ring is a classic historic piece with a classic, historic stone
by a classic historic artist, truly one of the greatest of all time.
SOLD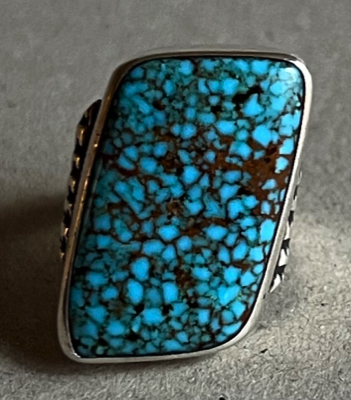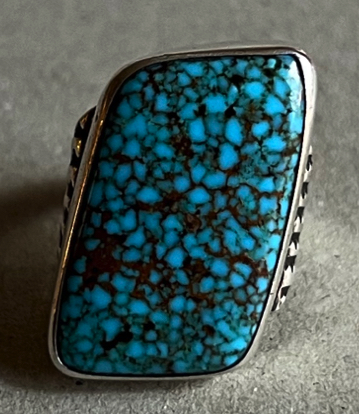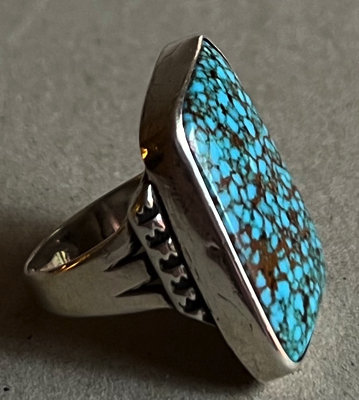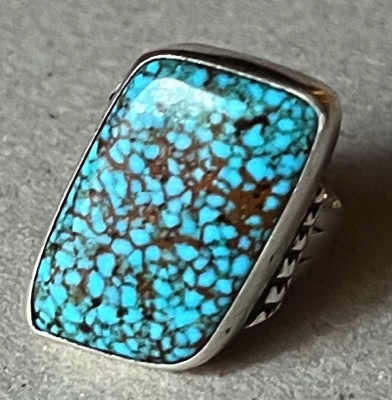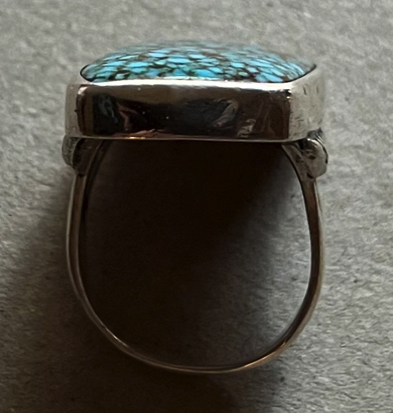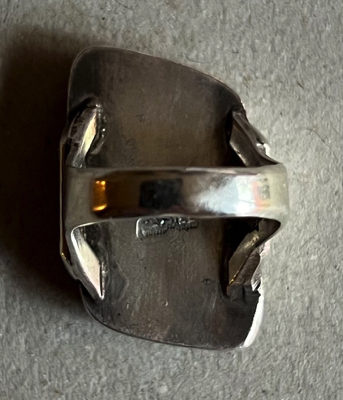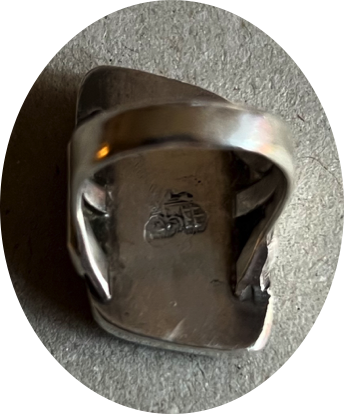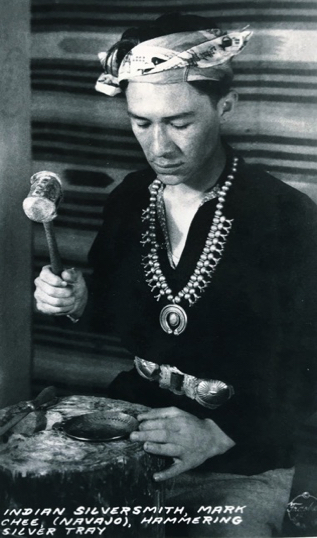 Mark Chee at his bench, Santa Fe, c. 1940's.
Photo copyright Frasher's Foto Postcards, Pasadena, CA
Number 8 Turquoise
This large district, encompassing ten 20-acre claims, was very active from the 1930's through the early 1950's, when production peaked. The Number 8 turquoise mine in Carlin, Nevada was first mined in 1929. In its prime, Number 8 produced some of the largest nuggets of turquoise ever found. The color of Number 8 varies from light blue, blue with shades of green to beautiful dark blue. It is found with a black, golden, red or brown matrix. With the black and red spider webbing being the most valued. Today Number 8 turquoise is one of the most valuable stones that can be collected. High-grade Number 8 turquoise is by far some of the finest turquoise to ever have come out of Nevada.
-Photo and text source and © Waddell Gallery, Scottsdale, Arizona