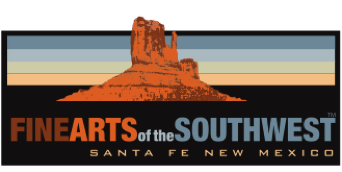 © 2010-2023 by Fine Arts of the Southwest, Inc. All rights reserved.
Unauthorized reproduction or use is strictly prohibited by law.
This extraordinary silver and precious turquoise cuff bracelet by the renowned Navajo silversmith, Mark Chee (1904-1981) is an astonishingly beautiful and impressive piece and the wonderful rare perfectly-matched nine
Lone Mountain turquoise stones are exceptionally compelling.
The stones are a luminous blue with dark brownish-blackish-greyish spiderwebbed matrixing and they are all very nicely graduated in size and very finely set in old-style "foldover" type silver bezels. Lone Mountain turquoise is considered to be one of the very finest, most beautiful and desirable and now one of the most expensive turquoise varieties in the world and the design of this bracelet features and highlights these rare and remarkable stones perfectly.
The overall design and hand craftsmanship here is exceptional in every aspect. The construction is absolutely amazing, this thing is built as beautifully as the Golden Gate Bridge and no less heavy duty. Two large thick carinated triangularly shaped hand-wrought bars of silver, 5/16" in width and a full quarter inch thick, form the outside body of the shank while two hand-drawn silver wires form the center which is topped by a silver bezel platform which holds the stones.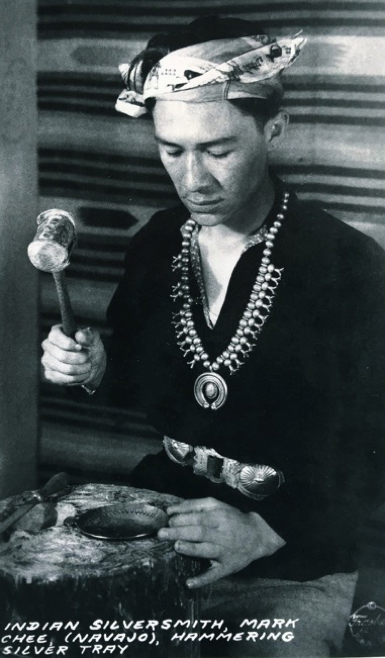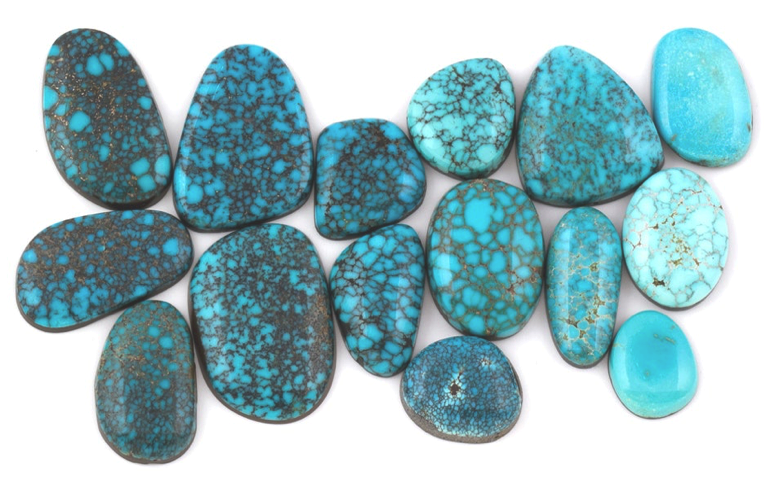 Lone Mountain Turquoise
This mine once produced a great variety of turquoise, included some of the finest examples of spider web turquoise as well as clear, deep-blue stones. Lone Mountain turquoise has always been noted for holding its color. Among all "classic" Southwestern turquoise, only Lander Blue is more valuable. A rare occurrence has been the "fossil turquoise" found in this mine. The fossil is of a crinoid stem. The Lone Mountain mine consists of a series of haphazard tunnels dug by miners chasing the veins of turquoise. The mine was claimed by Lee Hand in 1920 first as the Blue Jay Mining Lode and later, after seeing that so many mines had been named Blue Jay, Hand changed the mine's name to Lone Mountain.
In the 1960's Lone Mountain was converted to a small open pit operations by Menliss Winfield. It continues to be mined in this fashion today. In 1979, I purchased Lone Mountain with the King family of Austin, Texas and Santa Fe, New Mexico. I have had different partners over the years and the property has only been mined 6 over the last 28 years. The reason for this is the expense of mining and the regulations for small mine owners, makes it very difficult to be profitable. But with the value of the classic American turquoise mines being so great, it is feasible for this great mine to once again be of great value.
-Lone Mountain turquoise photo and description source and © Waddell Gallery, Scottsdale, AZ
The wide silver shank and stone settings are all beautifully and gracefully proportioned and the detailed stamp and chisel work on both sides of the central panel of stones around the bracelet's shank is most perfectly and evenly applied. In two nice final decorative touches, the nine turquoise stones were further accented by eight pairs of applied silver "raindrops" interspersed between them and the bracelet's terminal ends were nicely capped with silver surrounds.
Mark Chee was a completely traditional Navajo silversmith in every way and he used only a few simple tools, most of which he made himself. To attain such a degree of elegance, finesse and refinement with such basic materials and methods is a testament to his exceptional imagination and ability.
The bracelet measures 1 3/16" in width at its widest center point and tapers down to 3/4" in width at the silver-capped terminal ends. The inner circumference end-to-end is 5 9/16" and the gap between the terminals is 1 3/16" for a total interior circumference of 6 3/4". The bracelet weighs a very substantial 145 grams or 5 1/8 ounces. The bracelet is properly signed on the interior with Mark Chee's customary last name inside a profiled bird's head hallmark and it is in excellent original vintage condition with some age-appropriate wear and a couple slightly cracked stones, but otherwise no real damage or difficulties.
We have seen a good many of Mark Chee's wonderful bracelets over the past 35 years, and we can conclusively say
that while quite of few of these were very very good or really really excellent, in our view this particular piece stands very near the very top of the hill literally glowing with the aura of true, rare unique artistic and historic greatness.
SOLD
Mark Chee at his bench, Santa Fe, c. 1940's
Photo © Frashers Foto Postcards, Pasadena, CA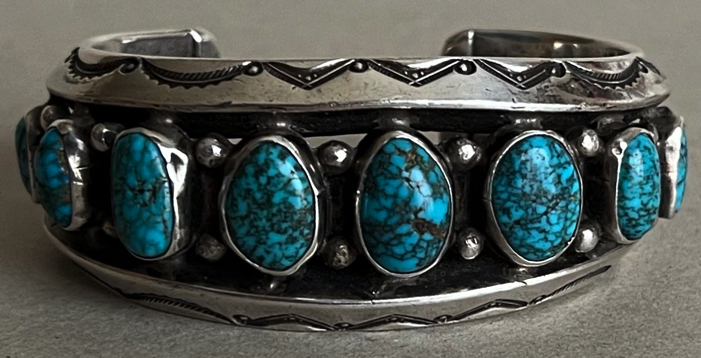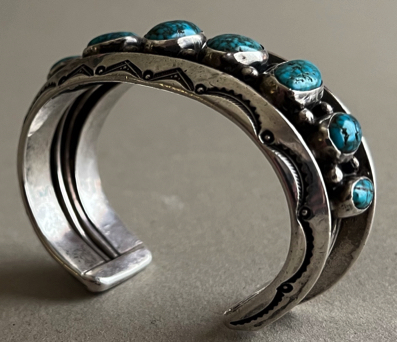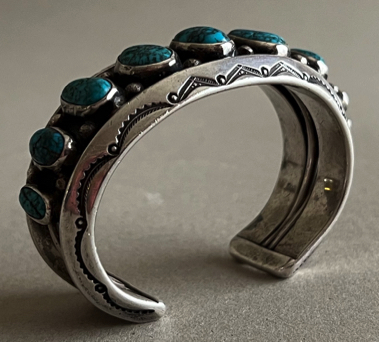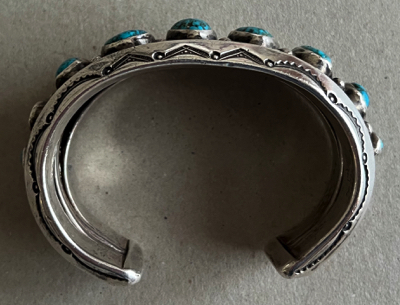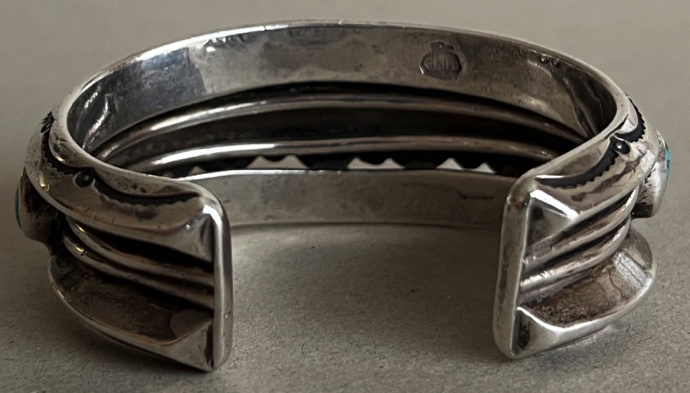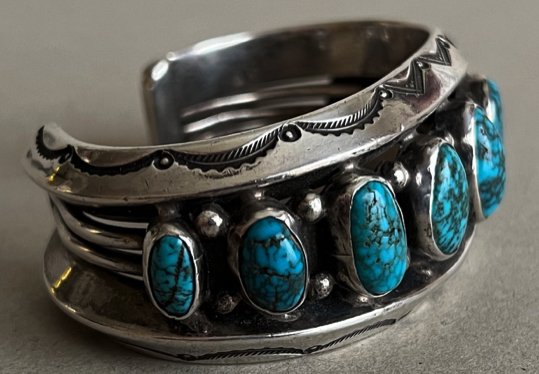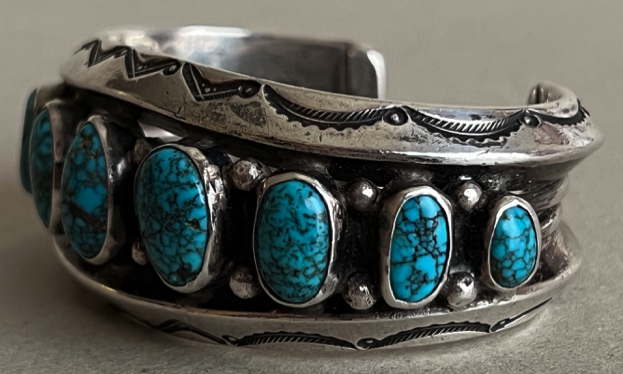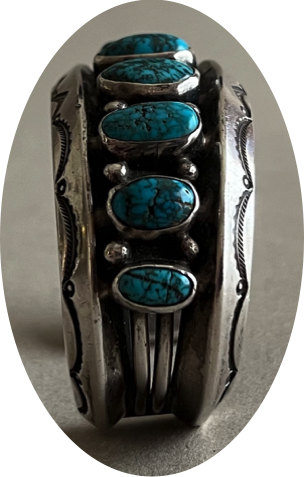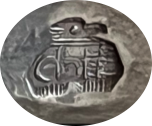 A magnificent Navajo silver and high-grade
Lone Mountain spiderweb turquoise row-style cuff bracelet by Mark Chee, c.1950's-60's