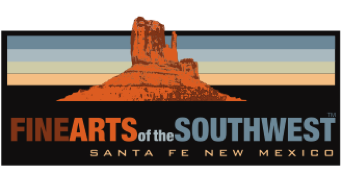 © 2010-2023 by Fine Arts of the Southwest, Inc. All rights reserved.
Unauthorized reproduction or use is strictly prohibited by law.
An absolutely extraordinary stamped, chiselled, filed, repousseed and rocker-engraved Navajo silver concho-style belt buckle by McKee Platero, c. 2000's
This is the sort of piece that completely sneaks up on you, the more carefully and completely you look at it the
more you see. There is a reason "McKee" and "Masterpiece" start with the same letter. He makes the excruciating look effortless and we can assure you that it is anything but. This outstanding buckle is like a doctoral tutorial in advanced out-of-this-world Navajo silversmithing; there is virtually every technique in the book here from repousse
to stamp work to chisel work, file work and perhaps most incredibly, rocker-engraving, an old-style technique so difficult and demanding that virtually no one will ever even attempt it. And, of course, none of that bothers McKee Platero in the slightest. Fact is, he appears to thrive on it.
The unbelievable quality of the various design elements and the work in this piece are a simply masterful display of the almost otherworldly skill and control that McKee Platero possesses, literally light-years beyond that of anyone else. It is precisely pieces such as this one which have made Platero a silversmithing legend in his own time around the world, particularly in Japan where he has an especially passionate group of devotees.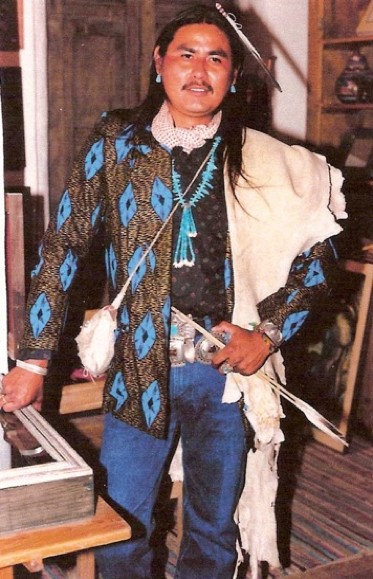 McKee Platero in Santa Fe, c. 1999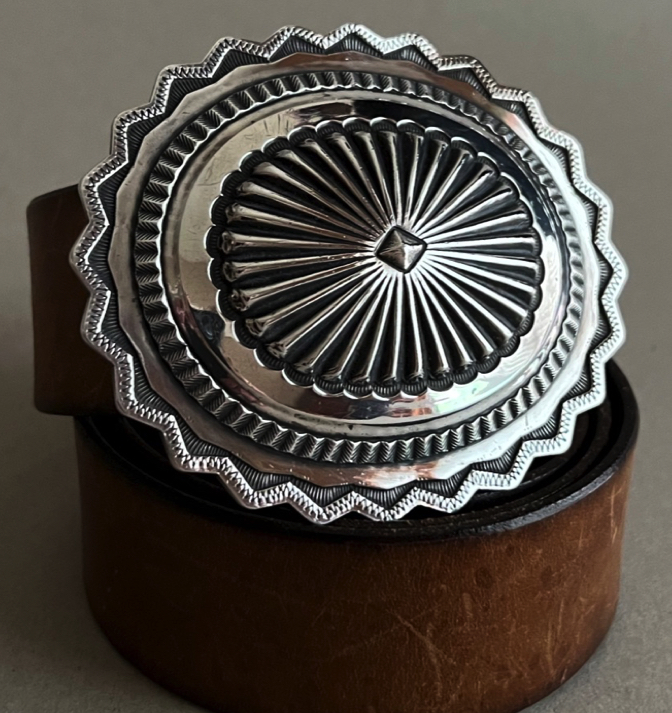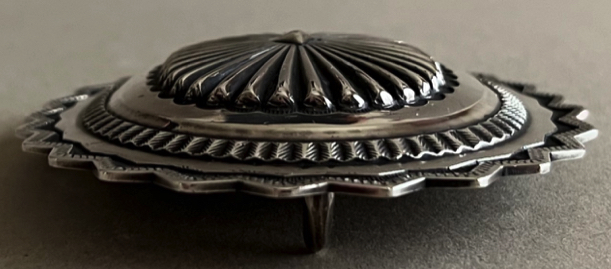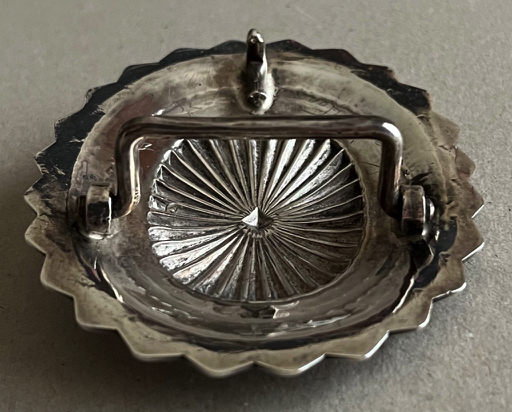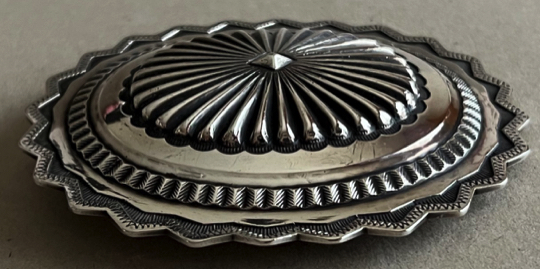 The buckle is like a large silver layer cake with one layer of beautiful design building upon the next. There are seven seperate design bands beginning with the scalloped rocker engraved outer border. Next in is a chiseled silver panel also with scalloped edges followed by a dense encircling area of very fine extremely precise and layered stampworked designs, then another plain highly-polished silver panel with a finely inscribed encircling line in the middle and also with chiseled inner edges encircling the large repousseed and chiselled center panel which looks like large sun rays. In the very center of this is a further repousseed panel, a small diamond-shaped bump-out which is the literal cherry on top of the delicious sundae. Just magnificent! And also worth a distinct mention is the completely gorgeous, completely hand-tooled silver belt fastener which is a small work of art in its own right.
"Platero comes from a family of silversmiths, his grandfather and his uncles were known for their heavy silver jewellery with deep and precise stampwork, and Platero continues this tradition"
-The British Museum
The oval-shaped buckle measures a large-sized 3 1/2" in width and is 3" in height and 3/8" in depth. The buckle weighs
a very substantial 87 grams or 3 ounces and it has a very satisfying and comfortably solid feeling on the body. It will accept a belt strap of up to 1 1/2" in width. The buckle is in near-pristine original condition and it is properly and most artfully signed on the interior with a unique, hand-etched rendition of McKee Platero's full name accompanied by a hand-etched version of his customary three-dot or three stars insignia, in this case three stars, which signifies his deep identification and fascination with the three stars in the belt of the famous constellation of Orion in the night sky, dating from when he was a young boy. There are a few extremely small tooling marks visible on the buckle, it is important to mention that these are not flaws and they are not damage, they are rather a natural and normal part
of a completely handmade piece, particularly a piece by McKee Platero. The buckle looks for all intents and purposes as if it were completely hand-carved from a solid block of silver.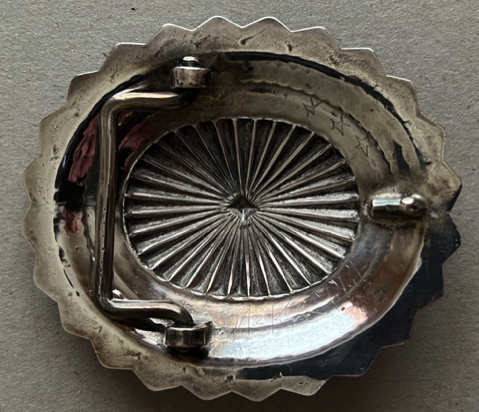 This buckle is an exceptional piece which beautifully encapsulates Platero's extraordinary artistic vision, his impeccable, unparalleled craftsmanship and his unique imagination and deeply-felt Navajo identity. This buckle is
a true artistic treasure in every way; a remarkable repository and expression of extraordinary inspiration and incredible skill, history, culture and a lifelong and tireless devotion to excellence.
Note: The leather belts pictured here are for demonstration purposes only and are not included in the
sale of the buckle. If desired, we can recommend an excellent custom leather belt maker in Santa Fe.
SOLD