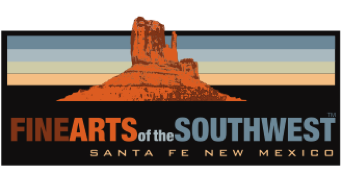 © 2010-2023 by Fine Arts of the Southwest, Inc. All rights reserved.
Unauthorized reproduction or use is strictly prohibited by law.
An outstanding Navajo silver cuff
bracelet by McKee Platero, c. 2010
Let's talk about exceptional beauty, tradition, imagination and craftsmanship. This bracelet is like a graduate level course in all four and it's not at all surprising since this gorgeous bracelet comes from the brilliant mind and spectacularly skilled hands of the legendary Navajo silversmith, McKee Platero (b.1957). McKee stands at the very pinnacle of his art, there are other good ones and there are other great ones, but there is only one McKee.
The design and execution of this piece is simply masterful with a row of seven square repousses or bumped-out panels running all the way around the center of the bracelet's shank which are bordered on both the top and bottom and by finely chiseled borders which are themselves outlined by an extremely finely detailed impeccably-executed stampwork border. Another exquisite detail are the very finely stampworked surrounds encircling each of the square repoussed panels.
This is a masterly display of the almost otherworldly skill and control that McKee Platero possesses, literally light-years beyond that of anyone else. It is precisely pieces such as this one which have made him a silversmithing legend around the world, particularly in Japan where he has an especially passionate group of devotees.
"Platero comes from a family of silversmiths, his grandfather and his uncles were known for their heavy silver jewellery with deep and precise stampwork, and Platero continues this tradition"
-The British Museum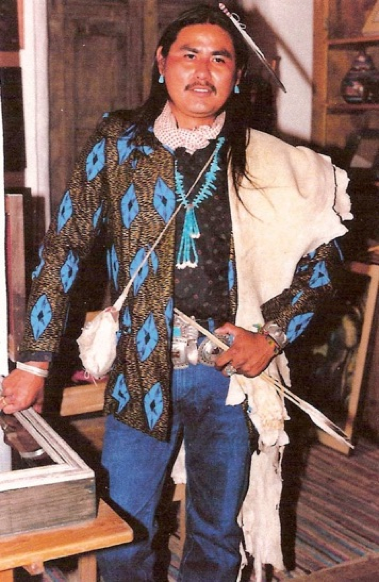 McKee Platero in Santa Fe, c. 1998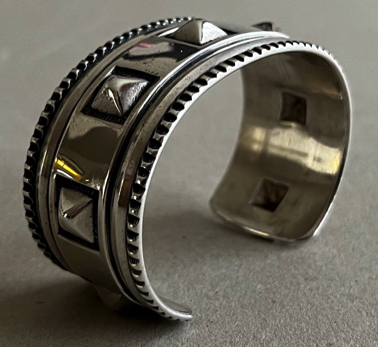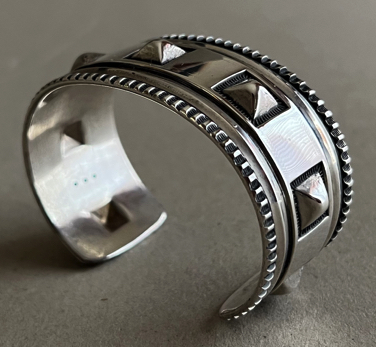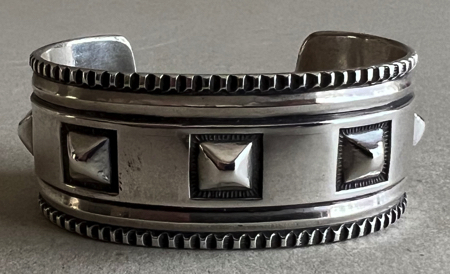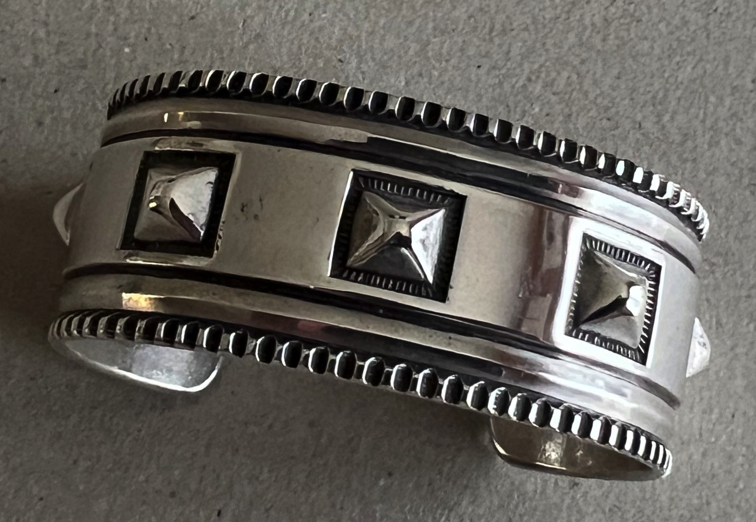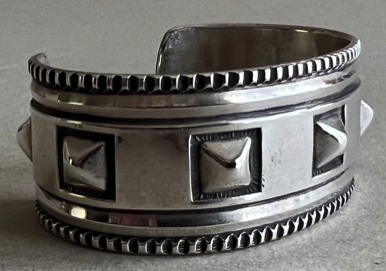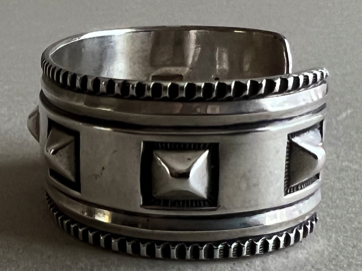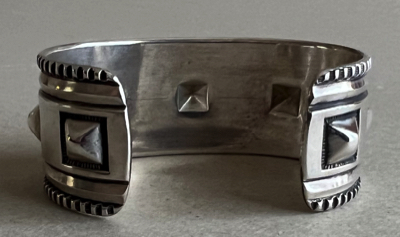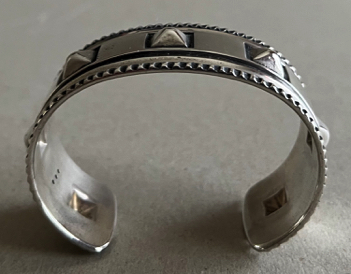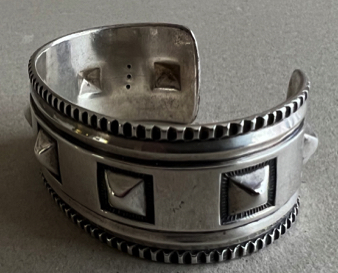 The bracelet measures 1" in continuous width all the way around. The inner circumference end-to-end is 5 1/2",
the gap between the terminals is 1 1/8" for a total interior circumference of 6 5/8". The bracelet weighs an extremely comfortable and easy to wear 63 grams or 2 1/4 ounces. It is in excellent-plus original condition and
it is properly and beautifully signed on the interior with McKee's customary three-dot insignia signifying the
stars in the belt of the constellation Orion.
We have been buying, selling and collecting McKee Platero's work with the greatest enthusiasm for 35-plus
years now and can say that in our views that this is precisely the type of piece which perfectly encapsulates
his extraordinary artistic vision, unique imagination and impeccable craftsmanship. Platero's is a completely unique originality, deeply steeped in tradition but wholly and entirely of his own creation in accordance with his famous last name which literally means "silversmith" in Spanish. This bracelet is the very definition of "silversmithing".
SOLD