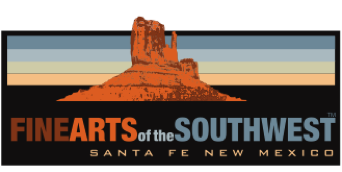 © 2010-2023 by Fine Arts of the Southwest, Inc. All rights reserved.
Unauthorized reproduction or use is strictly prohibited by law.
AN absolutely magnificent McKee Platero
Navajo silver cuff bracelet, June, 2020
How great is great? How high is up? Masterpieces make you ask questions like these. We have been buying and
selling McKEE Platero's (b.1957) extraordinary Navajo silverwork for around 35 years now and we can say without qualification that this is one of the very finest pieces of his that we have ever seen. They are all extremely good, many are exceptional, a sizable number are truly world-class and maybe a handful or two in our experience are simply out of this world. This bracelet is one of those top-of-the-totem-pole pieces, in our knowledgeable view.
Where to start here? At the beginning, naturally, with the heavy hand-forged silver shank perfectly formed and repousesed and stamped to utter perfection. The design is a somewhat stylized adaptation of the Navajo "Big Fly" motif, an important part of Navajo medicine and curing rituals. To say the work here is flawless is to understate it
by half, it is utterly exceptional in every aspect and words fail to adequately communicate its essential essence.
It literally breathes and radiates beauty and elegance and technical sophistication of the highest level.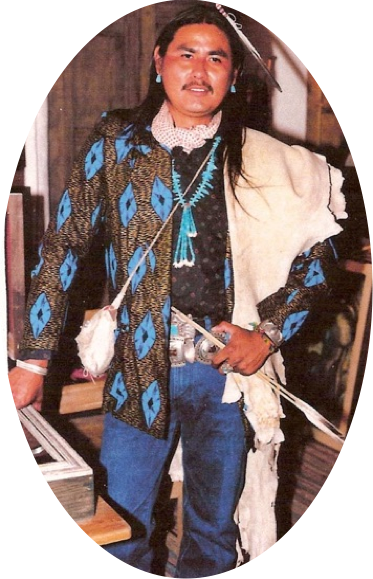 McKee Platero at his Santa Fe gallery, Teal McKibben's La Bodega, c. 1999
This is as close as you will ever come to perfection in design and execution in the realm of Navajo jewelry. This
is precisely why Platero is considered the greatest Navajo jeweler of his generation and one of the greatest of
all times in the exalted company of Kenneth Begay, Fred Pesklakai and Slender-Maker-of-Silver. There is a reason why museums and collectors the world over clamor for McKee's pieces and this is it. In Japan, he is approaching
the status of a National hero of sorts with acolytes tattooing his likeness on their bodies and speaking of him
in almost worshipful tones, "Matsuki Puratero" as he is revered there, almost as if he were an ancient samurai swordsmith working his magic with metal.
The bracelet measures a very sizable 1 3/4" in width. The inner circumference end-to-end is 5 13/16" and the gap between terminals is 1 3/8" for a total interior circumference of 7 3/16". The silver shank is 1/8" in thickness. The bracelet weighs a very serious 130 grams or 4 5/8 ounces yet it sits quite comfortably on the wrist. The condition is as near perfect as it is possible to be, essentially flawlessly brand new as if it had just come off the bench. There are a few small original tooling marks visible on the silver surface which McKee Platero occasionally intentionally leaves on his pieces which simply serves to reinforce the completely handmade nature of the bracelet. The bracelet is most beautifully signed on the interior as follows in McKee's elegant cursive writing: "McKee A. Platero 6.2020".
That's basically all there is to say here, this is an utterly iconic piece from a true artistic icon, off the scale fantastic or "insanely great" as the late Apple Computer co-founder, Steve Jobs would occasionally say about something which particularly moved him. Impress yourself, scare your friends and totally terrify your enemies with this magnificent masterpiece. It is literally the jewelry manifestation of the Navajo human ideal; to "Walk in Beauty"
SOLD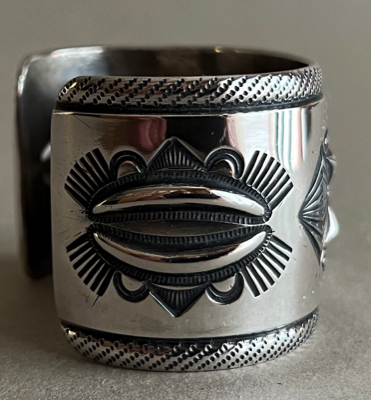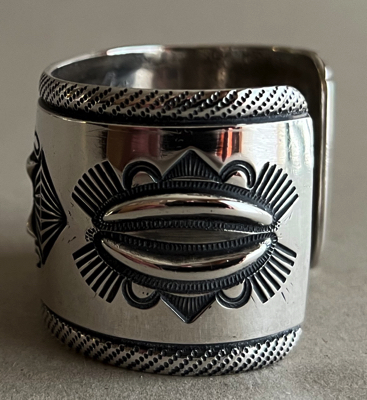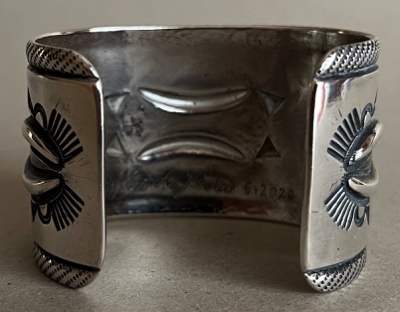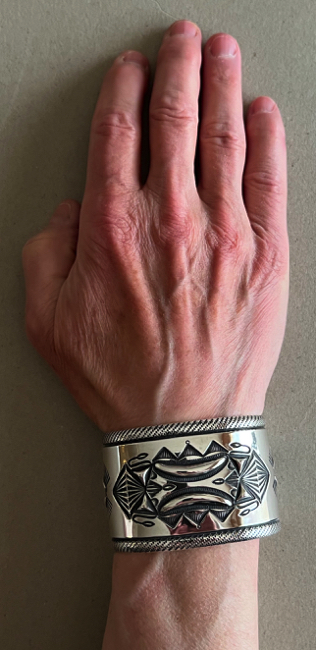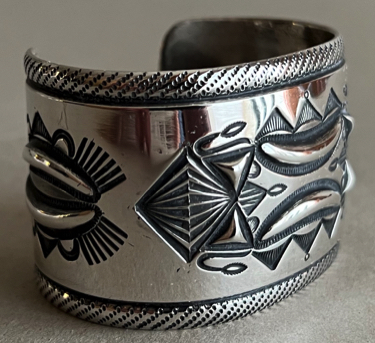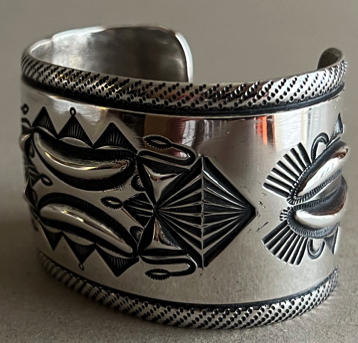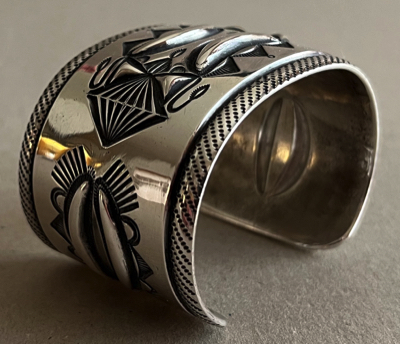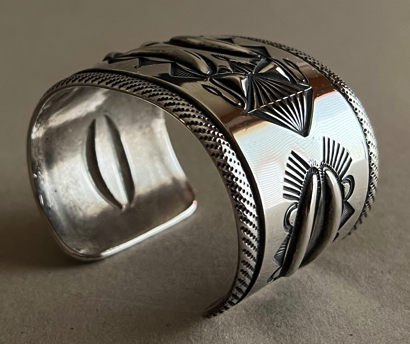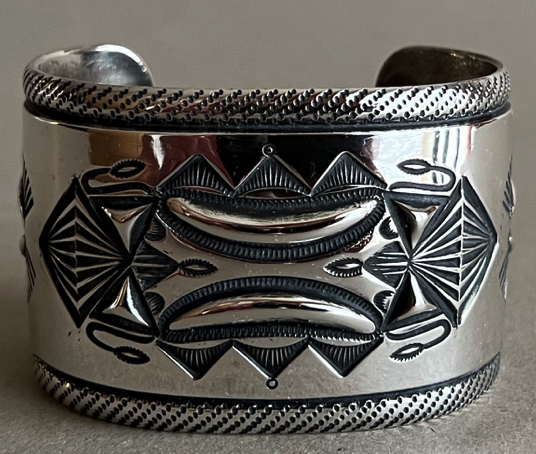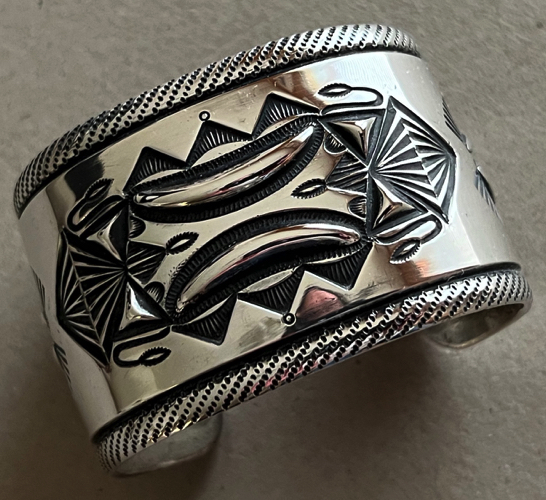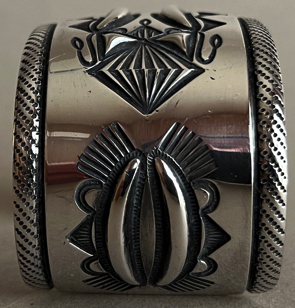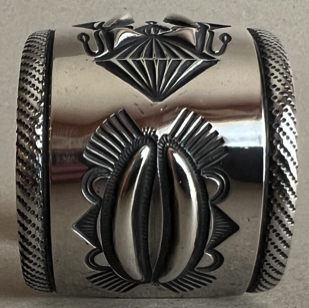 "Platero comes from a family of silversmiths, his grandfather and his uncles were known for their heavy silver jewellery with deep and precise stampwork, and Platero continues this tradition"
-The British Museum