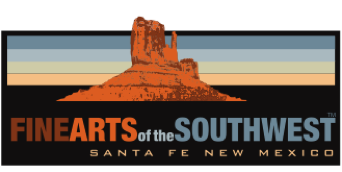 © 2010-2023 by Fine Arts of the Southwest, Inc. All rights reserved.
Unauthorized reproduction or use is strictly prohibited by law.
A unique matched set of Navajo ingot-silver and turquoise baby spoon and fork in the form of Navajo "Yei" figures, possibly by Mary Morgan, c.1950's-60's
These are two of the most unique pieces we have ever seen in our 35-plus years of buying and selling Southwestern Native American jewelry. This might very well have been a special commission, possibly through the prominent Zuni Indian Trader, Charles Garrett (C. G.) Wallace (1898-1993) in New Mexico for whom Navajo silversmith Mary Morgan previously worked.
The utensil set is created in the stylized form of the Navajo Holy People, or Yei, images of which appear regularly in
the various forms of Navajo Arts and Crafts from textiles to pottery to jewelry. The pieces are beautifully made from cast ingot-silver likely from melted-down silver coins or silver slugs. The utensils are most gracefully and finely shaped and perfectly matched in the forms of baby eating utensils. Whether they were made for use or just for decoration is impossible to say but the pieces show little or no signs of any wear or use. Each utensil is beautifully decorated with stampworked designs to emphasize the form and details of the Yei figures and each is accentuated with the addition of
a beautiful, small, round, clear blue turquoise stone possibly from the famed Sleeping Beauty Mine in Arizona.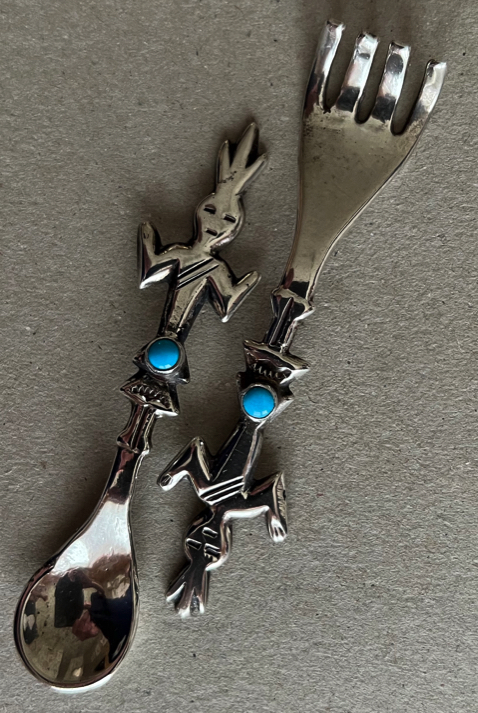 The fork and spoon each measure 3 1/2" in length and are 3/4" in width at their widest points. The spoon weighs 13 grams and the fork weighs 14 grams or approximately 1/2 ounce each and both utensils are in completely excellent, seemingly unused original condition. Each utensil is signed with the capital Letter "M" on the reverse and is also marked "Sterling". This is the hallmark of the highly-regarded Navajo silversmith, Mary Morgan (b. 1923) and a similar mark has also been used by another distinguished member of the Morgan family, Pete Morgan, brother of renowned Master Navajo silversmith, Harry Morgan (1946-2007).
All babies love sweet treats and these are an especially delicious pair of goodies with with to treat and delight
your baby no matter what age he or she might happen to be.
SOLD