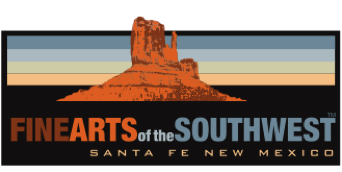 © 2010-2021 by Fine Arts of the Southwest, Inc. All rights reserved.
Unauthorized reproduction or use is strictly prohibited by law.

An exceptional vintage Navajo ingot-silver bangle bracelet set with 7 Bisbee, Arizona turquoise stones, c. 1940's-50's
ex: Laura Anderson Collection, Massachusetts
This bracelet is the sort of piece that we in the Indian Arts trade euphemistically refer to as being "the kind"; a delicious-looking, older-style Navajo bracelet with all the "bells and whistles" one could ever want, knock-down gorgeous turquoise stones set on a beautifully-crafted beveled silver shank accented by really great-looking stampwork decoration.
This fairly heavy (for its relatively narrow width) bracelet features a row of 7 oval-shaped, high-domed, natural turquoise stones from the famed Bisbee Mine in Southern Arizona. "Bisbee Blue" turquoise is widely considered to be one of the world's most beautiful, finest and rarest types of gem turquoise and these stones are great examples. The stones are very well-matched and are all in fine original condition. The space between the stones and on either side is beautifully accented with finely-executed, hatched stampwork designs in the form of serrated "X" motifs and the bracelet's shank ends with nicely-rounded terminals.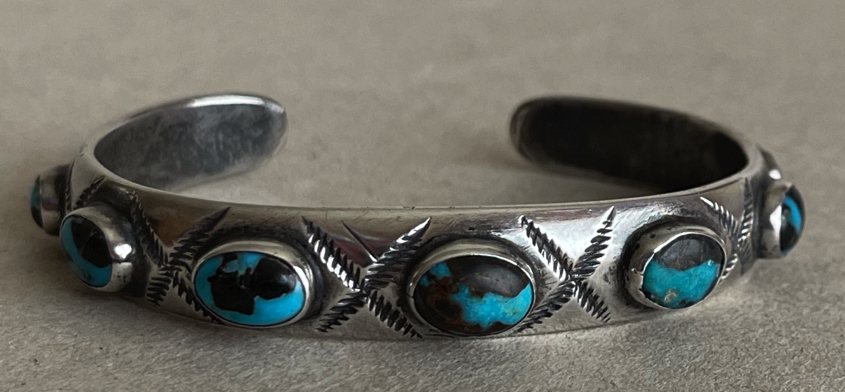 The bracelet measures 1/2" in width at the center and tapers down slightly at the terminals. The interior circumference end-to-end is 5 5/8", the gap between the terminals is 7/8" for a total interior circumference of 6 1/2". The bracelet weighs a substantial, yet very comfortable and easy to wear 43 grams or 1 1/2 ounces. The bracelet is in excellent original condition. One of the silver bezels on one of the end of row turquoise stones is slightly dented.
The provenance of this piece is also quite excellent, we purchased it around a dozen years ago from our esteemed longtime colleague, the late great Native American jewelry dealer and collector, Laura Anderson
of Mattapoissett, MA. Those of you who knew Laura knew her to be extremely knowledgable and enthusiastic.
This is a truly classic, older Navajo bracelet, a beautifully striking and distinctive piece
with a distinguished history, one that you'll be justifiably proud to wear anywhere at anytime.
SOLD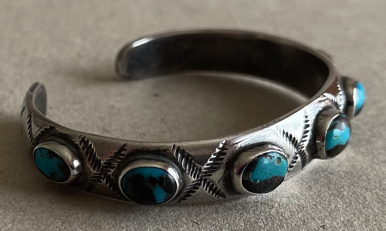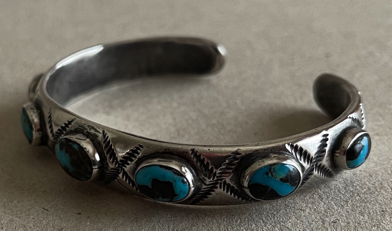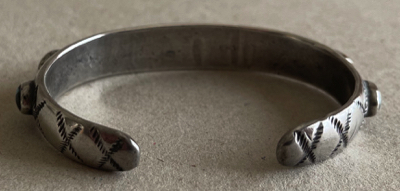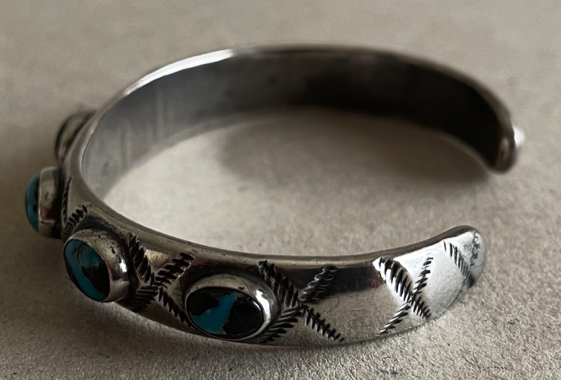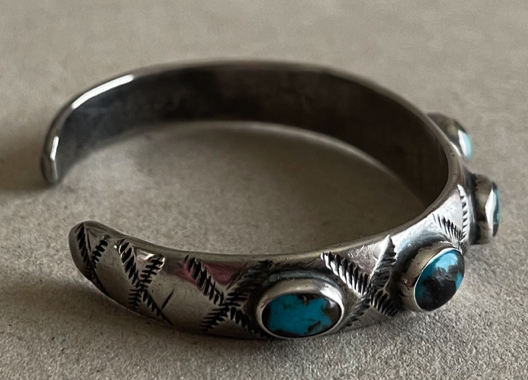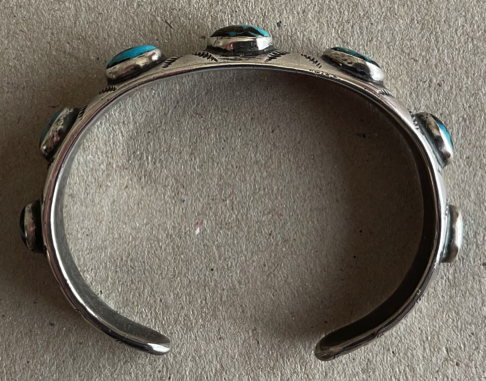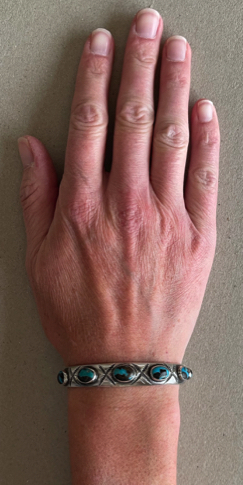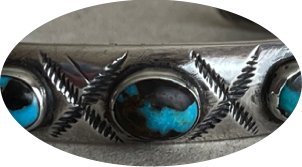 Bisbee Turquoise
Bisbee turquoise is a significant by-product of the huge Lavender Pit copper mine, which is now closed. With some of the finest turquoise coming from the section of the copper mine known as the "Lavender Pit," where for years copper miners would bring out fine turquoise in their lunch boxes. In March of 1972 a miner named Bob Matthews was given the only lease ever granted for rights to mine Bisbee turquoise. He was said to have recovered more than 2,000 pounds of good to excellent turquoise by 1974 . Bisbee turquoise is famous for its deep blue color and its smoky black matrix, which has been described as "smoky Bisbee" and as "lavender." Bisbee turquoise is as good as turquoise gets. In 2004 the Phelps Dodge Mining Company no longer allowed anyone near the hazardous old mine and buried the turquoise pit under 100 feet of dirt. There will be no more Bisbee mined. Any Bisbee on the market today was officially mined prior to 1974.
-Text and photo source and © Waddell Gallery, Scottsdale, AZ