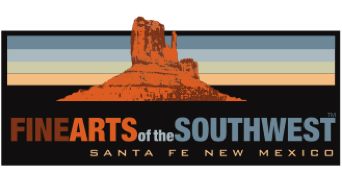 © 2010-2022 by Fine Arts of the Southwest, Inc. All rights reserved.
Unauthorized reproduction or use is strictly prohibited by law.

A uniquely beautiful vintage Navajo silver
and turquoise ring made in a very Modernist architectural style, c. 1950's
If Frank Lloyd Wright had been a Navajo silversmith this is the sort of piece he might have designed and made,
a daringly architectural "skyscraper" of a ring. The ring's design is complex and masterfully assembled with two sets of sharply raised parallel silver fins and deep diagonally oriented grooves on the top and bottom sections both bordering a central turquoise stone. And not just any stone, this is a really gorgeous piece of one of the world's finest and most desirable turquoise varieties, Bisbee, Arizona spiderweb. Bisbee turquoise is a legend in turquoise and jewelry circles renowned for its powerful, penetrating blue color and smokey grey-black or reddish matrix.
The oval-shaped cabochon turquoise stone is nicely set in an old style "foldover' type silver bezel in the deeply recessed center portion of the ring and the entire top section of the ring is mounted on a very finely crafted quadruple split-silver shank. It is interesting to note how nicely the four raised silver fins on the top and bottom of the ring's face are echoed and accentuated by the four split bands in the silver shank on either side. From every angle you look
at the ring there is something visually interesting here. It's a fascinating and very optical sculptural form. We would guesstimate from the Modernist style and the Bisbee stone that this ring likely dates from around the Mid-1950's, but we do not know this for certain.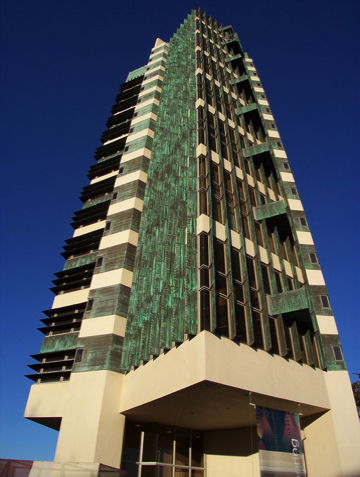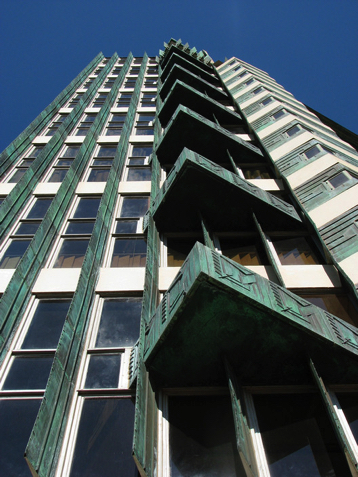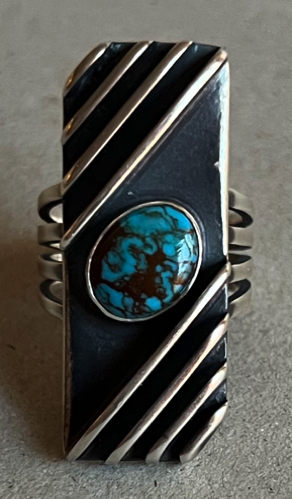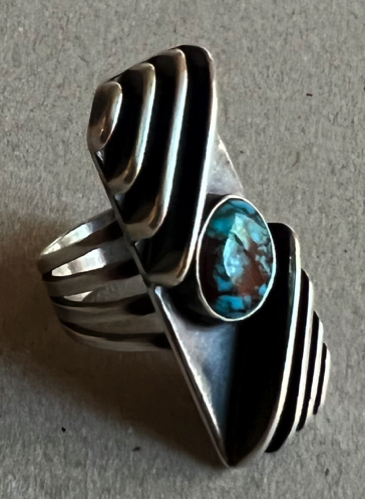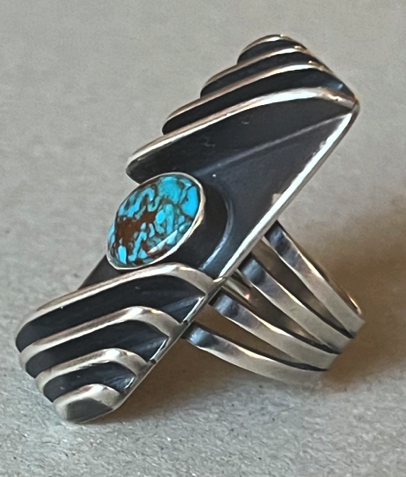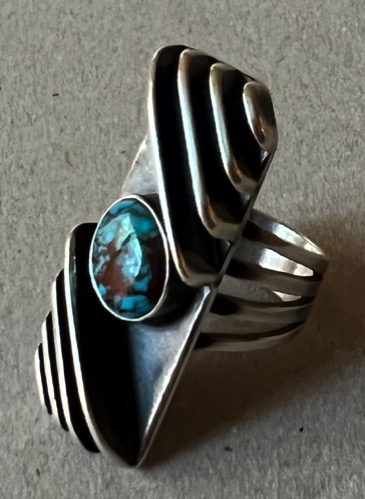 The ring measures a size 8 1/2 to 8 3/4 on a professional graduated ring sizer. The ring's face measures 1 1/2" in
height and is just slightly more than 1/2" in width. The ring weighs a very comfortable 17 grams or 5/8 ounce and it
is in completely excellent original condition. It is not signed for the maker so alas we will never know exactly who
this masterful architect/silversmith was. It might possibly have been an unsigned piece by one of the great Navajo silversmiths at The White Hogan Shop in Scottsdale, Arizona who made many pieces with a distinctly Modernist architectural look and feel, such as Kenneth Begay or one of the Kee brothers but the one thing we do know was
that whoever this artist was, he had a unique vision and a boatload of talent.
We have never seen anything quite like this fantastic ring before.
SOLD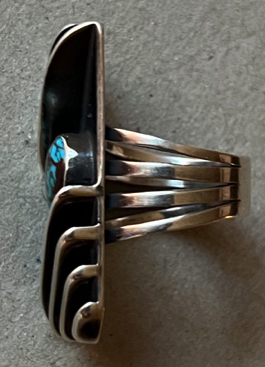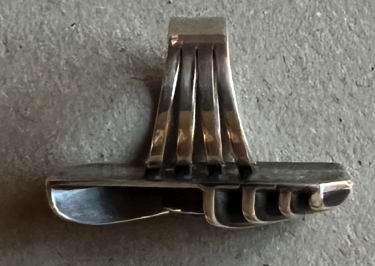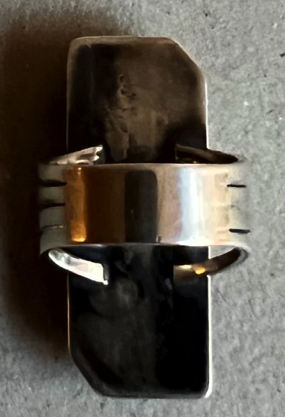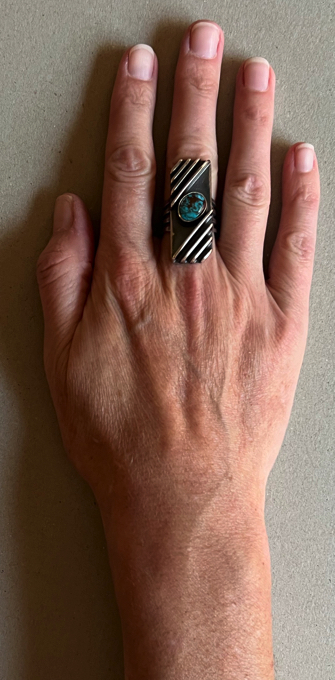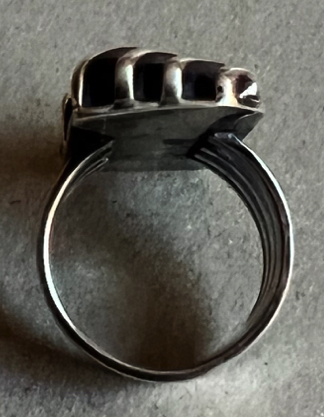 At left and right, Frank Lloyd Wright's Price Tower skyscraper in Bartlesville, Oklahoma
Photo source and © Wikipedia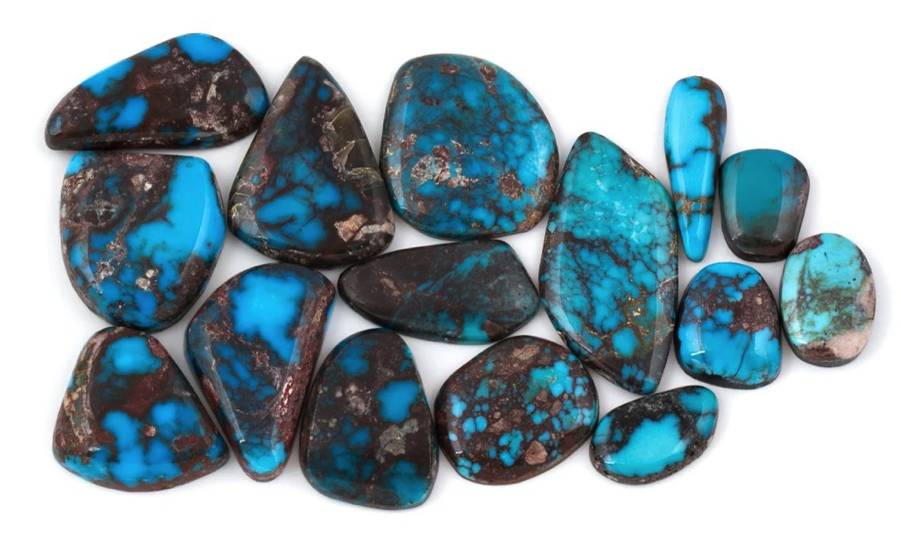 Bisbee Turquoise
Bisbee turquoise is a significant by-product of the huge Lavender Pit copper mine, which is now closed. With some of the finest turquoise coming from the section of the copper mine known as the "Lavender Pit," where for years copper miners would bring out fine turquoise in their lunch boxes. In March of 1972 a miner named Bob Matthews was given the only lease ever granted for rights to mine Bisbee turquoise. He was said to have recovered more than 2,000 pounds of good to excellent turquoise by 1974 . Bisbee turquoise is famous for its deep blue color and its smoky black matrix, which has been described as "smoky Bisbee" and as "lavender." Bisbee turquoise is as good as turquoise gets. In 2004 the Phelps Dodge Mining Company no longer allowed anyone near the hazardous old mine and buried the turquoise pit under 100 feet of dirt. There will be no more Bisbee mined. Any Bisbee on the market today was officially mined prior to 1974.
-Photo and text source and © Waddell Gallery, Scottsdale, AZ