© 2010-2021 by Fine Arts of the Southwest, Inc. All rights reserved.
Unauthorized reproduction or use is strictly prohibited by law.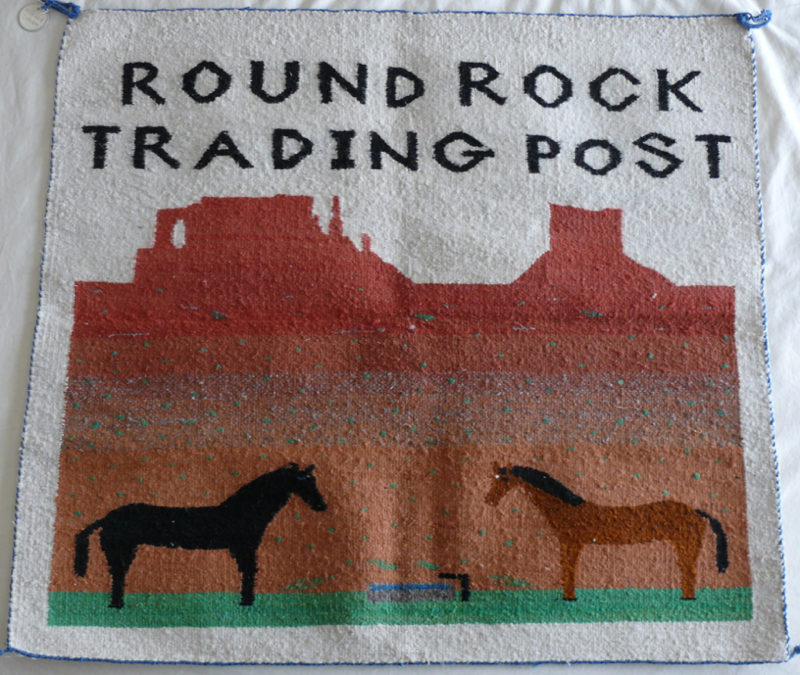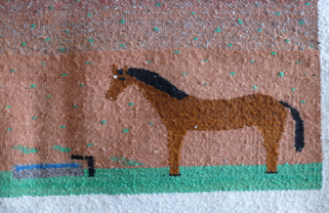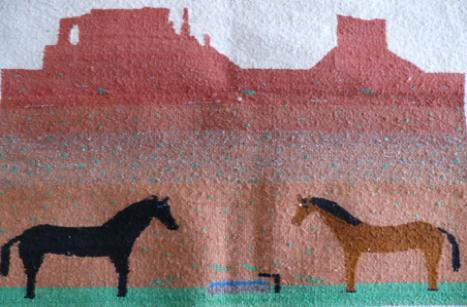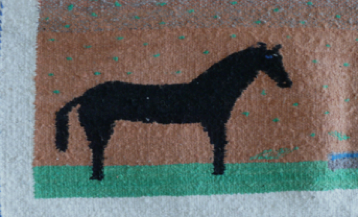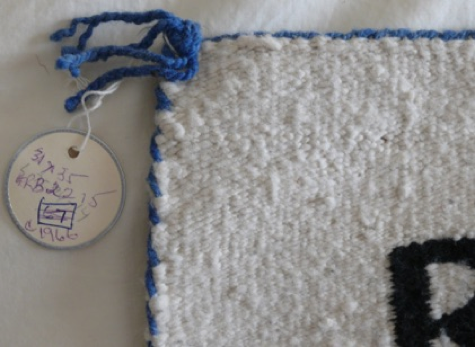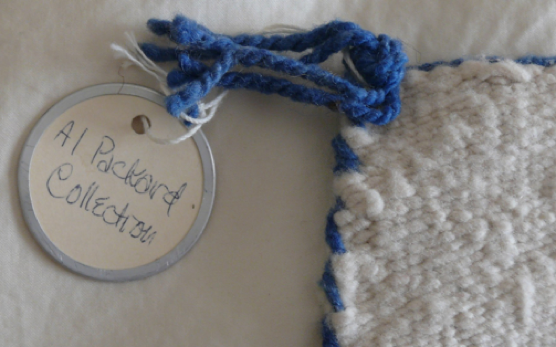 A wonderful and charming Navajo pictorial weaving from
the historic Round Rock Indian Trading Post, Round Rock,
Arizona, circa 1950's-60's
The art on this weaving is just fabulous, particularly the portrayal of the famous "Round Rock" itself, the way the different-colored horses framing each side of the weaving are precisely rendered in graceful two-dimensional profile, the stock tank filled with water in between the horses and the beautifully-depicted light green sagebrush plants dotting the red rock landscape. Round Rock is a marvelous old historic Navajo Indian Trading post located off Highway 191 in Northern Arizona just a few short miles from the tiny town of Tsaile and the spectacular, world-famous Canyon de Chelly. We just love everything about this pictorial. It's unique, indelibly authentic Southwestern art, completely historic Four-Corners trading post-era kitsch and a totally terrific and lovely Navajo weaving all at the same time!
The weaving measures a very nice-sized 30 1/2" in height and 33 1/2" in width. It is in generally excellent original condition with maybe an old moth bite or two in the central area between the two horses. The tassels and selvages are intact. The weaving's provenance is also quite interesting as well. The weaving has a round paper hanging tag attached to the upper left corner with various written codes and prices on the back and a description on the front stating that the piece was formerly part of the Al Packard Collection of Santa Fe, NM, which is a very prestigious and well-known old Southwestern collection. Alton (Al) Packard (1930-2005) and his parents, Frank and Marie Packard, formerly operated one of Santa Fe's best known and most beloved Indian Trading posts and galleries, "Packard's on the Plaza", beginning in 1944 through 1979 when Al Packard sold the gallery.
Al Packard was also a very influential part of helping to originally found The Southwest Association of Indian Arts or S.W.A.I.A., the organization which sponsors and operates Santa Fe's world-famous annual Indian Market each August. Al Packard was very likely the original owner of this weaving and probably purchased it directly from the Navajo woman who wove it. The Packard family held a series of public sales of pieces from their trading post's inventory and their own personal collection in Santa Fe in the late 1990's and early 2000's and this weaving was very likely sold at one of those sales.
Price $2,800