© 2010-2022 by Fine Arts of the Southwest, Inc. All rights reserved.
Unauthorized reproduction or use is strictly prohibited by law.

A wonderful and charming Navajo pictorial
weaving from the historic Round Rock Indian Trading Post, Round Rock, Arizona, 1966
Ex: Alton (Al) Packard personal collection, Santa Fe, NM
The art on this weaving is just fabulous, particularly the portrayal of the famous "Round Rock" redrock formation itself, the slightly flat perspective manner in which the two different-colored opposing horses framing each side of the weaving are precisely rendered in graceful two-dimensional profile, the stock tank filled with water in between the horses and the beautifully-depicted light green sagebrush plants dotting the red rock landscape.
Round Rock was a marvelous old historic Navajo Indian Trading post originally established in 1887 located off Highway 191 in Northern Arizona just a few short miles from the tiny town of Tsaile and the world-famous Canyon de Chelly, the spectacular scenic and historic jewel of Navajoland. The post was co-owned by one of the most prominent figures in modern Navajo history, Henry Chee Dodge (1860-1947), the last official head Chief of the Navajo from 1884-1910 and the first Chairman of the Navajo Tribal Council from 1942-1946. Sadly, the old
trading post suffered a disastrous fire in 2014 and is now in ruins making this piece that much more of a beautiful and eloquent memento.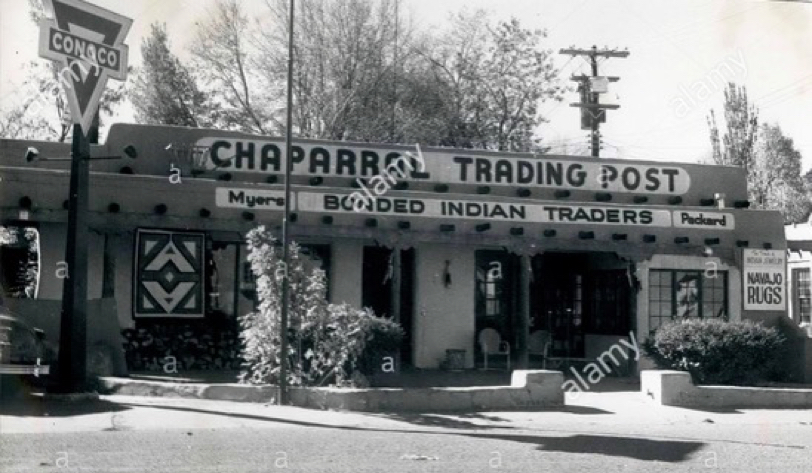 Packard's Chaparral Trading Post, Santa Fe, NM, c. 1940's
Photo source and © Alamy Stock Photos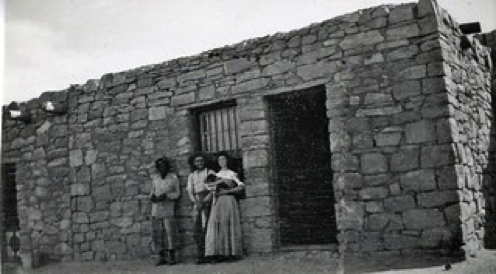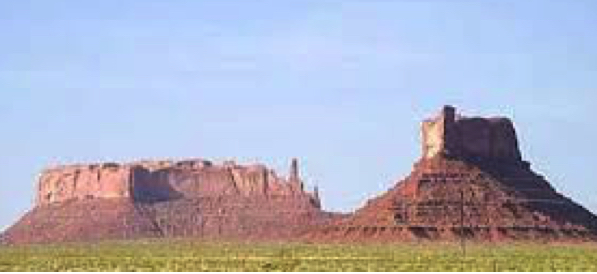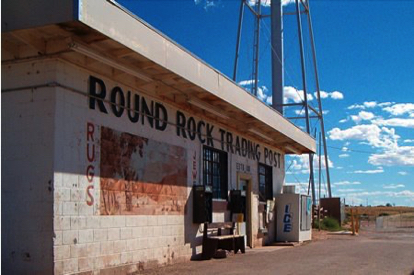 We just love everything about this pictorial. It's like a beautiful window into a pastoral past, as if time had stopped for a moment for us to take in and contemplate this peaceful and beautiful scene. It's unique, indelibly authentic Southwestern art, completely historic Four Corners trading post-era kitsch and a totally terrific, lovely, completely authentic Navajo weaving all at the same time!
The weaving is done in a single-saddle blanket format, size and layout, a notion reinforced by the presence of the two horse pictorials, and it measures a very nicely-sized 30 1/2" in height and 33 1/2" in width. It is in generally excellent original condition and the tassels and selvages are intact. There is no fading evident between the "A" and "B" sides of the textile. There are some fold marks as the textile has been stored folded, but these will most likely relax when the textile is hung on the wall or rolled for some time.
As befits this wonderful piece, the weaving's provenance is also quite wonderful as well. The weaving has a round paper hanging tag attached to the upper left corner with various old written Indian Trader's codes and prices on the back and a description on the front stating that the piece was formerly part of the Al Packard Collection of Santa Fe, NM, which was an extremely prestigious and well-known old Southwestern collection. Alton (Al) Packard (1930-2005) and his parents, Frank and Marie Packard, formerly operated one of Santa Fe's best known and most beloved Indian Trading posts and galleries, "Packard's Chaparral Trading Post", beginning in 1944 on the corner
of Water and Shelby streets in downtown Santa Fe, just across the street from The La Fonda Hotel.
At left, the Round Rock Trading Post, c. 1910. At right, the Round Rock Trading Post, c. 2013.
Left photo source and © Flickr
In 1979, Al Packard sold the post to the Canon family who continued operating it as "Packard's on the Plaza" until selling it in 2013. A good amount of the finest Native American and other art ever created in the Southwest passed through the doors of Packard's post over the years including several decades worth of fabulous Navajo silver special orders made by renowned Navajo silversmith Mark Chee (1900-1981) who worked for Al Packard for decades.
Al Packard was also an influential, involved and important part of the larger Indian art and trading business. He was a charter member of The prestigious United Indian Traders Association (UITA) organization which was dedicated to upholding quality standards of Native American jewelry and others arts. Packard was also influential in helping to originally establish The Southwest Association of Indian Arts or S.W.A.I.A., the organization which sponsors and operates Santa Fe's world-famous annual Indian Market each August. Al Packard was very likely the original owner of this weaving and he probably purchased it directly from the trading post or from the Navajo woman who wove it on a buying trip out to Round Rock or possibly at his store in Santa Fe if she or a relative brought it in to sell. Years later, the Packard family held a series of public sales of pieces from their trading post's inventory and their own personal collection in Santa Fe in the late 1990's and early 2000's and this weaving was sold by them at one of those sales and we purchased it from the person who bought it.
This beautiful Navajo pictorial is a particularly beautiful and meaningful piece of Southwestern art
and history anyone should be proud to own.
SOLD
"In 1959 discussions began concerning the future of the organization. Fortuitously, trader Al Packard took an interest in continuing the markets along with Sallie and Bill Lippincott, Rex Arrowsmith, Marge Lambert, and Bertha Dutton. If not for Packard, the stagnant Markets would have withered from lack of organization."
-Quotation source and © SWAIA