© 2010-2021 by Fine Arts of the Southwest, Inc. All rights reserved.
Unauthorized reproduction or use is strictly prohibited by law.

A wonderful and unique Navajo tufa-cast silver and turquoise figural belt buckle in the form of a stylized Navajo "Yei" or Holy Person, c.1940's-50's
This terrific buckle is precisely the sort of singular piece that proves that no matter how long you've been doing this, you haven't seen everything. It is a completely unique piece in our decades of experience and it is simply fantastic. The concept of using the Yei figure's body to form the body of the buckle is simply wonderful and the execution of the extremely difficult traditional Navajo silversmithing technique of silver tufa-casting is just remarkable, the casting is extraordinarily well done; clean, delicate and precise and extremely solid. This difficult-to-achieve combination of delicacy and strength is the pinnacle of quality tufa-casting and the unknown Navajo silversmith who made this was clearly a master of his craft.
"A rainbow yei, sometimes considered an aspect of the rain-god Water Sprinkler, is drawn around every sandpainting; his body curls around the south, west, and north sides to protect the painting from outside influences, and to protect the user from the power of the god depicted in the painting.
He does not need to cover the east, because no evil can come from the east in Navajo thought. "
-Quotation source and © Wikipedia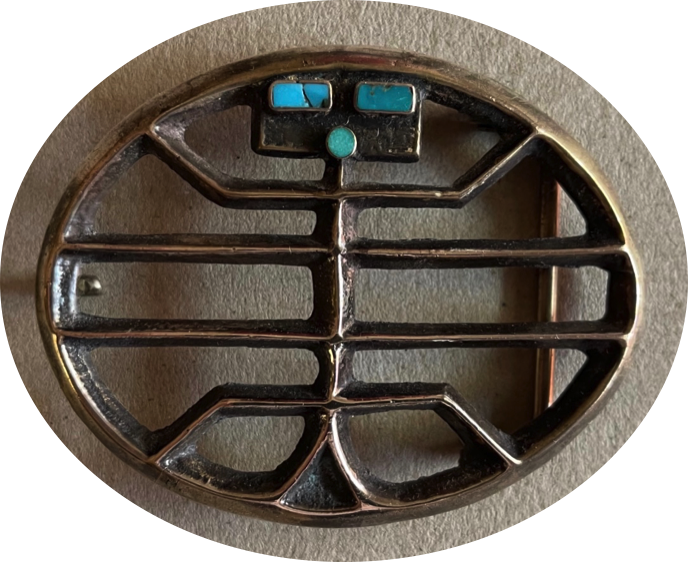 Navajo Sandpainting with Yei Figures
Photo source and © Getty Images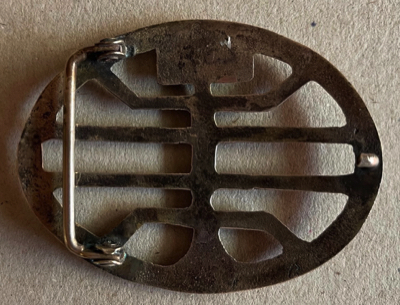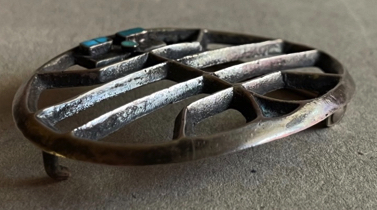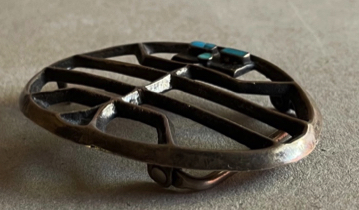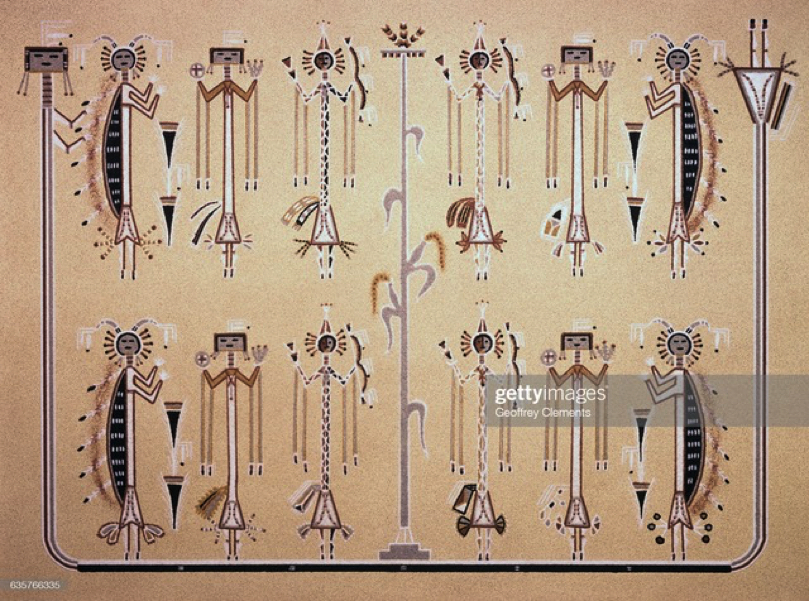 The Yei figure's head is very nicely set with three beautiful pieces of turquoise to form the eyes and mouth. The buckle measures a shade under 3" in width and it is 2 1/4" in height. It will accommodate a belt strap of up to 1 1/2" in width. The buckle weighs a very comfortable and easy to wear 41 grams or 1 1/2 ounces and it is in excellent original vintage condition. One of the turquoise stones in one of the "eyes" is cracked, but it is completely stable in its setting. The buckle has a marvelous, mysterious almost otherworldly look and feel to it, as if the power and mystery of the Navajo supernatural figure had been brought down to earth and encapsulated here.
Be the first on your block, in your state (or possibly anywhere) to own such a unique and distinctively beautiful piece of historic Navajo jewelry. It will help you attain what the Navajo believe is the ideal human state of being;
to be able to "Walk in Beauty."
SOLD