© 2010-2022 by Fine Arts of the Southwest, Inc. All rights reserved.
Unauthorized reproduction or use is strictly prohibited by law.

An exceptional vintage Navajo tufa-cast silver
"cluster" style bracelet set with eleven large matched Blue Diamond Mine Nevada turquoise stones, c.1960
Let's talk about an explosion in a turquoise mine! This gorgeous "Cluster" style bracelet has no less than eleven large pieces of beautiful, high-grade "Blue Diamond" Nevada turquoise.
The bracelet radiates like a constellation of bright blue stars. The anonymous Navajo silversmith who made this piece knew his craft very well; from the beautifully tufa-cast silver body of the bracelet to the matching, cutting, shaping and setting of the eleven fine turquoise stones in their old-style "foldover" type silver bezels, this bracelet is a masterwork of inspired traditional old-style Navajo craftsmanship and design. And now, let's talk just a little about these eleven extraordinary high-grade turquoise stones. The stones have all the defining characteristics of the renowned Blue Diamond turquoise mine near the town of Austin in central Nevada; a deep piercing blue with green overtones shot through with a rusty orange/brown and whitish tan matrix and dotted with deep black chert inclusions to a very beautiful overall effect.
The Blue Diamond mine, discovered in the late 1950's, was so named for the extreme gem-like hardness of the turquoise found there and it is considered to be among Nevada's rare "Hat" mines so-called because it is small enough to cover with your hat according to our colleague, American turquoise authority and longtime Mine owner, Gene Waddell.
The Stormy Mountain turquoise mine in Elko County in Northeastern Nevada also yields beautiful high-grade stones of a similar appearance to Blue Diamond, but the Stormy Mountain deposit was not discovered until the 1970's which is about 10-15 years after we believe this bracelet was made. Regardless, both these varieties are considered to be among the finest quality and most desirable types of turquoise in existence. The last time we purchased high-grade Blue Diamond turquoise stones which was in the late summer of 2018, we paid $20-$25 per carat for them. We would conservatively estimate that the combined carat weight of the eleven stones in this bracelet is around 80-90 carats so the math here is fairly compelling.
"The Blue Diamond mine, located in central Nevada, opened in the late 1950's and was mined up to 1980. This mine is considered a "hat mine" of which there are very few. A hat mine is a small deposit of turquoise that, "you can cover with your hat." The stones that the mine produces, which are usually large pieces of plate form, looks a great deal like Stormy Mountain turquoise because of its black smoky matrix. This stone features dark smoky matrix surrounded by a brilliant blue, The characteristic black chert is ever-present. This mine is now closed and buried under thousands of tons of rock."
-Gene Waddell, Nevada turquoise mine owner. Quotation and Blue Diamond photo source © Waddell Trading Company, Scottsdale, AZ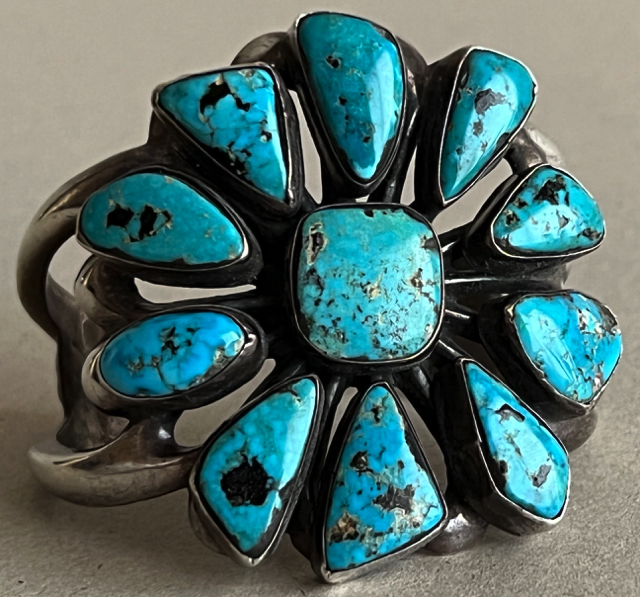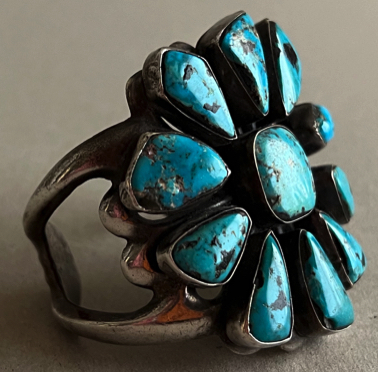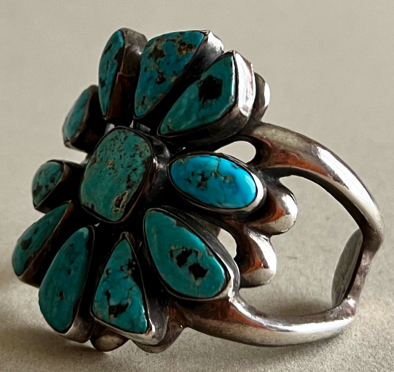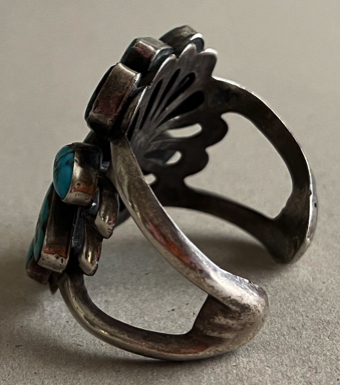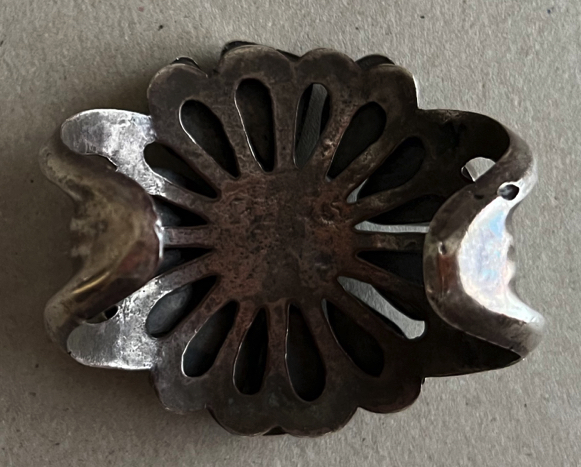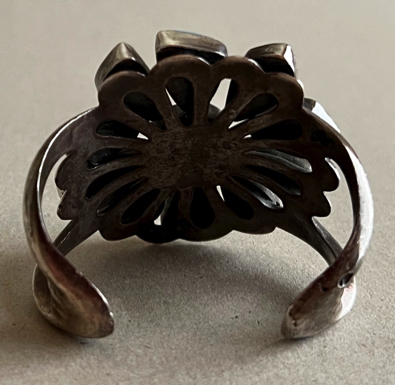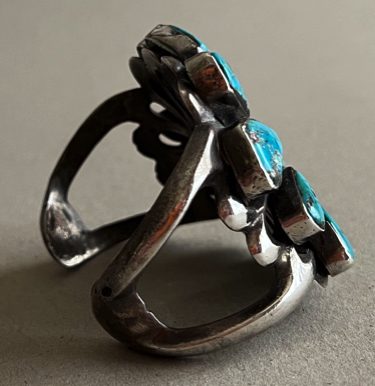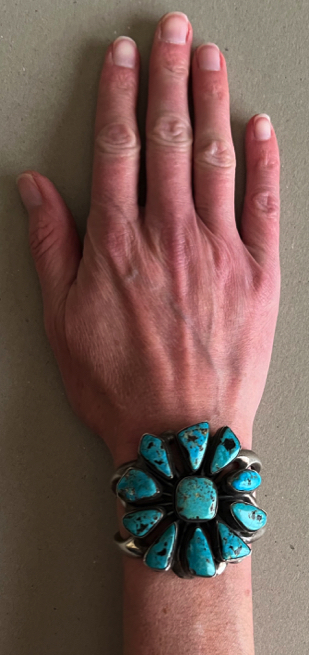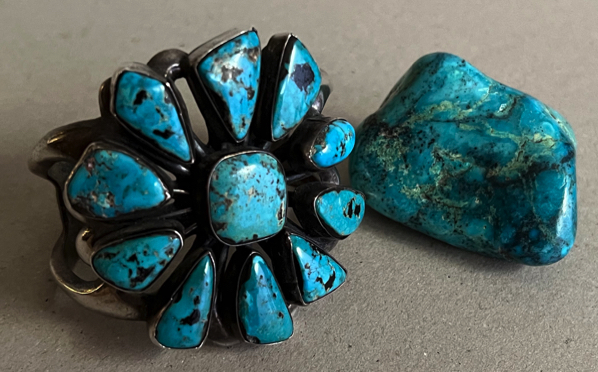 The bracelet pictured with a Blue Diamond Nevada turquoise specimen rough stone.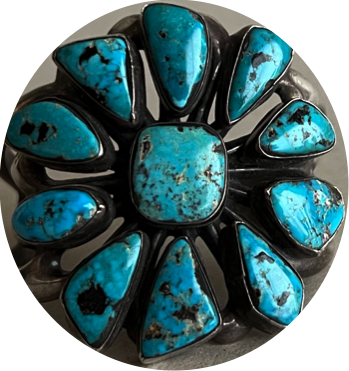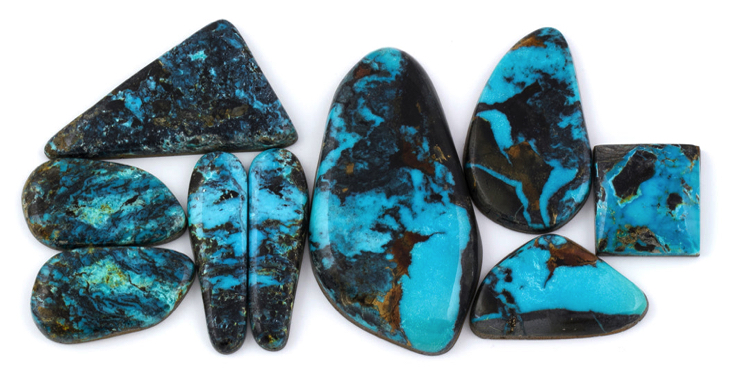 The bracelet measures approximately 2 1/4" in width at its widest center point and it tapers down to about 1/2" in width at the terminal ends. The inner circumference measured end-to-end is 5 1/16" and the gap between the terminals is 1 1/8" for a total interior circumference of 6 3/16". The bracelet weighs an impressive 100 grams or 3 1/2 ounces. It is in excellent original condition overall; all of the turquoise stones are intact and the silver has developed a very nice aged patination. We can pretty much guarantee that this big Blue Diamond bombshell will turn every single eye in your direction in whatever room you happen to enter while wearing it. It is simply that stunning and dramatic a piece.
Price $1,950
SOLD
Please note that the Blue Diamond specimen rough turquoise stone shown here is for
demonstration purposes only and is not included in the sale of the bracelet.