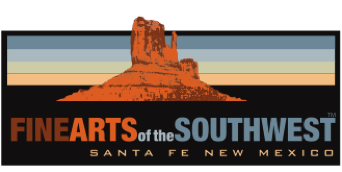 © 2010-2023 by Fine Arts of the Southwest, Inc. All rights reserved.
Unauthorized reproduction or use is strictly prohibited by law.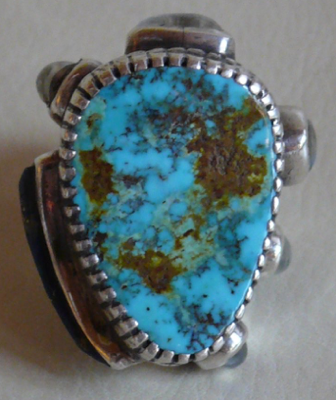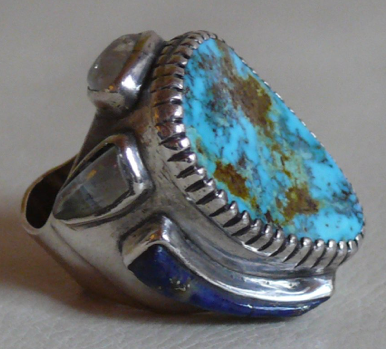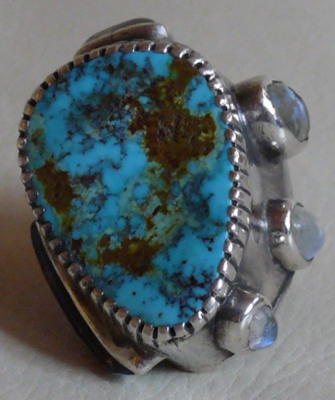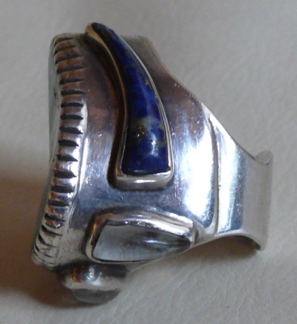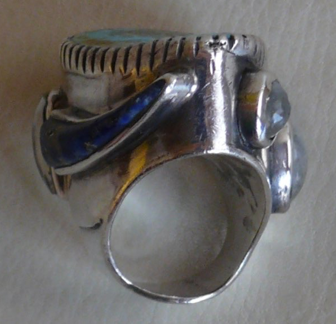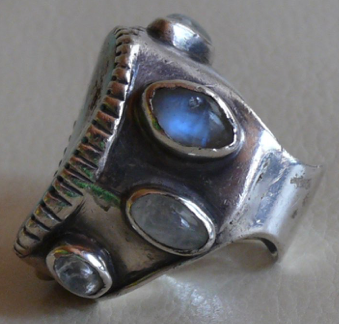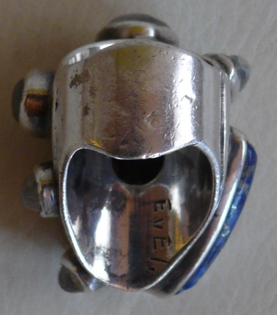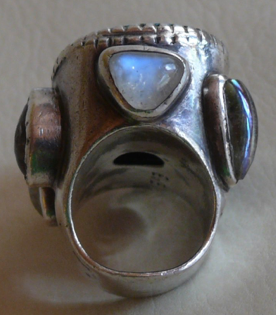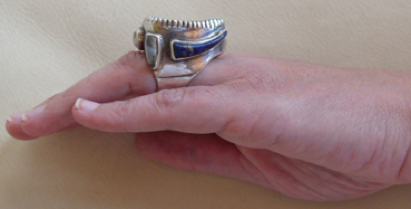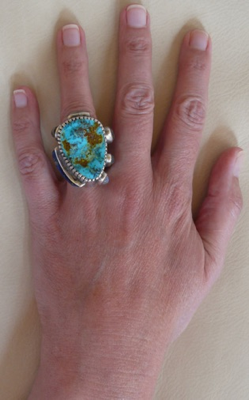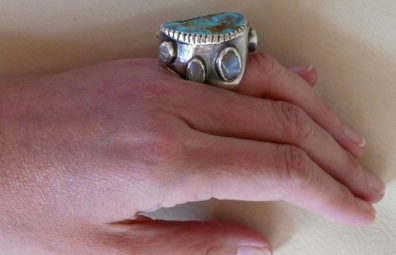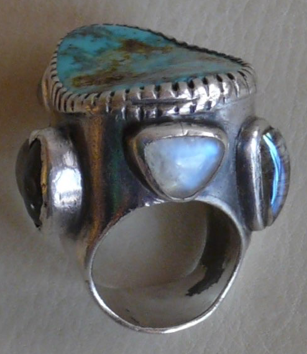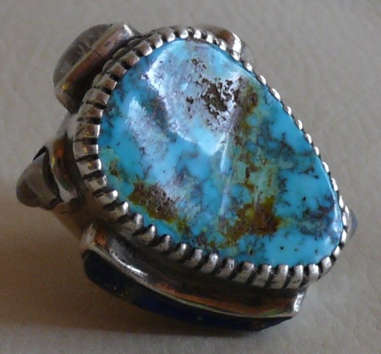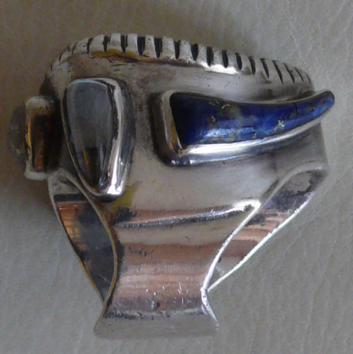 A beautifully-detailed silver,
turquoise, lapis lazuli and moonstone ring
by Eveli Sabatie, c.1970's
This wonderful piece came from the fertile imagination and highly-skilled hands of the extraordinary, French-Moroccan jeweler, Evelyn (Eveli) Sabatie (b.1940). Eveli's career was launched in rocket-like fashion with her several years long apprenticeship to and very close collegial collaboration with the renowned Hopi jewelry artist, Charles Loloma from 1968 to 1972.
From Loloma, Eveli learned the basics of jewelry fabrication and incorporated her own inspired sense of design, colors and materials from her childhood and young adulthood spent making art amidst the sophisticated designs and elaborately inlaid, extravagantly colored tiles, complex ivory and wood carvings of her native Algeria and Morocco into her jewelry. Because initially money was tight, Eveli began making her jewelry by incorporating simple, inexpensive materials such as bleached beef bones, various woods and semi-precious stones into her pieces.
In this way, the student taught the teacher, as well as vice versa, since Loloma was clearly influenced by many of Eveli's innovative ideas, designs and materials and several developments which Charles is generally credited with creating, such as peek-a-boo and elaborate, multiple interior and exterior mosaic-style inlays might very possibly have originated with or been inspired by Eveli. In any case, one can easily see their considerable influence on each other and how Loloma incorporated some of Eveli's ideas into his own jewelry creations and vice versa.
This amazing ring is somewhat similar to another, larger Eveli Sabatie ring that we currently have listed on our website, and, interestingly, it appears to us that she was working out different variations on a similar design theme with these two pieces. The ring is composed of a fabricated silver shank set a large, downwards-contoured, hand-carved, beautiful piece of Pilot Mountain, Nevada turquoise stone set into a complex serrated silver bezel. Around the outside perimeter of the ring are seven stones, one marvelous crescent-shaped large piece of blue lapis lazuli and six blue-grey moonstones of various sizes, all set into separate old-style "foldover" type silver bezels.
The ring measures a size 6 1/2 on a professional graduated ring sizer, but due to the unique oval shape of the shank it can fit on finger sizes from 7 to 8. The ring's face measures 1 3/8" in height and 1 1/8" in width and it weighs a substantial 36 grams or 1¼ ounces. It rises about 1/2" above the finger. It is in excellent original condition overall and has recently been professionally cleaned and polished. There is a very tiny chip in one of the moonstones, but this is of no consequence. The ring is properly signed "Eveli" in the artist's characteristic signature on the interior.
This ring is an imaginatively-designed and beautifully-crafted piece from one of the most innovative and accomplished Southwest jewelers in history; a unique, wearable three-dimensional sculpture of silver and stone.
Price $8,750