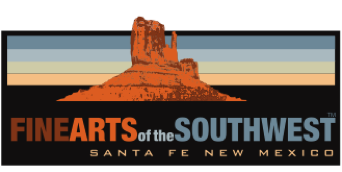 © 2010-2023 by Fine Arts of the Southwest, Inc. All rights reserved.
Unauthorized reproduction or use is strictly prohibited by law.
An exquisite pair of contemporary Navajo silver
and turquoise earrings by Perry Shorty, c. 1990's
Navajo silversmith Perry Shorty (b.1964) is proof positive that 19th century quality and hand craftsmanship
are still alive and well in the 21st century. Perry is a craftsman of the old and completely traditional school, hand-making absolutely everything without the use of modern high-tech tools and methods. Everything he does could have been done and looks like it was done in the late 19th Century as opposed to a century later. All of Perry's silverwork is beautifully and meticulously crafted, like this absolutely gorgeous pair of round earrings. These are among his earlier pieces which were somewhat more delicate than what he has been making the past few years.
The earrings are slightly domed and contoured in shape and they are beautifully stamped in a concentric pattern
of various geometric stamps arranged in a circular orientation around the central turquoise stone and the outer border is very finely scalloped. The overall effect here is of a delicately detailed silver flower with a lovely bright blue turquoise central core or pistil. In that way, they are quite similar to classic Navajo coin-silver buttons.
The perfectly matched round turquoise stones are a beautiful saturated blue color with a lighter brown matrix and are very possibly Blue Gem, Nevada turquoise. The amount of concentrated difficult effort and complete attention to detail the process of making these earrings look so light and seemingly effortless is nearly impossible to imagine.
"I try to keep things simple. The old smiths didn't have a lot of tools
and materials to work with, and I like doing it their way."
-Perry Shorty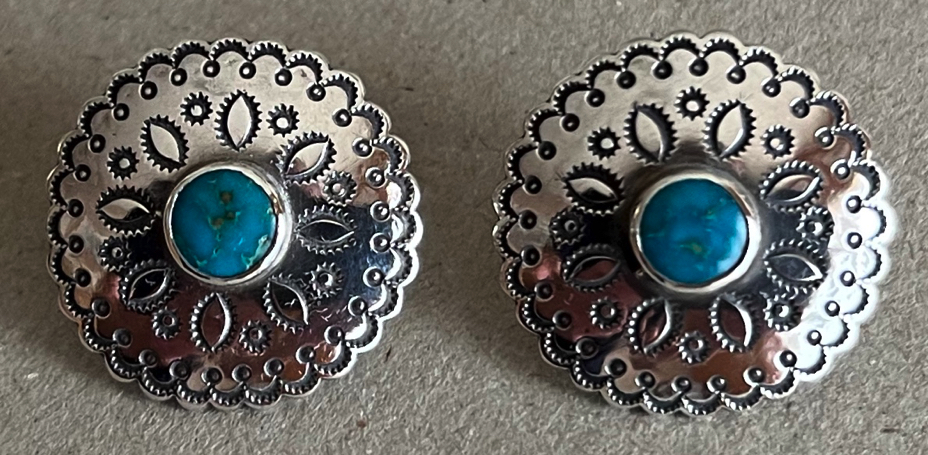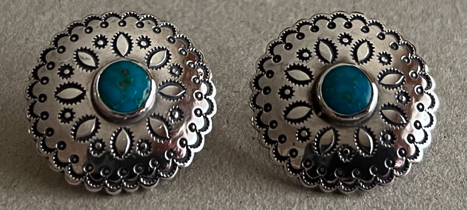 The earrings are mounted on silver posts and they measure 1" in diameter and weigh an extremely comfortable
6 grams or 1/4 ounce each. The earrings are in completely excellent original condition and they are properly signed "P. Shorty" in Perry Shorty's customary cursive signature on the back of each earring. Exalted craftsmanship and exquisite beauty such as this is why Perry Shorty's jewelry is prized all over the world and why for years many Japanese and other overseas collectors have made regular pilgrimages to America to have an opportunity to buy from him directly at the annual Santa Fe Indian Market and The Heard Museum Fair in Phoenix.
Over the years, we have been fortunate to have bought and sold quite a few pieces of Perry Shorty's wonderful jewelry and we can confidently say that in our estimation these earrings are some of the most interesting and
finely made pieces of his we have seen. That is saying quite a lot.
SOLD