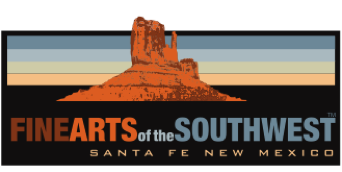 © 2010-2021 by Fine Arts of the Southwest, Inc. All rights reserved.
Unauthorized reproduction or use is strictly prohibited by law.

A superb Navajo coin-silver and Lone Mountain Nevada Spiderweb turquoise ring by Perry Shorty, c. 2020
Perry shorty (b. 1965) is one of the undisputed giants of Navajo silversmithing and this spectacular ring is one of his very finest efforts. The ring is beautifully shaped and decorated with outstanding chiseled and stamped designs. It features a stunning rare high-grade Lone Mountain Nevada spiderweb turquoise stone obtained directly from the Lone Mountain mine owner who is a longtime colleague of ours. The stone is hand cut and shaped and is nicely set in an old style "foldover" type silver bezel.
The ring's face is beautifully decorated with a very finally executing radiating chisel work design surrounding the central stone. The face of the ring measures 3/4" square and the ring's size is 9 1/2-9 ¾ measured on a professional graduated ring sizer. The ring weighs a very comfortable 19 grams or 5/8 ounce and it is in pristine, like-new original condition. It is properly signed "P.Shorty" and is also marked "coin-silver" on the interior. Perry reserves this mark for some of his finest most ambitious pieces, the ones he makes exclusively from melted down historic American Barber type silver coins in the time-honored traditional Navajo silversmithing manner.
Impress your friends and turn your enemies bright green with envy with this strikingly handsome ring.
SOLD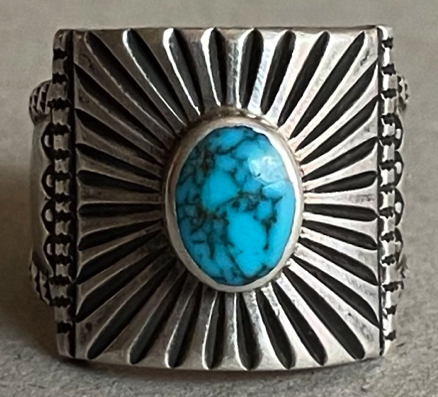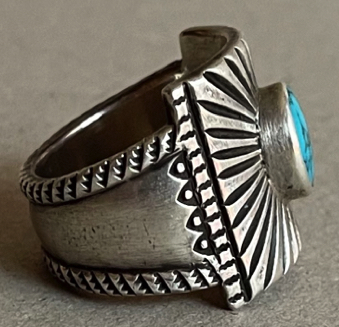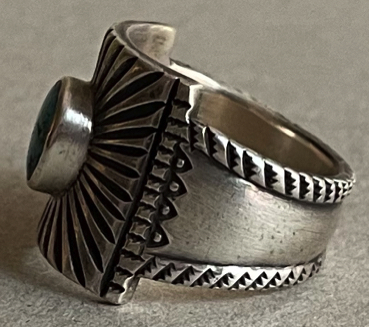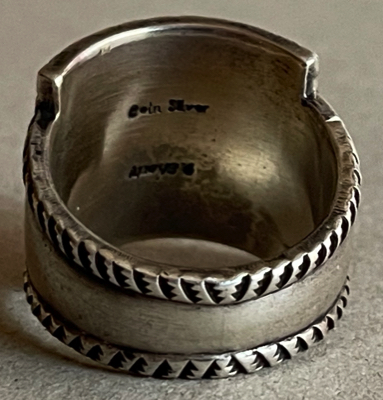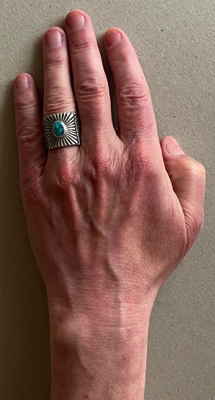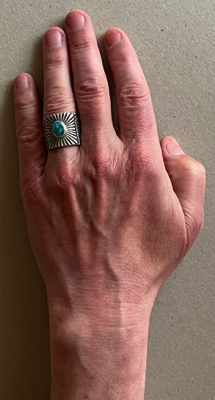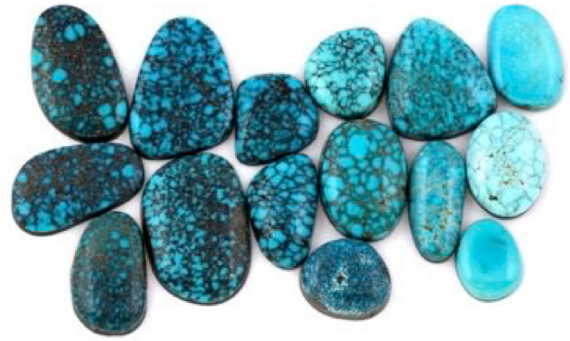 Lone Mountain Turquoise
This mine once produced a great variety of turquoise, included some of the finest examples of spider web turquoise as well as clear, deep-blue stones. Lone Mountain turquoise has always been noted for holding its color. Among all "classic" Southwestern turquoise, only Lander Blue is more valuable. A rare occurrence has been the "fossil turquoise" found in this mine. The fossil is of a crinoid stem. The Lone Mountain mine consists of a series of haphazard tunnels dug by miners chasing the veins of turquoise. The mine was claimed by Lee Hand in 1920 first as the Blue Jay Mining Lode and later, after seeing that so many mines had been named Blue Jay, Hand changed the mine's name to Lone Mountain. In the 1960's Lone Mountain was converted to a small open pit operations by Menliss Winfield. It continues to be mined in this fashion today. In 1979, I purchased Lone Mountain with the King family of Austin, Texas and Santa Fe, New Mexico. I have had different partners over the years and the property has only been mined 6 over the last 28 years. The reason for this is the expense of mining and the regulations for small mine owners, makes it very difficult to be profitable. But with the value of the classic American turquoise mines being so great, it is feasible for this great mine to once again be of great value.
-Lone Mountain turquoise photo and text source and © Gene Waddell, Waddell Gallery, Scottsdale, AZ