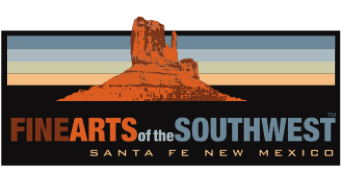 © 2010-2023 by Fine Arts of the Southwest, Inc. All rights reserved.
Unauthorized reproduction or use is strictly prohibited by law.
An exceptional Hopi-Mission tufa-cast silver and turquoise cuff bracelet by Preston Monongye, c.1980
Preston Monongye (1927-1987) is one of the most hallowed names in the annals of modern-day Native American jewelry.
His uniquely original creations are the stuff of legend; rightfully admired, coveted and eagerly sought after worldwide. Preston was a California Mission indian who was adopted and raised at Hopi from a very young age by the important and influential Monongye family of Hotevilla village on Third Mesa. He learned silversmithing from his adopted Hopi father, David Monongye, as well as from other luminaries of Hopi silver such as Ralph Tawangeouma and Allan Pooyouma. Preston's earliest jewelry work in the 1960's to early 70's was along the lines of more traditional Hopi overlay style while his later, more mature work from the late 1970's and 1980's, such as this exceptional bracelet, is done in the heavier, more modern daringly-designed and beautifully executed tufa-cast style he became best known and revered for.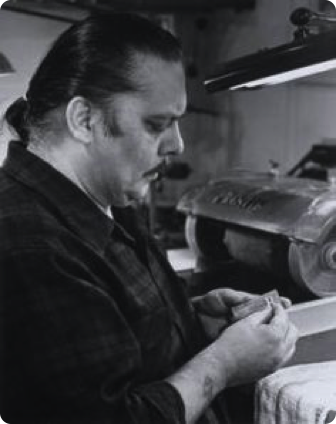 Preston Monongye making jewelry, c. 1980.
Photo soucre and © Pinterest
The bracelet measures 1 5/8" in width at its widest point at the end of the wider terminal and tapers down to 1 3/16" in width at the other narrower terminal. The bracelet's inner circumference end to end is 5 5/16" and the gap between the terminals is 1 3/16" for a total interior circumference of 6 1/2". The bracelet's silver shank is a full 1/4" in thickness and it weighs a very substantial 159 grams or 5 5/8 ounces yet it wears very well being extremely comfortable on the wrist. The bracelet is in excellent original condition with a fine patina and particularly so given its 40-plus years of age and it is properly signed on the inside with Preston Monongye's characteristic Peyote bird and "P" initial signature on a silver plate on the interior.
This bracelet is the beautifully-made and beautiful product of the finest period in this brilliant and important
Native artist's creative career, a piece to be treasured and worn or displayed with pride and passion.
SOLD
"An old piece of philosophy given to me by my father and other men of the Hopi Mesas is,
'If you can progress without hurting your tradition or your religion, you should do so.' "
-Preston Monongye
Quotation source and © amnh.org
"We may use old techniques, along with old designs taken from potsherds or pictographs, but then we redesign them or add innovations of our own."
-Preston Monongye
Quotation source and © amnh.org
With the exception of his Hopi neighbor and friend, Charles Loloma (1921-1991), no other Hopi or other Native jeweler has come close to the swooping modernism and fresh unique design presentation as Preston Monongye. His later tufa-cast work often featured dazzling stone inlays done by his Navajo friend and fellow jeweler, Lee Yazzie and later Preston's son, Jesse Monongye who has now become an important jeweler in his own right. Preston referred to these Modernist pieces of his as being part of "The New Indian Art." Because Preston Monongye could not completely devote himself to his jewlery making until somewhat later in life due to his military service in two wars and his subsequent law enforcement career, there is considerably less of Monongye's jewlery around than that of Charles Loloma who had a non-stop 30 year jewelry making career complete with two studio apprentices.
This extraordinary tufa-cast silver and turquoise cuff bracelet is a prime example of Preston's later and finest work.
It's wonderful asymmetrically-shaped silver shank is shaped somewhat wider at one end and features deeply channelled diagonal silver design panels which combine beautifully high polished upper surfaces with darker lower surfaces for a wonderful overall visual contrast and dynamic tension. A diagonal row of beautifully set small greenish-blue turquoise stones, with black matrix, possibly Fox Nevada or King's Manassa, Colorado cuts directly across the face of the bracelet. The very highly-polished terminal ends and upper and lower borders complete the composition perfectly.