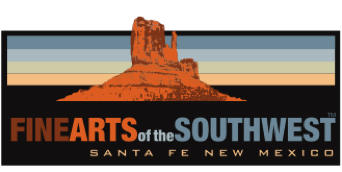 © 2010-2023 by Fine Arts of the Southwest, Inc. All rights reserved.
Unauthorized reproduction or use is strictly prohibited by law.
An exceptional large Navajo Sterling silver
and high-grade Nevada spiderweb turquoise belt buckle by Thomas Curtis, Sr., c.1980's-90's
Please take a few moments to gaze carefully upon this extraordinary beauty, it's a very rare occasion indeed that
you will see something designed and executed this beautifully and in as difficult and unforgiving an artistic medium
as heavy silver metal. But when you're dealing with artistry and technical excellence on the level of the legendary Navajo silversmith, Thomas Curtis, Senior (1942-2013) all bets are off and otherwise unimaginable things can be regularly achieved. Curtis' silverwork is simply on another higher, more exalted level than almost anyone else's.
In addition to being a world-class silversmith himself, Thomas Curtis, Sr. was also the very proud Father of his daughter Jennifer Curtis (B. 1964) who learned silversmithing at her Father's knee as a little girl and has now become an outstanding silversmith in her own right proudly carrying on her Father's distinguished tradition.
The oval-shaped design of this buckle is a masterpiece marriage of inspired artistry and remarkable technique; a four-part traditional Navajo composition representing the Four Directions of the world done in a dazzling array
of repoussee, chisel, file and stampwork all framed to feature a large, gorgeous, high-grade Nevada spiderweb turquoise stone set in the center of the buckle in a very finely-crafted serrated thick silver bezel. We are not completely sure if this stone is from the fabled Lone Mountain mine in Esmerelda County, Nevada or the equally renowned #8 mine in Carlin, Nevada, but it is one of these two. Our money is on Lone Mountain by a nose, but either one is fantastic and both are among the world's most renowned and now most expensive turquoise varieties.
The stone itself measures a very sizeable 3/4" in height by 3/4" in width.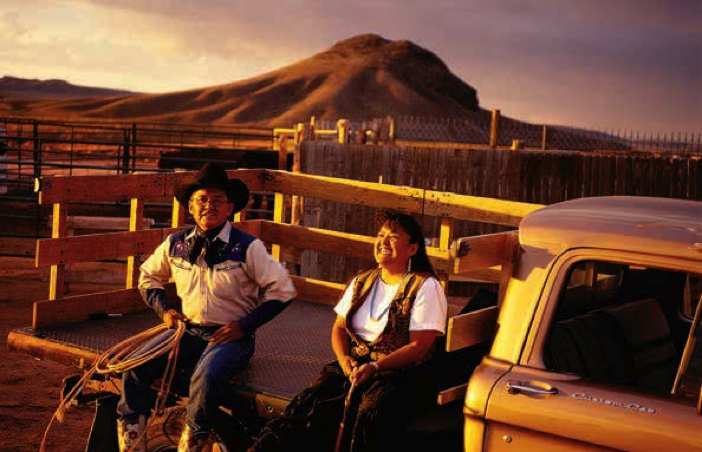 Overall, this buckle's design is an absolutely stunning, completely original and fascinating graphic presentation.
It conveys a wonderful combination of strength and finesse. Another interesting and extremely sophisticated technique to remark upon here is the narrow band of applied silver granulation encircling the inner repousseed
silver medallion of the buckle. This is a technique which we have seen Thomas Curtis use before for graphic emphasis; it is subtle, effective and quite lovely.
In his capacity as a repeat Champion Rodeo rider, Tom Curtis had a special affinity for trophy belt buckles. Rodeo wins, particularly major ones are usually celebrated with the presentation of a fancy buckle and this buckle more than lives up to the bill with its impressive design and exceptional large Nevada spiderweb turquoise stone.
The buckle measures an extremely impressive 4 1/2" in width and is 3" in height. The buckle also has a considerable
5/8" depth like a large silver triple-layer cake. It weighs a very significant, but eminently wearable 122 grams or
4 3/8 ounces, over a quarter-pound of high-octane silver goodness. The buckle will accept a leather belt strap of
up to 1 3/4" in width. The buckle is in excellent original condition with a scuff and scratch or two here and there.
The buckle is properly signed "T. Curtis" in Thomas Curtis Sr.'s characteristic cursive signature on the back and it is also marked "Sterling". The buckle is signed once more on the side of the beautifully hand-wrought silver tang.
This buckle is a thoroughly remarkable masterpiece crafted by a thoroughly remarkable master artist, a truly precious treasure to own and wear with tremendous pride.
Please note that the leather belt pictured here is for demonstration purposes only and is not included in
the sale of the buckle. If desired, we can recommend an excellent custom leather belt maker in Santa Fe.
SOLD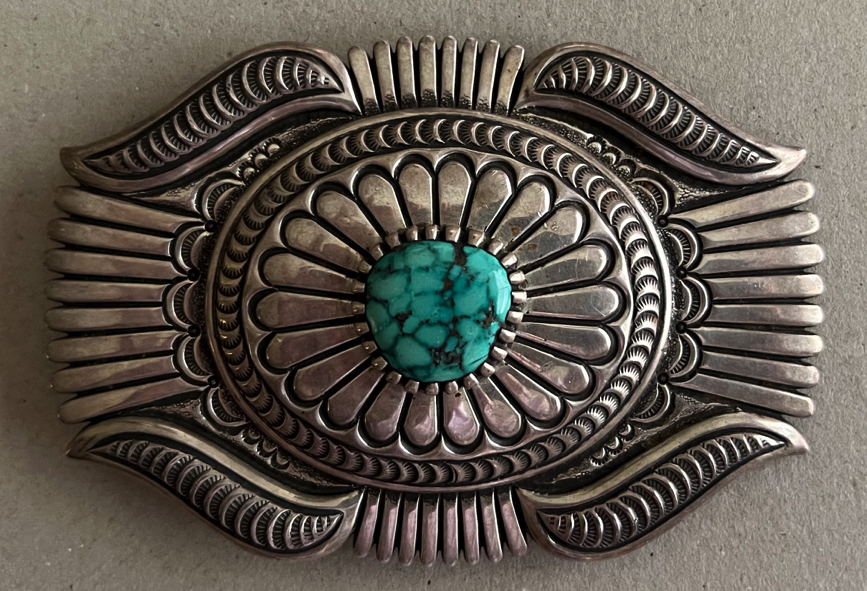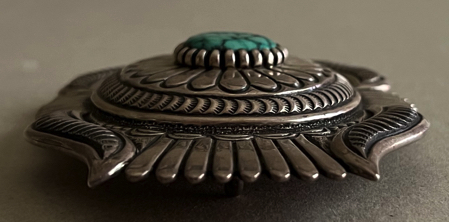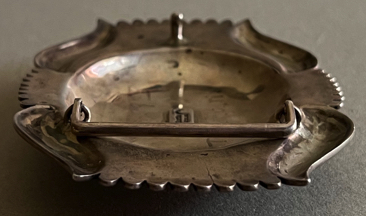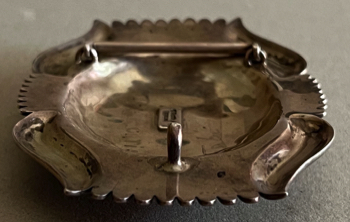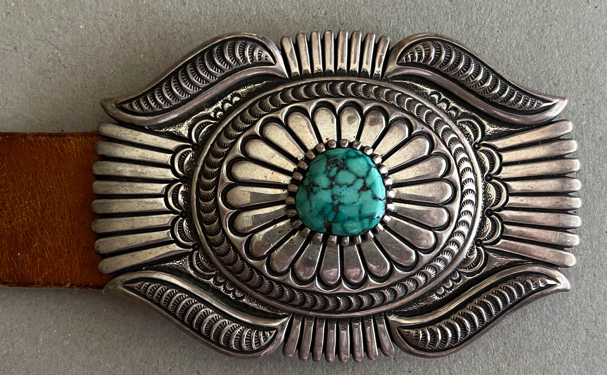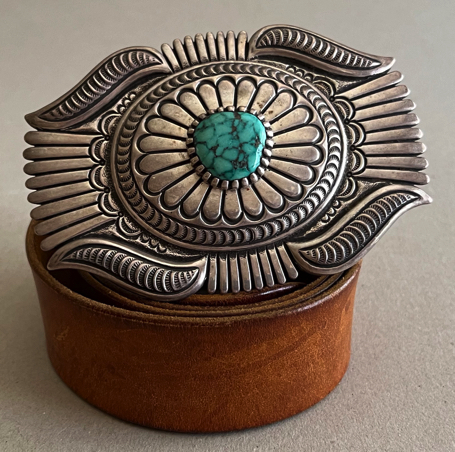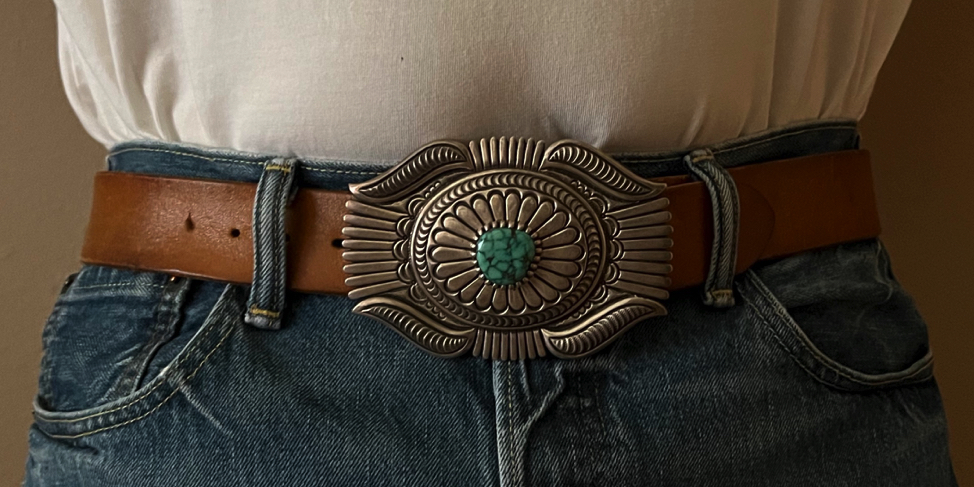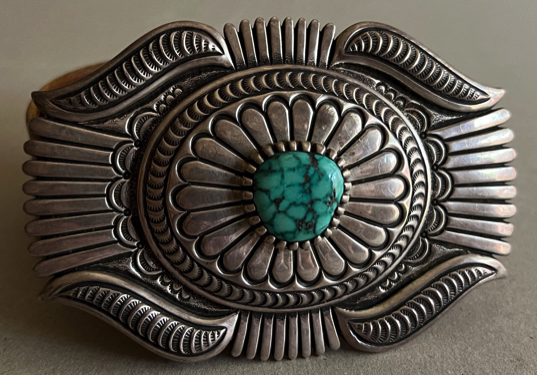 Thomas Curtis Sr. and his daughter Jennifer at a rodeo event in Arizona, c. 1990's
Photo source and © Arizona Highways Magazine