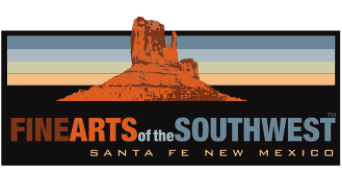 © 2010-2023 by Fine Arts of the Southwest, Inc. All rights reserved.
Unauthorized reproduction or use is strictly prohibited by law.
A particularly fine vintage Navajo
Sterling silver and Morenci, Arizona turquoise ring by Thomas Curtis Sr., c. 1990's
This is a wonderful iconic ring by the late great Navajo silver Master, Thomas Curtis, Sr. (1942-2013).
Tom Curtis was renowned for the exceptional beauty and extraordinary craftsmanship of his creations; the heavy silver, deep stamp work, complex designs and use of beautiful stones, all of which this fine ring displays in abundance.
The ring is solidly built in a platform style featuring a large central turquoise stone. The ring's thick silver shank is beautifully decorated along both sides with deep, perfectly-applied stamp work designs. And for the crowning central touch, there's the superb, high-grade large, oval-shaped Morenci, Arizona turquoise stone, one of America's finest and most desirable types of turquoise. The Morenci Mine near the town of Safford in southern Arizona is renowned for its penetrating clear deep blue color and its silvery iron pyrite matrix inclusions and this stone displays both these defining characteristics beautifully. The stone is perfectly and precisely set in a very substantially wrought handmade finely-chiseled serrated silver bezel mounted upon the lovely oval-shaped silver platform base. All in all its a perfectly conceived and perfectly executed artistic package.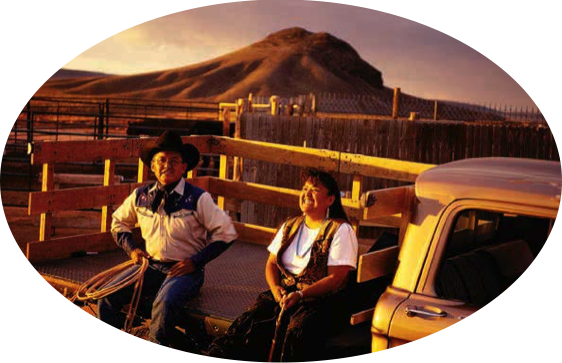 Thomas Curtis Sr.'s two great passions in life were silversmithing and rodeo riding where he was a repeat Champion. Above, Thomas Curtis Sr. and his daughter Jennifer are pictured at a rodeo event in Arizona, c. 1990's. Jennifer Curtis is now an outstanding Navajo silversmith in her own right following in her Father's footsteps.
Photo source and © Arizona Highways Magazine
The ring measures a size 9 1/4 to 9 1/2 on a professional graduated ring sizer. The silver shank is 1/8" or so in thickness all the way around. The ring's face measures 1" in height and is 1" in width at its widest point and it weighs a very substantial, yet perfectly and comfortably wearable 32 grams or 1 1/8 ounces. When you put this beauty on you know that you are wearing a piece of considerable substance and great strength. The ring is in generally excellent original condition with some age-appropriate abrasions and wear and a fine soft patina from use. The ring is properly signed
"T. Curtis" in Thomas Curtis' characteristic cursive signature on the inside and it is also quality marked "Sterling."
Be the envy of everyone you see with this knock-down gorgeous ring, your friends will admire you more, your enemies will resent you more but best of all when you look at yourself in the mirror you will see this shining, precious emblem of your impeccable taste and incredible good fortune.
SOLD