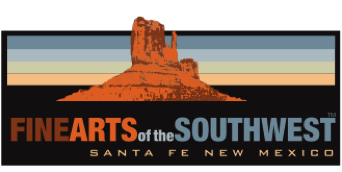 © 2010-2021 by Fine Arts of the Southwest, Inc. All rights reserved.
Unauthorized reproduction or use is strictly prohibited by law.

A contemporary Navajo cast-silver and
Bisbee turquoise ring by Tony Abeyta, 2015
Navajo artist Tony Abeyta (B.1965) is one of the most talented and versatile Native American artists working today
and his unique and exciting jewelry which he first began making in 2010 hit the Southwestern art scene like a nuclear bomb selling out immediately and every time and everywhere it was available. After 2012, Tony abruptly stopped making jewelry
to concentrate on his paintings and the limited supply of Tony Abeyta jewelry became even harder to find and even more expensive very quickly. At the beginning of 2015, Tony began making a very few jewelry pieces again. Due to our long and close friendship, we are fortunate to be able to purchase directly from Tony, and, in our view, his latest pieces such as this exceptional ring are some of the finest of his jewelry pieces we have seen and we have seen most, if not quite all of them.
This beautifully cast and textured-silver ring features a cast-silver shank with an interesting geometric pattern,
cast directly into the silver. The ring is set with a lovely, asymmetrical piece of what appears to be Bisbee, Arizona turquoise mounted in a finely silver serrated bezel. The turquoise has a very interesting-looking deep natural pit in
the stone, like a miniature grand canyon, which Tony told us was the exact reason that he selected, cut and set this
particular stone into the ring. The ring is a size 8 1/2 on a professional graduated ring sizer. It measures 1 3/4" in
length and is 1" in width at its widest point. It weighs a substantial, yet very comfortable 31 grams or 1 1/8 ounces.
It is in brand-new, unworn original condition and it is properly signed with Tony Abeyta's stylized monogram
"TA" on the interior. Tony's accomplished painterly eye for form, color and texture is very clearly evident in
this wonderful piece of jewelry art.
Price $2,150