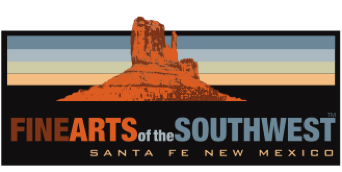 © 2010-2021 by Fine Arts of the Southwest, Inc. All rights reserved.
Unauthorized reproduction or use is strictly prohibited by law.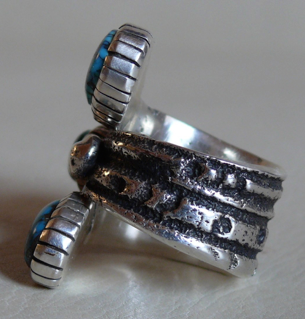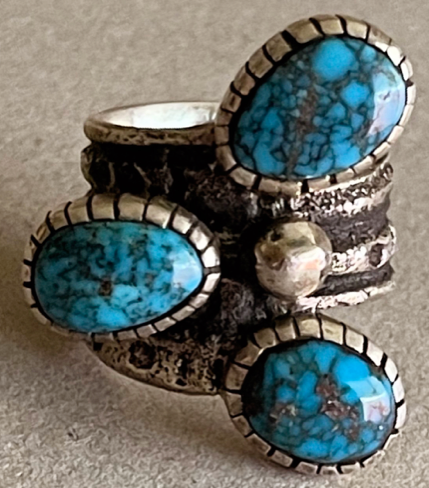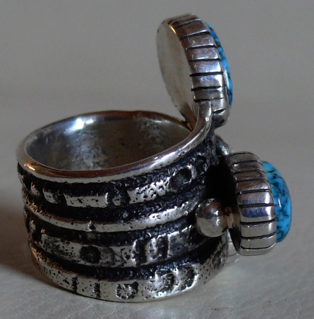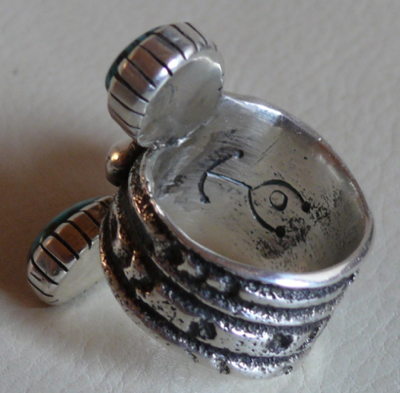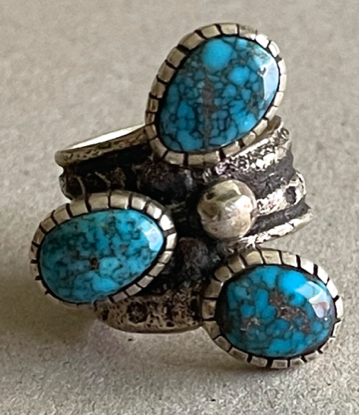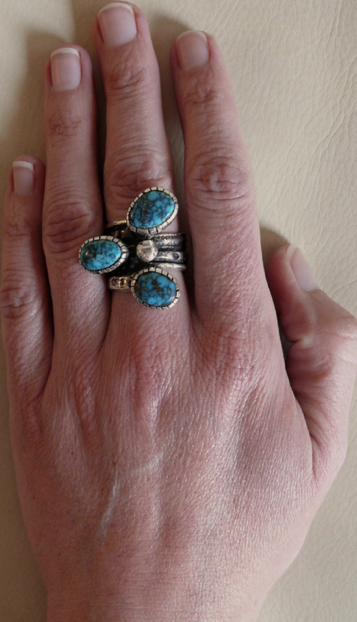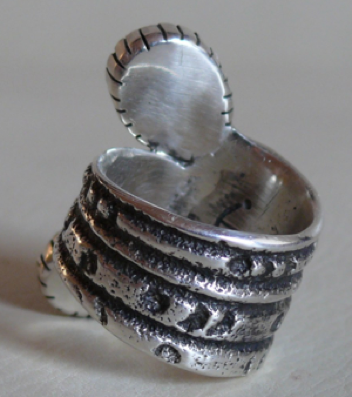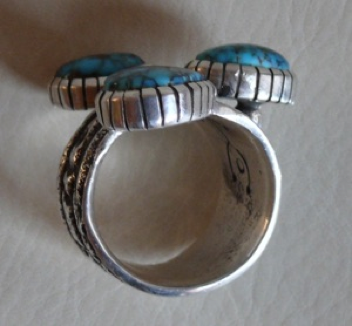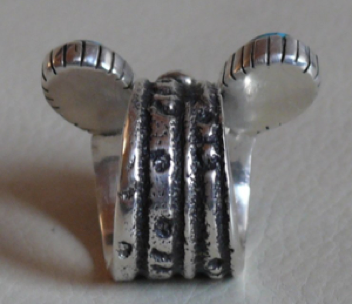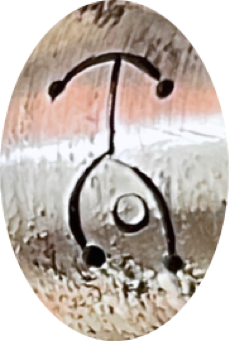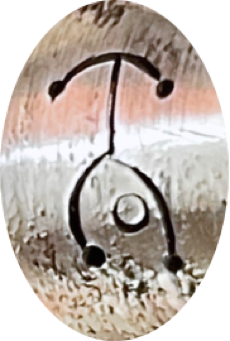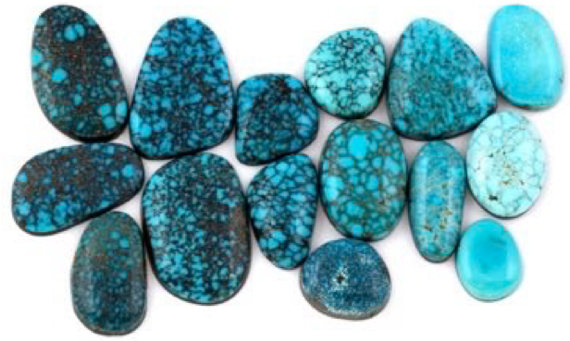 A contemporary Navajo cast-silver ring set with
three high-grade Lone Mountain, Nevada spiderweb turquoise stones by Tony Abeyta, 2015
Navajo artist Tony Abeyta (b.1965) is one of the most talented and versatile Native American artists working today and his unique and exciting jewelry which he first started making in 2010 hit the Santa Fe and larger Southwestern art scene like a nuclear bomb selling out immediately every time and everywhere it was available. After 2012, Tony stopped making jewelry to concentrate on his paintings and the limited supply of Tony Abeyta jewelry became even harder to find and even more expensive very quickly. At the beginning of 2015, Tony began making a very few jewelry pieces again and this stunning ring was one of the first of these. We purchased it directly from Tony that year.
The ring is very sculptural in its overall nature and appearance, the silver is beautifully cast with an interesting
and very attractive textured pattern in the silver surface. The ring's shank is very nicely executed in an asymmetrical shape, tapering from 3/4" in width down to 3/8" in width as it wraps around the ring. Where the tapered differing widths of the shank come together in the center of the ring Abeyta has placed a lovely decorative accent of a large round applied silver "Raindrop".
The three fabulous Lone Mountain spiderweb turquoise stones form the center stage of the ring and are its star attraction. The three stones are beautifully matched in color, shape and size and they are approximately 12 total carats in weight. High-grade Lone Mountain spiderweb turquoise cut stones such as this currently retail for around $100 per carat today making the stones alone in this ring valued in the vicinity of $1,200. The three turquoise stones are all set in finely-serrated silver bezels and they are arranged atop the ring's shank in a very pleasing asymmetrical three-part composition which gives the ring a dynamic and striking complexity.
The ring measures size 8 on a professional ring sizer. The ring's face measures approximately 1 1/4" in height and 1"
in width at the widest point and it weighs a comfortable and very easy to wear 21 grams or 3/4 ounce. The ring is properly signed with Tony Abeyta's stylized monogram initials "TA" on the interior and it is in like-new original condition. Abeyta's accomplished painterly eye for form, color and texture is very clearly evident in this wonderful and highly-original composition; it's a unique and strikingly beautiful piece of wearable Southwestern jewelry art.
SOLD
Lone Mountain Turquoise
This mine once produced a great variety of turquoise, included some of the finest examples of spider web turquoise as well as clear, deep-blue stones. Lone Mountain turquoise has always been noted for holding its color. Among all "classic" Southwestern turquoise, only Lander Blue is more valuable. A rare occurrence has been the "fossil turquoise" found in this mine. The fossil is of a crinoid stem. The Lone Mountain mine consists of a series of haphazard tunnels dug by miners chasing the veins of turquoise. The mine was claimed by Lee Hand in 1920 first as the Blue Jay Mining Lode and later, after seeing that so many mines had been named Blue Jay, Hand changed the mine's name to Lone Mountain. In the 1960's Lone Mountain was converted to a small open pit operations by Menliss Winfield. It continues to be mined in this fashion today. In 1979, I purchased Lone Mountain with the King family of Austin, Texas and Santa Fe, New Mexico. I have had different partners over the years and the property has only been mined 6 over the last 28 years. The reason for this is the expense of mining and the regulations for small mine owners, makes it very difficult to be profitable. But with the value of the classic American turquoise mines being so great, it is feasible for this great mine to once again be of great value.
-Lone Mountain turquoise photo and text source and © Gene Waddell, Waddell Gallery, Scottsdale, AZ