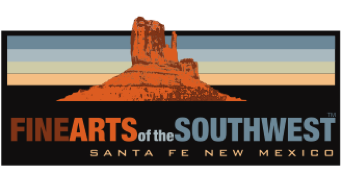 © 2010-2022 by Fine Arts of the Southwest, Inc. All rights reserved.
Unauthorized reproduction or use is strictly prohibited by law.

Here are two marvelous pictorial bolo slides by the renowned modern Native American painter and sculptor, Fritz William Scholder (1937-2005). These are two totally unique and original images; the skull and the buffalo head, both of which are most vividly and colorfully rendered in beautifully enameled metal. Fritz Scholder made very little jewelry. According to a personal conversation we had with his ex-wife Ramona who was with him at the time these pieces were made, Scholder created only two or three different bolo designs and two earring designs each
of which were produced for him by a company called Artwear Concepts in Los Angeles in limited editions of approximately 45-50 pieces each. The buffalo head is certainly an iconic Native American image with deep symbolism and meaning, but this particular rendering and presentation of it might have been inspired by the large stuffed buffalo head Scholder kept hanging on the wall of the living room of his home near Santa Fe as seen below. We have been there on several occasions and it is easy to see that this piece was a signature symbol of sorts for him.
The buffalo head bolo slide measures 2 1"4 in height and is 2" in width and the skull bolo slide measures 2 3/8"
in height and is 1 3/4" in width. Both slides are signed "Scholder" on the reverse. Both bolo slides are in excellent original condition, but do not come with bolo ties which on these pieces would have been made of round black rubber cords with plain round steel tips. Possibly, these two slides were early production prototypes and thus were never strung into finished bolo ties. This possibility is reinforced by several facts. First, the slides show no indication of any sort of wear. Also, the slides are not stamped with Art Concepts company logos, just with Fritz Scholder's last name signatures. The two signatures, however are quite different, the one on the skull slide is a facsimile of Scholder's usual cursive painting signature, while the one on the buffalo head slide is in bold relief stamped capital letters. It is almost as if the company sent the artist these two different signature treatments for him to review
and choose from. In any case, you can string the slides on a bolo tie if you desire or you could have a professional jeweler convert them into pins and/or pendants or you could just exhibit and enjoy them as the beautiful small sculptures they are on a table or a shelf.
These are two rare and uniquely attractive iconic pieces of fine art jewelry sculpture by one of the 20th century's most significant and successful modern Native American artists. Recently, Fritz Scholder's art prices have been on
a very steep upward price trajectory with no end in sight anytime soon. These two are likely the least expensive
Fritz Scholder pieces anyone will see for quite some time, with prices in the hundreds of dollars as opposed to the hundreds of thousands.
SOLD
Fritz Scholder with his buffalo head in his living room, Galisteo, NM, c. 1980's
Photo source and © Wikipedia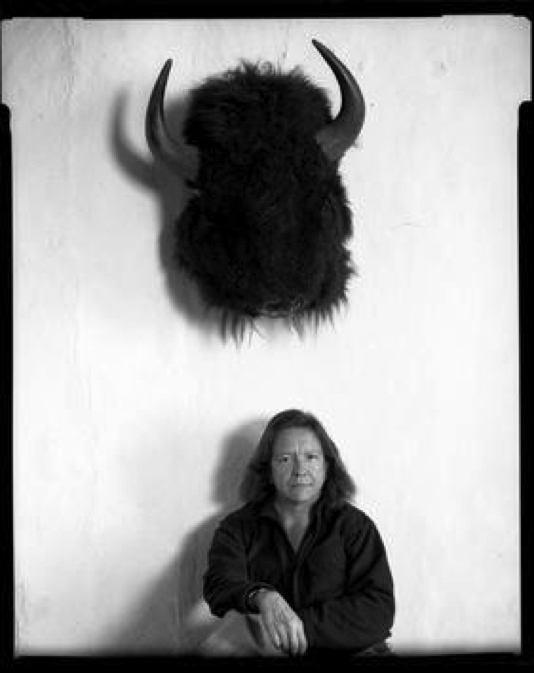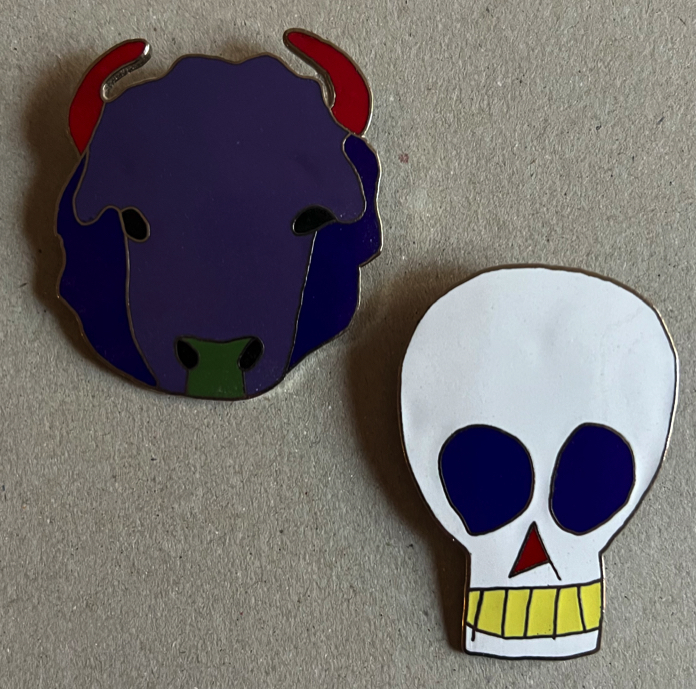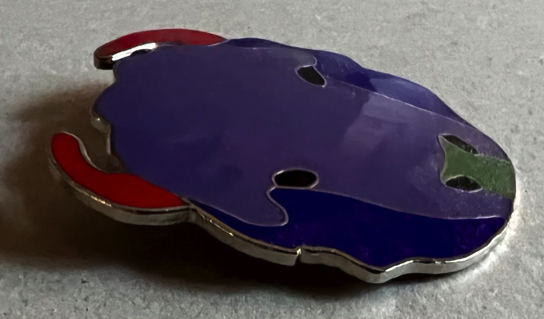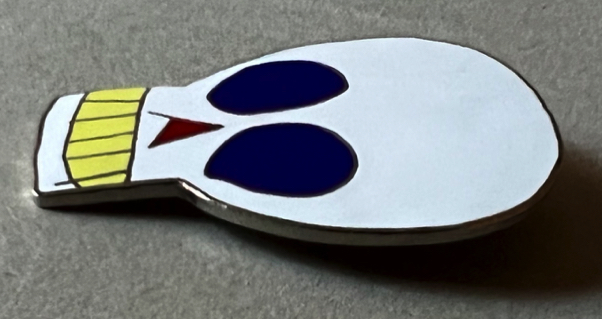 Two Fritz Scholder pictorial art bolo slides, "Skull" and "Buffalo Head", c.1980's