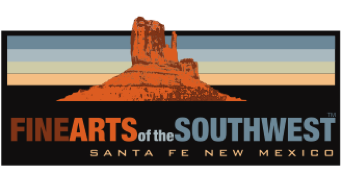 © 2010-2021 by Fine Arts of the Southwest, Inc. All rights reserved.
Unauthorized reproduction or use is strictly prohibited by law.

A particularly beautiful and historic Navajo ingot-silver cuff bracelet, hallmarked "UITA6", c. 1930's
Beginning in 1931, The United Indian Trader's Association (UITA), a volunteer organization of leading Southwestern Indian traders, created and enforced a strict set of quality standards for the making and selling of Navajo and Pueblo jewelry in the trading posts of its various members. UITA's distinctive hallmark of its initials UITA with an arrowhead in the middle followed by the numeric designation of the particular trading company it was made at or for was a guarantee of the highest quality Native jewelry; completely handmade using solely traditional methods of craftsmanship and use of only the finest, traditional materials. Since the UITA traders were the most important "Who's-who" of their day they were well-equipped to set and enforce such high standards and as a result, the finest jewelry pieces made under UITA's auspices are some of the very finest Navajo and Pueblo pieces of the 20th Century.
This exceptional bracelet is a perfect example; it is very finely formed of heavy ingot coin-silver hammered out from a cast coin-silver ingot "slug" and most beautifully decorated with perfectly applied and extremely elegant stampwork. This piece is the closest thing to a true Navajo Classic Period piece from the last decades of the 19th Century. It has a pure Classic Period look, vibe, artisitc sensibility and overall feel and it was most likely made in the 1930's by an older Navajo silversmith who began making jewelry near the end of the Classic Period around 1900. Fact is, the only really significant difference between this bracelet and one made back in 1895-1900 is its "UITA 6" hallmark.
The bracelet measures 3/4" in width all the way around. The inner circumference is a hair under 6" and the gap between the terminals is 1 1/8" for a total interior circumference of slightly less than 7 1/8". It weighs a substantial 71 grams or 2 1/2 ounces and it has a wonderful weight and smooth solid feel on the wrist.
The bracelet is in excellent original condition with a fine, soft patina from age and use and it is properly
hallmarked "UITA 6" on the interior of both terminals.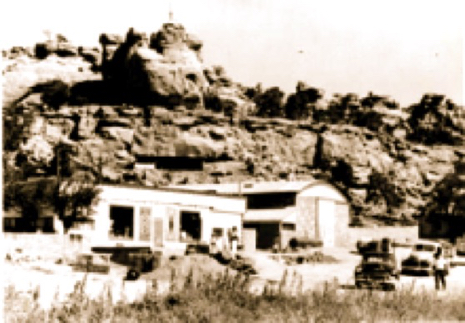 "Borrego Pass Trading Post, 1949"
Photo source and ©: Farmington Museum (1995_16_7). New Mexico Digital Collections.
Center for Southwest Research, University Libraries, University of New Mexico.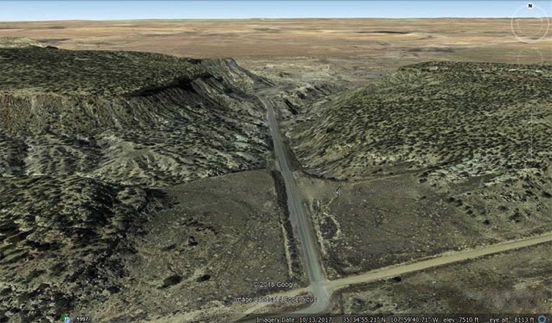 "The United Indian Traders Association (UITA) was established on September 13, 1931 for the expressed purpose of authentication of Indian crafts. At the time, the UITA was an important player both in Indian cultural life and in advocating for the sale of authentic Indian arts and crafts."
-Quotation and UITA card photo source and © Bille Hougart Books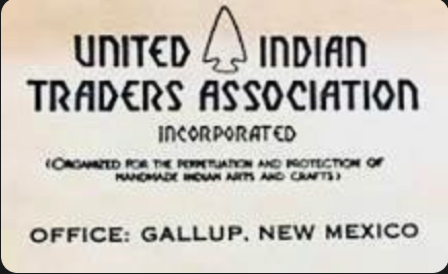 Aerial view of Borrego Pass, New Mexico
Photo source and © Google Earth
Not only is this bracelet a classic, but the trading post it was made for and sold at is a classic too: "UITA 6" was the numeric designation assigned to the historic and extremely remote Borrego Pass Trading Post, set in the high pinon-juniper studded hills about 50 miles south of Chaco Canyon in Northwestern New Mexico. The post first opened in 1927 and was named after the nearby Borrego Pass, an ancient water gap across the Continental Divide where Navajos used to drive their sheep. Borrego Pass Trading Post was operated by several highly influential prominent Indian traders over the next fifty-plus years, including Ben and Anna Harvey, Bill and Jean Cousins and Don and Fern Smouse. The Navajo know Borrego Pass in the Navajo language as "Tiish Bito" (Snake Spring) or "Dibe Yazhi Habitiin" meaning "Upward Path of the Lamb."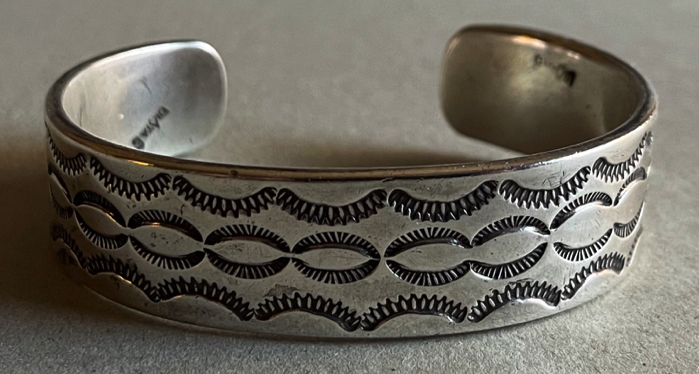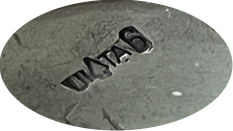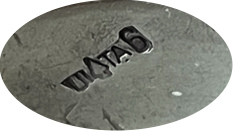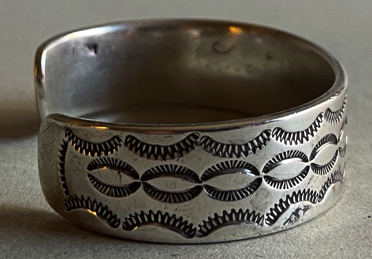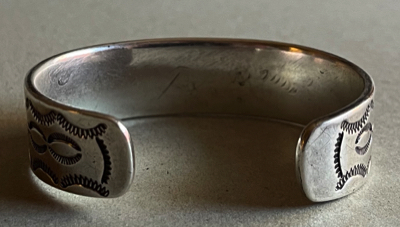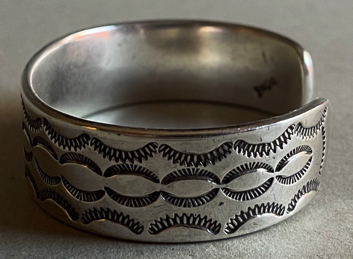 It's hard to believe that such an elegant, refined and sophisticated looking piece was made essentially in the middle of nowhere in such an isolated and desolate region. Borrego Pass is tough to get to and when you get there, there is really no there there, just the run down old shell of what was once an important regional trading post. Our last trip out there was in 1996 or 1997 and the old post was barely hanging on, open just a few hours a day. It closed a year or two later, the end of an era.
This bracelet is a completely classic and historic piece of traditional, Navajo silversmithing made in a classic
and historic way in a classic and historic place; a unique combination that's pretty hard to beat. As we said a moment ago, it's quite remarkable that such a classic-looking International quality precious artwork could have been made in such a remote and isolated place under such primitive conditions but the Navajo are historically noamdic people who relish their splendid isolation, rugged lifestyle and magnificent wide open spaces. The proof of this bracelet's beauty is in the pudding and this particular pudding is a most delicious dish indeed.
Price $1,950
SOLD