© 2010-2022 by Fine Arts of the Southwest, Inc. All rights reserved.
Unauthorized reproduction or use is strictly prohibited by law.
AN exceptionally beautiful and unique
Verma "Sonwai" Nequatewa Hopi silver and Bisbee turquoise Jacla bead bracelet, c. 2020
This bracelet is one of the most beautiful and unique Sonwai pieces we have ever seen and we have seen a great deal of Verma's work over the past 35 years. It is always beautiful ("Sonwai" literally means "Beauty" in the Hopi language) and it is always beautifully made, but this particular piece has an exceptional, almost ancient type of beauty because it is Verma's modern-day expression of the ancient Anasazi or Ancestral Pueblo people's drilled bead bracelets one of the first forms of personal adornment in the ancient Southwest, a simple strand or strands of drilled stone beads strung on a hand woven cotton cord and worn around the wrist.
Such beads, variously made of turquoise, shell and jet made into bracelets or necklaces were a very big deal across the ancient Southwest; long necklaces and jars containing literally thousands of them were found in the large prehistoric ruins of Chaco Canyon in northwestern New Mexico and in many other prehistoric sites around the Southwest. They were a "wealth" or a "currency" of sorts and were highly prized and widely traded around the region.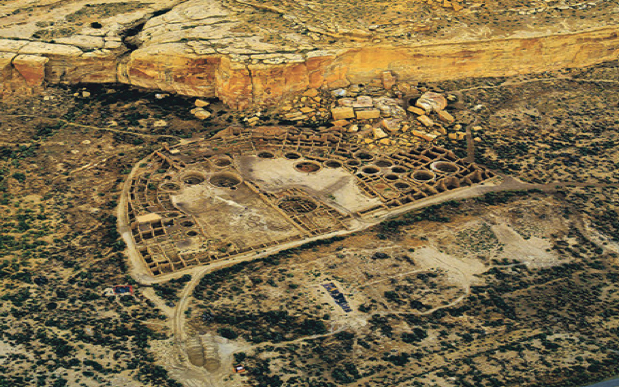 At left, present-day view of Pueblo Bonito ruins, Chaco Canyon National Historic Park, New Mexico. At right, prehistoric Anasazi necklace, c. 1100-1200 A.D.,
10 feet in length comprised of 1,045 white shell and black jet beads excavated by Edgar Lee Hewett in 1931 at Chetro Ketl Pueblo near Pueblo Bonito in Chaco Canyon.
Left photo source and © The Santa Fe New Mexican. Right photo source and © Museum of New Mexico, Santa Fe.
Published in "Southwestern Indian Jewelry" by Dexter Cirillo, Abbeville Press, 1992, pp. 20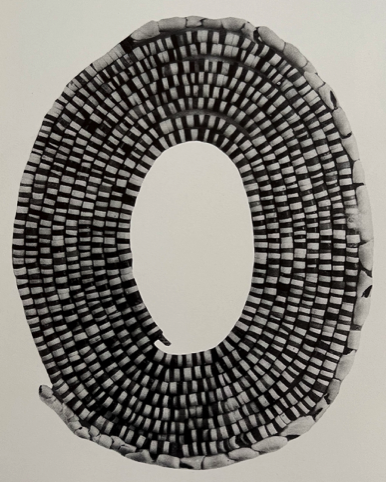 Above at left and right, a 16-strand jet and turquoise bead necklace, c. 1250 A.D. found in the Verde Valley of Central Arizona not far from the Hopi Villages. This necklace could have easily been traded from the Chacoan Anasazi people to the Salado Culture people living in The Verde Valley and vicinity. Center, Charles Loloma wearing an Anasazi-style drilled turquoise bead bracelet, c. 1971.
Necklace photo source and © Private Collection. Charles Loloma bracelet photo source
and © "A Jeweler's Memoir" by Eveli Sabatie, ACC Art Books, 2022, pp. 11.

"Loloma goes back to prehistoric times when bracelets were made by wrapping strings of turquoise beads around the wrist and interprets this in a piece of jewelry using silver as a vehicle."
-Tom Bahti, "Loloma: Beauty is His Name", Martha Hopkins Struever, Wheelwright Museum, 2005, pp. 16
The beads in this bracelet are very special in that they come from a historic Navajo hand-carved turquoise and spondylus shell Jacla pendant with a special provenance which has been re-purposed for use in this bracelet. The provenance is the well-known Foutz trading family of Farmington and Shiprock, New Mexico, a five-generation family
of Indian traders. The Foutz family represents Verma Nequatewa's work in their Santa Fe gallery and they gave Verma this turquoise Jacla pendant to use in making this bracelet. The beautiful turquoise comes from the famed Bisbee turquoise mine in southern Arizona, one of the worlds finest, most beautiful and most desirable turquoise varieties.
Verma learned to make this kind of bracelet during her decades-long apprenticeship and tenure with her renowned master jewelry artist Uncle, Charles Loloma (1921-1991). Charles regularly wore an Anasazi-style turquoise bead bracelet as seen above and he made a number of bracelets with rows of turquoise or coral beads set inside silver or gold channels also as seen below. Verma has put her own individual artistic spin on this piece by using a fairly narrow and deep silver channel and only a single row of turquoise beads and by placing a large spondylus shell bead at the bracelet's center and setting some additional coral stones at the terminal ends of the bracelet. An interesting and beautiful extra touch are the angled outwards capped silver terminal ends. Verma's artistic interpretation here takes the ancient simple strand of turquoise beads form and essentially encapsulates and presents it in precious silver.
The bracelet has a marvelously tactile, almost alive quality, the beads move slightly, turning or rolling a little this way and that so that the bracelet is literally in motion in a similar way that the ancient strands of beads worn around the wrist would have moved along with the body.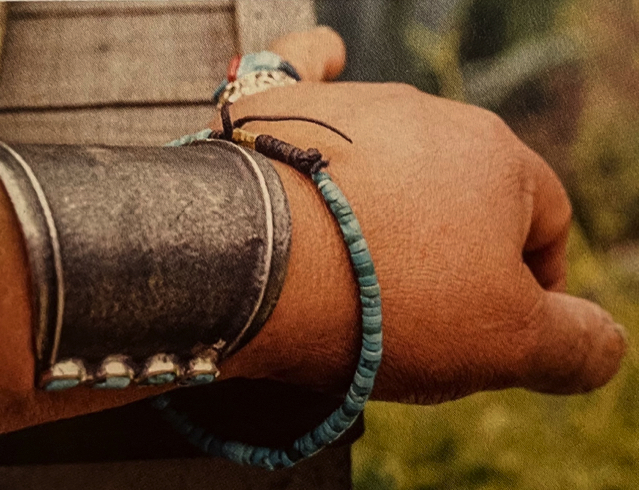 "Bisbee turquoise is as good as turquoise gets."
-Turquoise authority Gene Waddell, Waddell Gallery, Scottsdale, AZ
Bisbee Turquoise
Bisbee turquoise is a significant by-product of the huge Lavender Pit copper mine, which is now closed. With some of the finest turquoise coming from the section of the copper mine known as the "Lavender Pit," where for years copper miners would bring out fine turquoise in their lunch boxes. In March of 1972 a miner named Bob Matthews was given the only lease ever granted for rights to mine Bisbee turquoise. He was said to have recovered more than 2,000 pounds of good to excellent turquoise by 1974 . Bisbee turquoise is famous for its deep blue color and its smoky black matrix, which has been described as "smoky Bisbee" and as "lavender." Bisbee turquoise is as good as turquoise gets. In 2004 the Phelps Dodge Mining Company no longer allowed anyone near the hazardous old mine and buried the turquoise pit under 100 feet of dirt. There will be no more Bisbee mined. Any Bisbee on the market today was officially mined prior to 1974.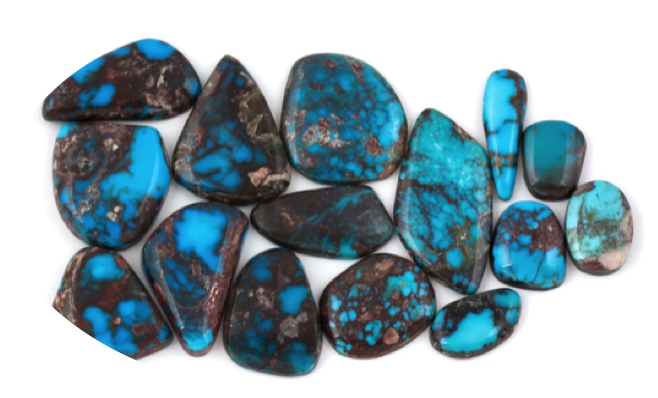 The bracelet measures just slightly over 1/2" in width at its widest center point and tapers down to 3/16" in width
at the terminal ends. The inner circumference end to end is 5 1/2" and the gap between the terminals is 1" for a total interior circumference of 6 1/2". The bracelet weighs a very comfortable and easy to wear 40 grams or 1 3/8 ounces. The bracelet is in pristine, almost unworn original condition. We are the original owners and have only worn it two or three times and then just for very short periods. The bracelet is properly signed "Sonwai" on the inside of the shank and is also marked with Verma's hummingbird hallmark. Something to note carefully is that this bracelet has a more rounded profile shape and will thus fit and feel somewhat differently on the wrist than do many Navajo and Pueblo bracelets which often have a somewhat "flatter" more oval shape.
This bracelet is an extraordinary piece in every way, an extraordinary modern-day expression of an ancient culture's precious personal adornment from the inspired mind and skilled hands of an extraordinary contemporary Native artist who is herself a direct descendant of the Ancient Anasazi. Verma Nequatewa lives in an ancient land in the modern day, but she is a direct living link to and a distinct part of the distant Southwestern past. This piece is truly a uniquely American treasure transcending the centuries made by an artist who is herself a uniquely American treasure.
SOLD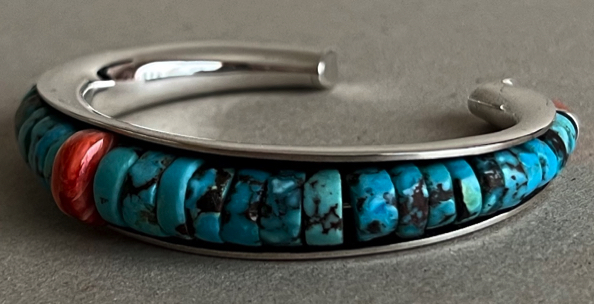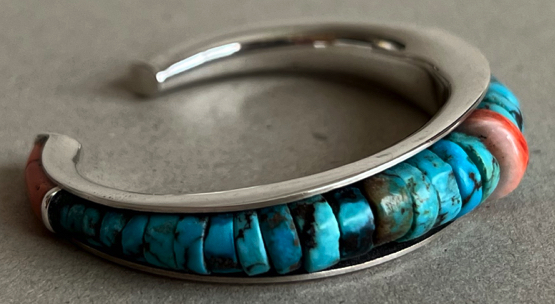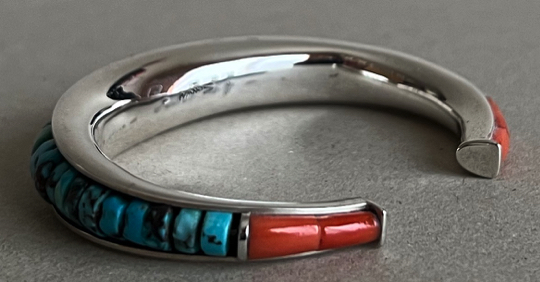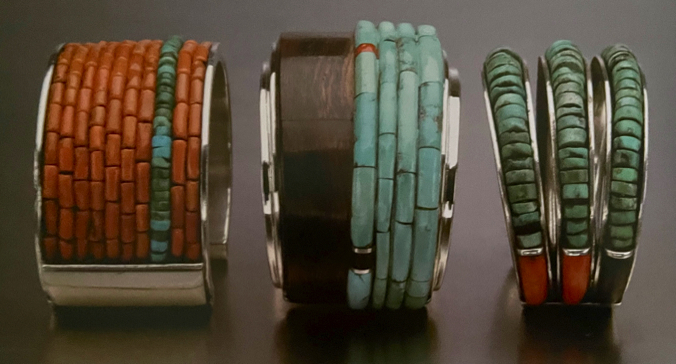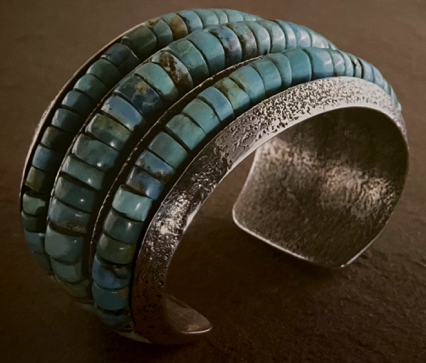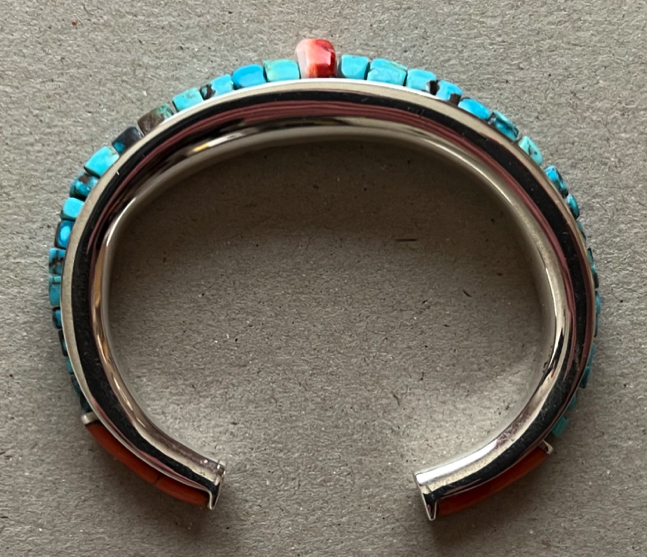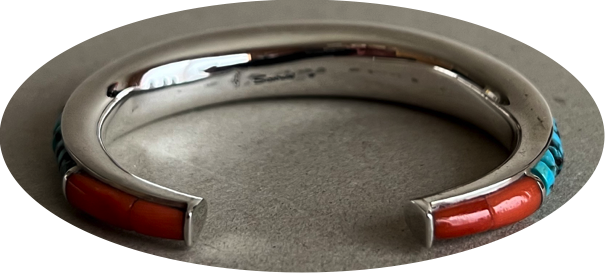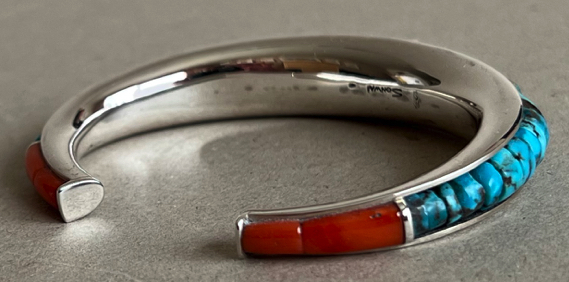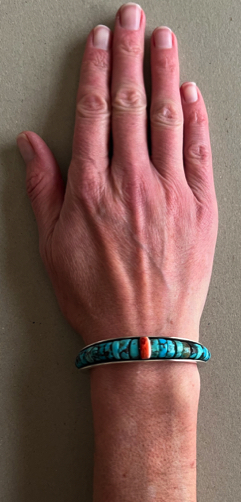 Above row, a selection of Charles Loloma bracelets using strands of turquoise and coral beads set in a similar manner.
Photo source and © "Loloma: Beauty is His Name", Martha Hopkins Struever, 2005, Wheelwright Museum, Santa Fe, NM, pp.98 and pp. 63.