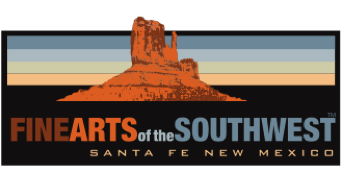 © 2010-2022 by Fine Arts of the Southwest, Inc. All rights reserved.
Unauthorized reproduction or use is strictly prohibited by law.

An extraordinary Hopi tufa-cast silver cuff
bracelet with a stylized Hopi kachina face design
by Verma "Sonwai" Nequatewa, 2021
Verma Nequatewa (b.1949) is the undisputed master jeweler of the Hopi mesas. Beginning as a teenager over fifty years
ago as an apprentice to her extraordinary Uncle, Charles Loloma (1921-1991) she has blossomed into an international superstar, a world-renowned artist of the highest caliber.
The quality and craftsmanship of her pieces is simply astounding. This elegant tufa-cast silver cuff bracelet is perfectly evocative of her exalted and highly-refined aesthetic, a lovely organic and expressive sculptural form in beautifully textured silver, seemingly simple, yet complex and extremely demanding to execute so perfectly.
Tufa-casting is an exceptionally precise and painstaking process and if everything doesn't go exactly right—the temperature of the molten silver, the carving and integrity of the tufa stone mold, the speed of the pour—the cast can easily be ruined. This one turned out just perfectly with the elusive combination of strength and delicacy which is the hallmark of finely done tufa-casting. The striking design Verma carved into the mold appears to us to be a somewhat abstracted highly-stylized Hopi kachina face. The raised and polished silver triangular and round accent designs on the bracelet's terminals complement the main design beautifully. The overall textural contrasts between the brighter more highly polished silver designs and the darker-colored slightly rougher surface of the unpolished background areas is quite remarkable and incredibly attractive.
Details of various Hopi Kachina face designs.
Center photo source and © The Brooklyn Museum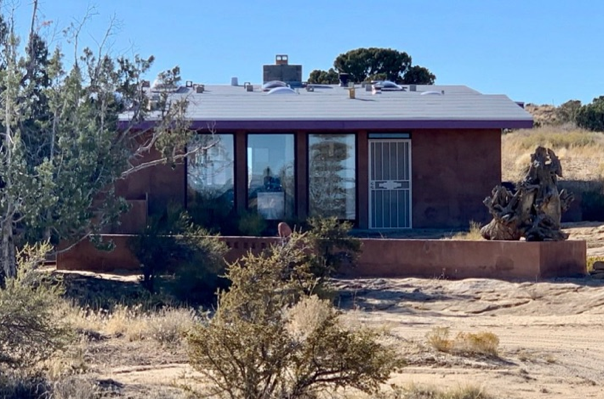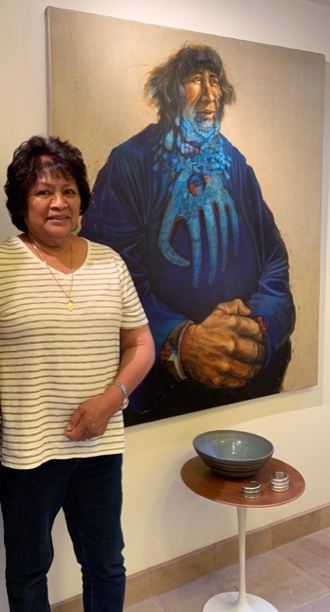 At left, Verma Nequatewa at work in the Loloma Studio at Hopi with her Uncle and Mentor, Charles Loloma, c. 1970. At right, the former Loloma Studio building on the Hopi Third Mesa, Hotevilla, Arizona.
Left photo source and © Eveli Sabatie. Published in "Loloma, Beauty is His Name" by Martha Struever, Wheelwright Museum, Santa Fe, 2005, pp.21.
Verma Nequatewa, c. 2019, with "Stone Talker", a 1975 portrait of Charles Loloma by Paul Pletka. To view our website listing of this painting, please click here.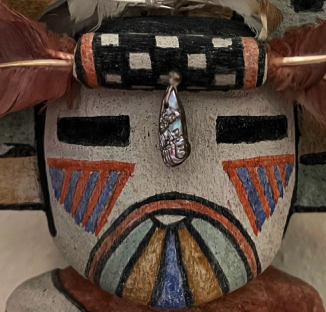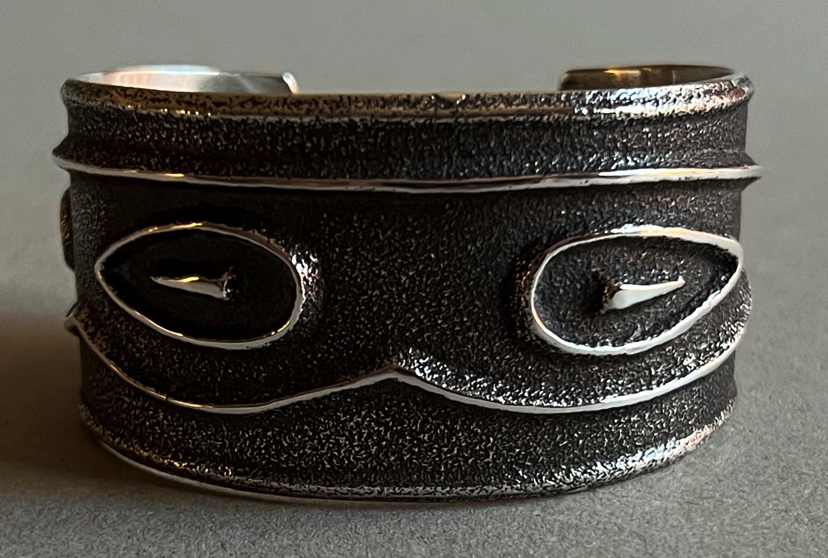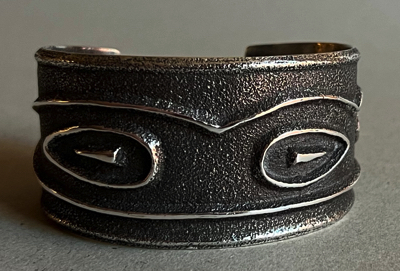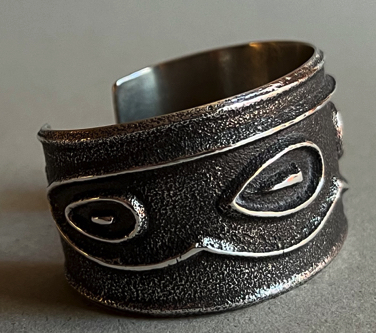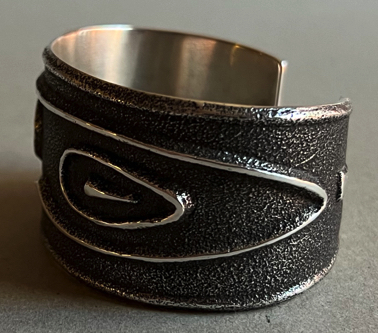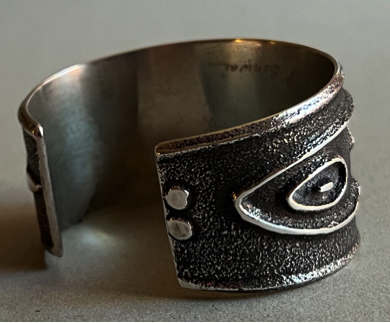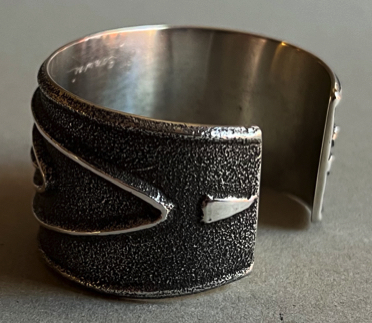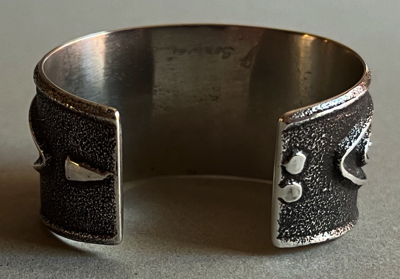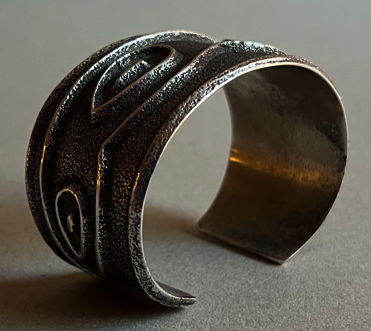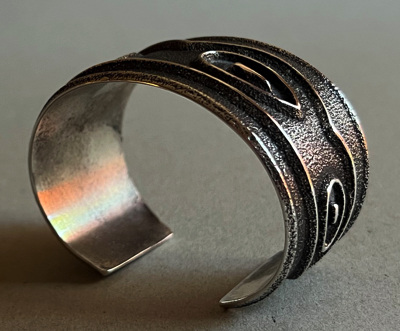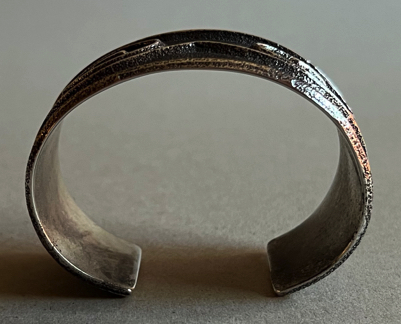 "Charles taught that beauty is all around us on Hopi; in the environment, in the culture, in ceremony. By combining elements from what is a part of my everyday life, the finest of ideas, with the finest of materials, I can interpret a part of Hopi for people to see and wear."
-Verma Nequatewa
The bracelet measures 1 1/2" in width at its widest center point, tapering down to 1" in width at the end terminals.
The inner circumference end-to-end is 5 3/4", the gap between the terminals is 11/8" for a total interior circumference
of 6 7/8". The bracelet weighs a substantial 102 grams or 3 5/8" ounces. It is in excellent original condition and
it is properly signed "Sonwai" on the interior and is also marked with Verma's hummingbird insignia.
This is an exceptionally artistic piece by one of the greatest Hopi artists of the 20th Century, completely evocative of ancient and Modern Hopi culture at the same time; immensely attractive, very wearable and absolutely stunning anywhere and everywhere you might choose to wear it or just admire it sitting by itself on a table or shelf, a perfectly conceived, perfectly formed, perfectly precious small silver jewelry sculpture.
SOLD