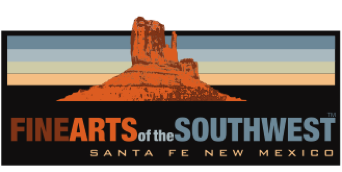 © 2010-2022 by Fine Arts of the Southwest, Inc. All rights reserved.
Unauthorized reproduction or use is strictly prohibited by law.
A very fine vintage Navajo silver and Number 8
Mine Nevada spiderweb turquoise ring, c. 1950's
The old Edgar Number 8 turquoise mine outside Carlin, Nevada produces some truly great turquoise, it's one of America's greatest and oldest and the beautiful gem-quality #8 golden web stone in this lovely ring is fully indicative of its enduring quality and beauty. Everything about this finely-crafted ring is oriented toward presenting this
lovely stone in its best light. The stone is nicely set in an old-style silver foldover type bezel mounted on a larger bezel platform which is itelf outlined by a lovely chisel worked bezel surround. There are very
nice stamopworked designs on the silver shank on both sides of the stone.
"High-grade Number 8 turquoise is by far some of the finest turquoise to ever have come out of Nevada."
-Turquoise authority, Gene Waddell, Waddell Gallery, Scottsdale, AZ
The silver shank itself is a split-silver shank both outer sides of which have been covered by applied silver plates to
provide a smooth solid surface. The ring's face measures 1 1/4" in length and it is just under 1" in width at its widest point. The ring measures a size 10 1/2 on a professional graduated ring sizer and it weighs a very comfortable 19 grams or 5/8 ounce. It is unsigned for the maker and it is in excellent original condition with some nice age-appropraite wear and a fine patina from use.
This ring is a lovely and easy to wear classic piece set with one of the finest, most eye-catching
classic turquoise stones one could ever want to feast one's eyes upon.
SOLD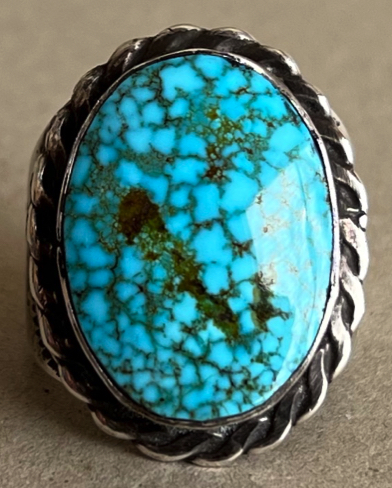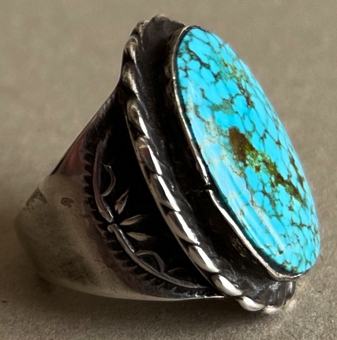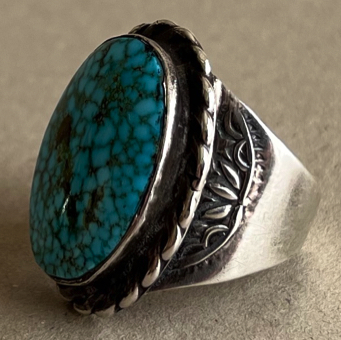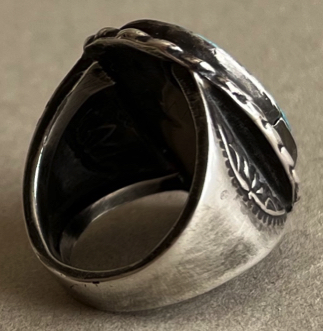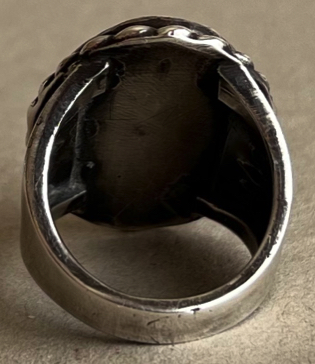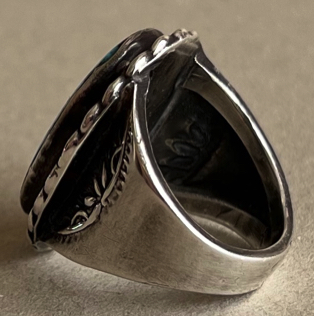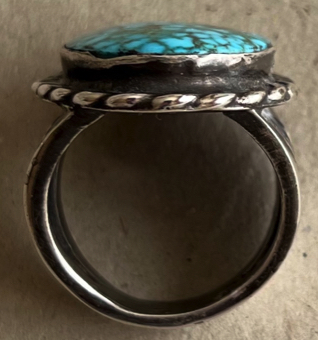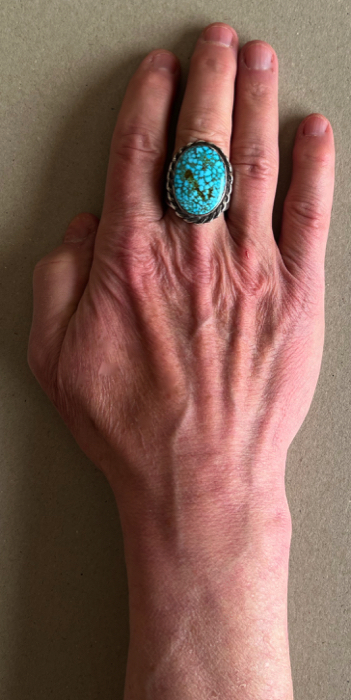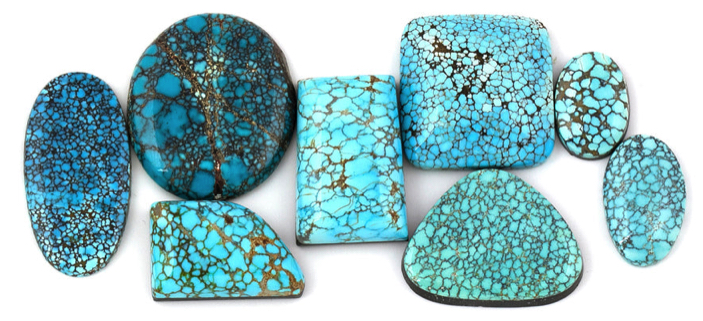 #8 Turquoise
This large district, encompassing ten 20-acre claims, was very active from the 1930's through the early 1950's, when production peaked.
The Number 8 turquoise mine in Carlin, Nevada was first mined in 1929. In its prime, Number 8 produced some of the largest nuggets of turquoise ever found. The color of Number 8 varies from light blue, blue with shades of green to beautiful dark blue. It is found with a black, golden, red or brown matrix. With the black and red spider webbing being the most valued. Today Number 8 turquoise is one of the most valuable stones that can be collected. High-grade Number 8 turquoise is by far some of the finest turquoise to ever have come out of Nevada.
-Number 8 turquoise specimen photo and text source and c Waddell Gallery, Scottsdale, AZ