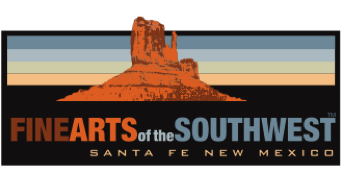 © 2010-2022 by Fine Arts of the Southwest, Inc. All rights reserved.
Unauthorized reproduction or use is strictly prohibited by law.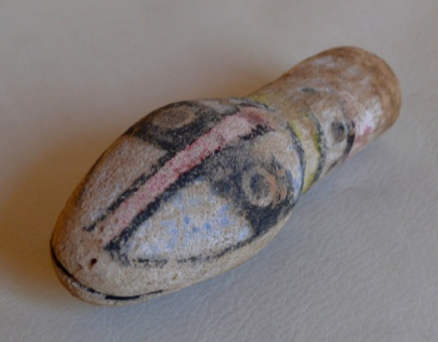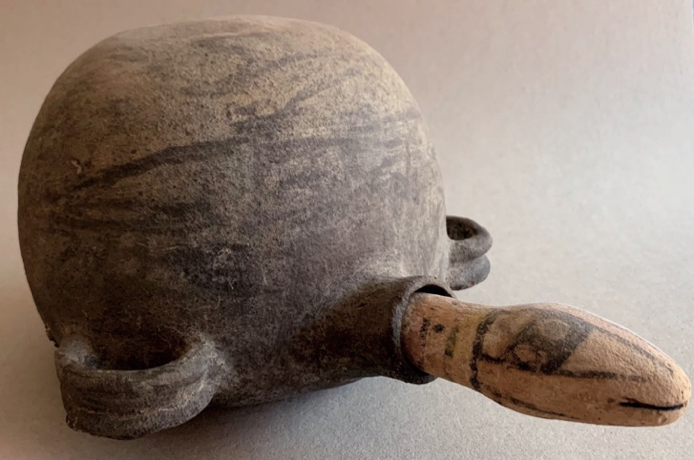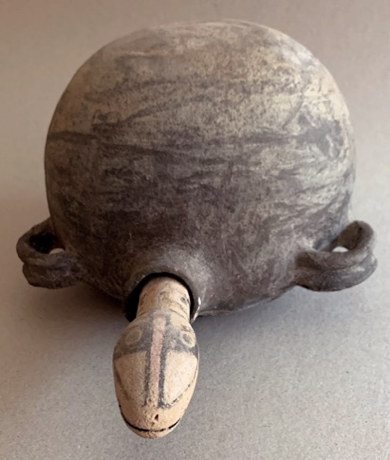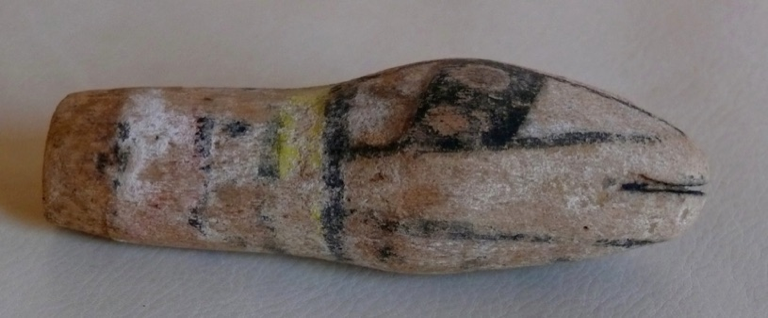 A historic Hopi carved and painted cottonwood water serpent effigy by Wilson Fredericks (Tawaquaptewa), c.1930's-40's
Wilson Fredericks (1873-1960), better known by his Hopi name, "Tawaquaptewa", which translates to "Sun In The Sky", was one of the most fascinating and enigmatic figures in modern Southwestern history. He was the hereditary Bear Clan Leader, and, for decades, the legendary "Kikmongwi" or Village Chief of the ancient Hopi village of Old Oraibi on the Hopi Third Mesa who led his people during an extremely turbulent time in modern Hopi history. In later decades, from around 1920 to his death in 1960, he found considerable renown and prestige as an outstanding carver of his own style of kachina dolls as well as more secular figures and effigies.
Today, Tawaquaptewa's dolls and carvings are always highly-prized and very eagerly sought after collectibles. They always have a unique and distinctive color palette and muted but colorful appearance; with thick black and often blue and brown or yellow mineral pigments and, occasionally an unusual pattern of small black dots which can be seen around the "neck" of this serpent. Tawaquaptewa's kachina dolls are never "accurate" to the exact form and details of a particular kachina representation, they are always stylized or altered in some way since Tawaquaptewa firmly believed that his religious position as Kikmongwi and Bear Clan Chief prohibited him from producing completely accurate depictions of the sacred kachinas.
This particular carving is a wonderful and slightly humorous depiction of the sacred water serpent known as "Bálölöokong" to the Hopis or "Avanyu" to the Pueblo people of New Mexico's Rio Grande Valley, a mythical and powerful entity bringing life-giving rain, fertility and long life to the people he favors. The figure, carved of native cottonwood root measures 4 1/4" in length and 1 5/8" in width and is in excellent original condition with to-be-expected-for-its-age amount of wear to the painted surface and the wood. It is quite possible that this effigy was originally intended to serve as a decorated wooden stopper in the form of the sacred serpent to plug the spout of a Hopi plainware pottery canteen as we have pictured it doing here. These large plainware Hopi canteens are commonly referred to as "snake canteens" because they were sometimes used to temporarily house the rattlesnakes to be used in the great Hopi Snake Dance Ceremony so it stands to reason that this effigy might have been made and used for that purpose, but it could just as easily have been intended to be a stand-alone carving of a snake's head. Whichever the case, this piece is a beautiful and unique carving with great old paint and loads of character by one of the finest and most admired of all 20th Century Hopi kachina carvers and an extremely important figure in Hopi and American history.
Price $1,250