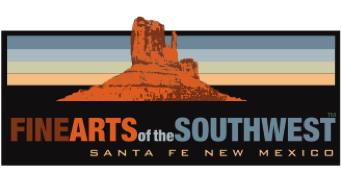 © 2010-2022 by Fine Arts of the Southwest, Inc. All rights reserved.
Unauthorized reproduction or use is strictly prohibited by law.

A Zuni Pueblo ingot-silver and channel-inlay turquoise and black jet "Rainbow Man" ring, c. 1930's-40's
A piece like this isn't just a piece of pretty jewelry, it's a guardian against harm and also a blessing for the fertility of the earth. It's quite a lot to ask from a ring, but this one delivers the goods in beauty and style. The "Rainbow Man" figure who is also sometimes referred to as the "Rainbow Dancer" due to his curved dance-like posture, is a sacred Zuni Pueblo guardian spirit associated with the various colors of the rainbow and the life giving summer monsoon rains.
The Rainbow Man is not a Kachina spirit per se, but he is very important figure in Zuni traditions, mythology and culture,
a significant symbol of protection and, accordingly he is often historically and ritualistically portrayed on Zuni war shields. He also appears importantly as part of the tabletas or headdresses of certain Zuni Kachina dancers as can be seen below. Rainbow Man depictions began appearing in various forms of Zuni inlaid silver jewelry in the 1920's and 30's and they continue to be made today.
This particular ring features an interesting color palette of blue turquoise and black jet inlays. There are five pieces of turquoise and four pieces of jet all channel inlayed into the face of the ring. Fabricated silver "earrings" and serrated dance kilt and sash accentuate the inlayed design which is all mounted on a cast silver platform which in turn is mounted on a beautifully wrought triple-split coin-silver shank.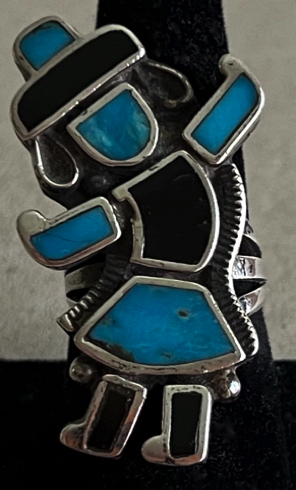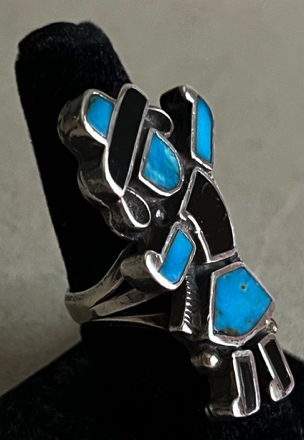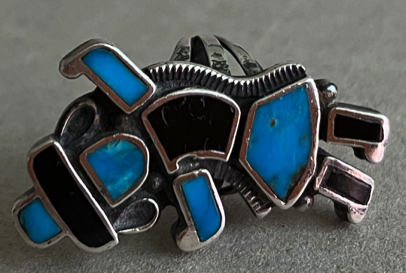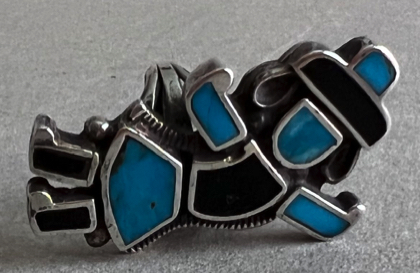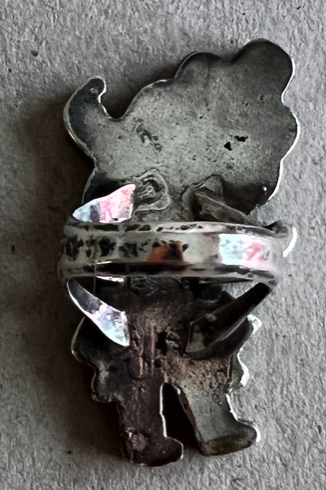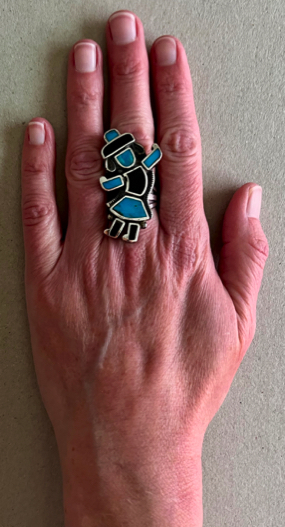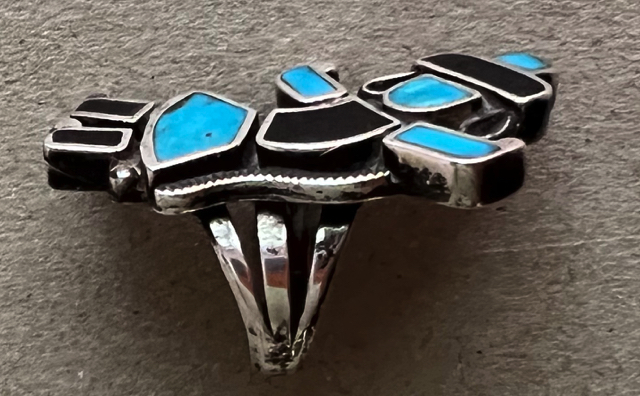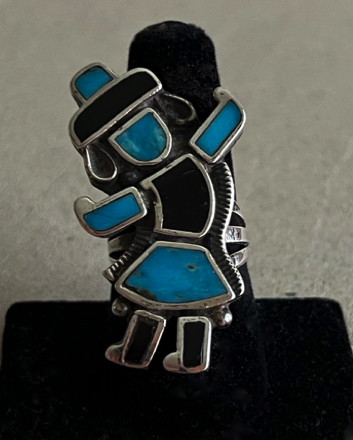 The unknown Pueblo or Navajo silversmith who made this ring really knew their business as the craftsmanship is superb leading us to believe it might possibly have been made at the famed Zuni Pueblo trading Post of the renowned Indian trader, Charles Garrett (C.G.) Wallace (1898-1993) who had assembled an all-star team of Navajo and Pueblo silversmiths during the time period this ring was made, including the finest Female silversmith at Zuni, Della Casa Appa, to make the highest-quality jewelry for his high-end clientele.
The ring measures a size 8 1/2 on a professional graduated ring sizer. It is 1 3/4" in length and 1" in width at the widest point. It weighs a substantial and ver comfortable 21 grams or 3/4 ounce and is in excellent original condition. The ring is unmarked for the maker in accordance with its early time period. This ring also has an excellent provenance. It came to us from the fine personal collection of our late great, colleague and friend, Laura Anderson, of Mattapoisett, MA.
Laura was an enthusiastic collector and dealer with exceptional knowledge and excellent taste.
Look good, feel good, stay good in harmony with the Rainbow Man's powerful spirit with this beautiful ring!
SOLD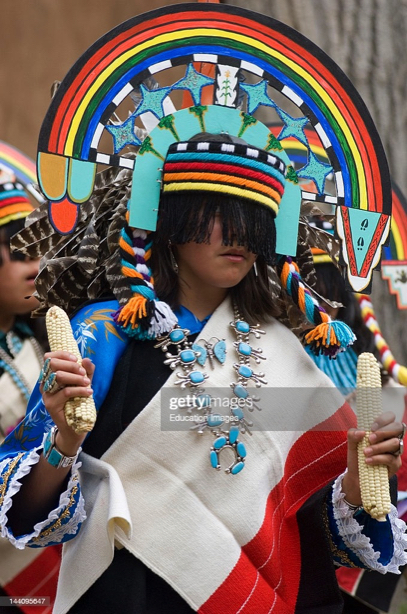 Zuni Kachina dancer with "Rainbow Man" tableta headdress.
Photo source and © Getty Images