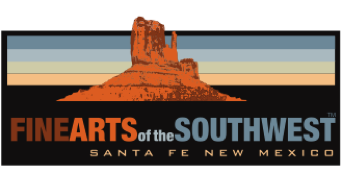 © 2010-2022 by Fine Arts of the Southwest, Inc. All rights reserved.
Unauthorized reproduction or use is strictly prohibited by law.

A stunning contemporary Navajo tufa-cast
silver and Pilot Mountain, Nevada spiderweb turquoise cuff bracelet by Aaron Anderson
Aaron Anderson (B. 1970) does it again here in spades. This young, third-generation Gallup, New Mexico-based Navajo silversmith is on a serious roll these days raising his already high bar and making better and better incredibly imaginative jewelry all the time. Aaron is a genuine true master of the treacherous art of tufa-casting; one of the most difficult, painstaking and unforgiving of all traditional Navajo silversmithing techniques to work in, but one of the most rewarding if you can get it right. And the proof is always in the pudding; look closely at the complex, yet graceful curves and contours, the ideal combination of strength and delicacy exhibited in this bracelet. And then to top it all off, there's the eye-dazzlingly gorgeous large Nevada turquoise stone which Aaron selected and specially shaped for the bracelet, a wonderful, large hunk of fine, high-grade Pilot Mountain, Nevada spiderweb turquoise, perfectly square-cut and beautifully platform set with a lovely and brightly-polished silver border surround.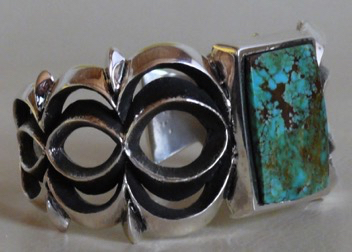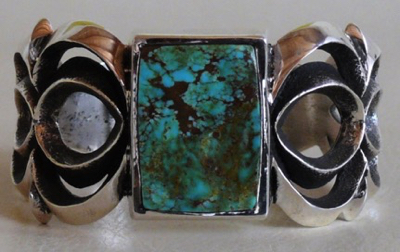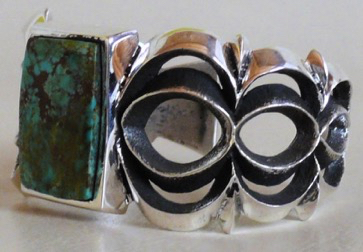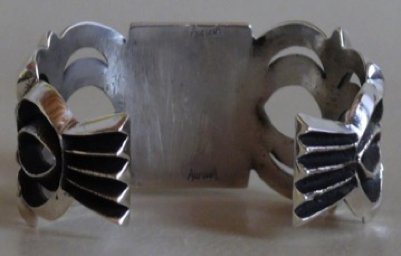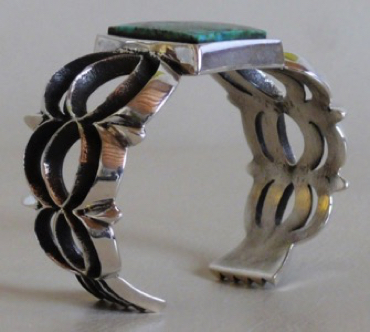 The bracelet measures 1" in width at the widest point and it tapers down to slightly over 1/2" in width at the terminal ends. The inner circumference end-to-end is 5 1/2" and the gap between the terminals is 1" for a total interior circumference of 6 1/2". The bracelet weighs a substantial, yet very comfortable 96 grams or 3 3/8 ounces.
It is properly signed "AaronA" (twice) on the interior and it is in pristine original condition.
This is a truly stunning and very wearable piece from an extremely talented artist on a high trajectory to increasingly greater fame and increasingly higher prices. We have seen this movie only a couple of times before featuring the likes of Kenneth Begay, Charles Loloma, McKee Platero, Michael Kabotie, Verma "Sonwai" Nequatewa, Perry Shorty etc.
Price $1,575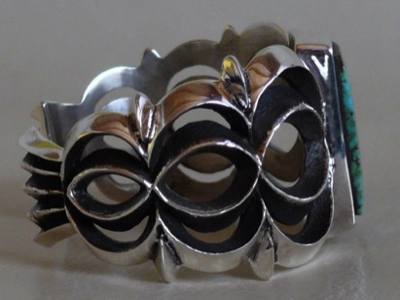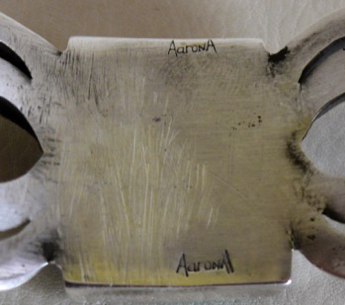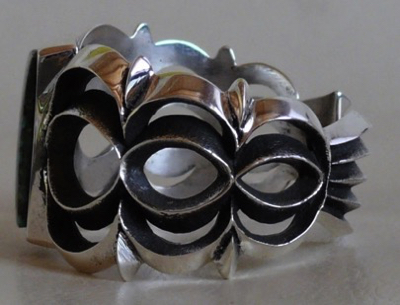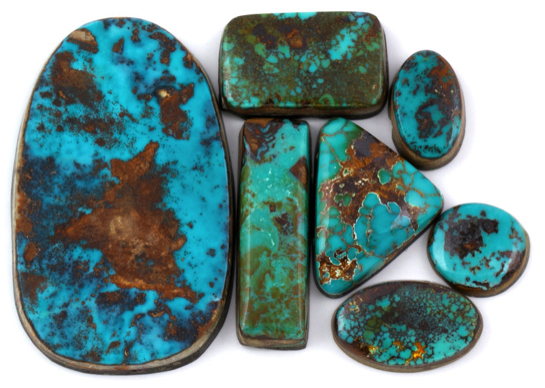 Pilot Mountain Turquoise
Pilot Mountain turquoise is made up of a group of mines at the southern end of the Pilot Mountains in Mineral County, Nevada a short distance outside of Tonopah. Pilot Mountain turquoise was first mined around 1930 as a tunnel mine. Then it became an open pit mine when heavy equipment was available around 1970. While Pilot Mountain is considered an active mine, it is a very small operation. Pilot Mountain turquoise forms in thin seams, with some nugget formations. According to the current owner, the turquoise has formed in thin seams, is high grade with a variety of colors ranging from blue to green with dark brown, black, or reddish matrices. Some of the matrix in high grade Pilot Mountain is beautiful spider web.
-Pilot Mtn. Turquoise photo and text source and © Waddell Gallery, Scottsdale, AZ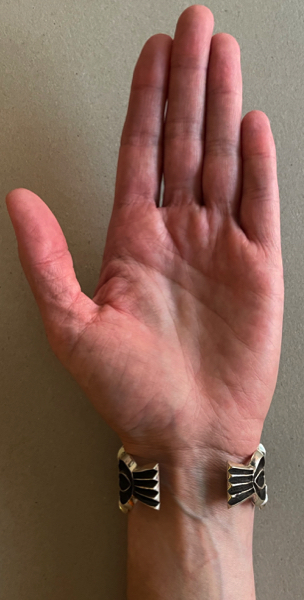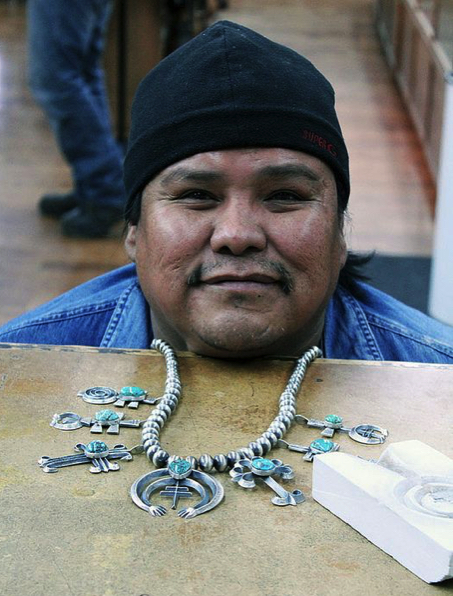 Aaron Anderson, Gallup, NM
Photo source and © Pinterest