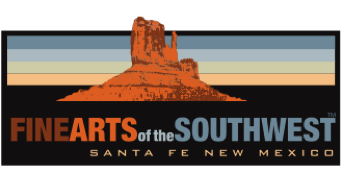 © 2010-2021 by Fine Arts of the Southwest, Inc. All rights reserved.
Unauthorized reproduction or use is strictly prohibited by law.

A splendid, contemporary Navajo tufa-cast silver cuff bracelet set with ten pieces of extremely rare Lander Blue Nevada spiderweb turquoise by Aaron Anderson, 2015
Aaron Anderson was born in Gallup, New Mexico in 1970 and has been making jewelry full time since 1996.
Over the past 25 years, he has built a reputation as one of the finest and most innovative Navajo jewelers in the field. His speciality is tufa-casting, a difficult and exacting process which requires painstaking attention to detail and precise technique. Aaron has taken this demanding procedure to new and never before seen creative expressions. He credits the great Hopi jeweler Charles Loloma as being his artistic inspiration and he has stated that his background in Civil Engineering has really helped him with his casting abilities and it's easy from the daring and dramatic sculptural nature of his pieces to see why. His abilities have earned him many awards including an unprecedented eight "Best in Casting" awards at the annual Gallup Inter-Tribal Ceremonial.
In fine tufa-casting, what is most desired is the elusive combination of delicacy and strength both of which are immediately apparent in both the design and execution of this outstanding bracelet. To make things even more interesting, Aaron chose to set this bracelet with ten beautiful matched small round stones of the world's rarest and most expensive turquoise variety, the legendary "Lander Blue" spiderweb from Nevada which now retails at $200 plus per carat on the rare occasions when you can find it. Aaron made a small amount of this valuable stone go a long way by painstakingly cutting ten perfectly shaped very small stones which, because of their extraordinary pure color and placement, literally glow with exotic beauty at the points of the bracelet.
The bracelet measures 1 3/4" in width at its widest point. The interior circumference end-to-end is 5 1/2" and the gap between the terminals is 1 1/16" for a total interior circumference of 6 9/16". It weighs a substantial, yet very comfortable 92 grams or 3 1/4 ounces and it is properly signed "AARONA" on the interior. The bracelet has never been worn and is in new original condition. This is a gorgeous and masterfully-crafted piece from the fertile mind and skilled hands one of today's finest modern Native American Southwestern artists.
SOLD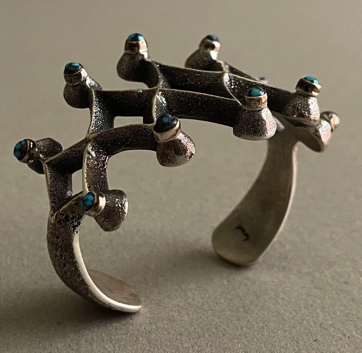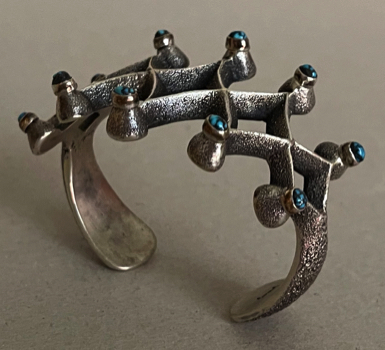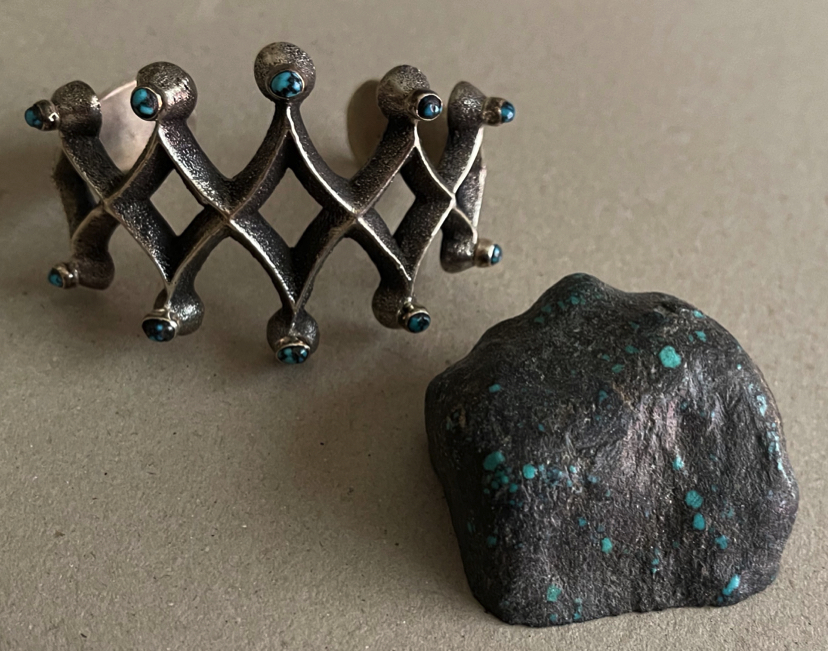 The bracelet pictured alongside a large rough nugget of Lander Blue turquoise.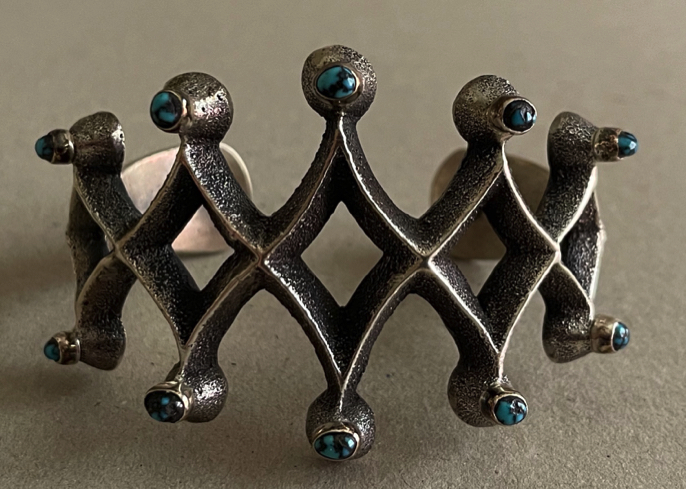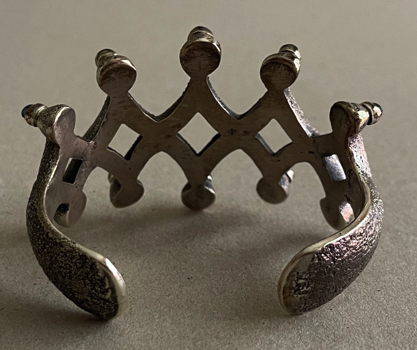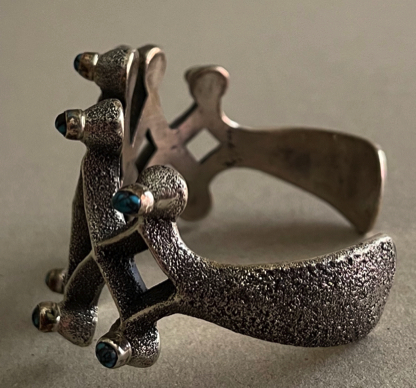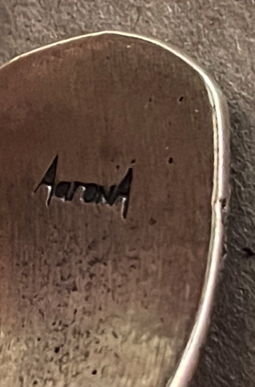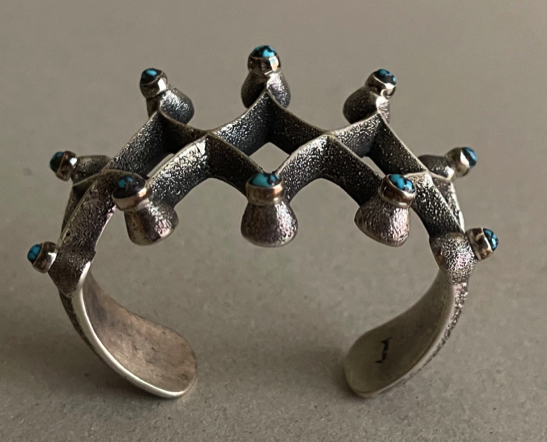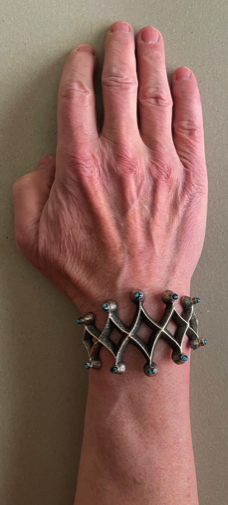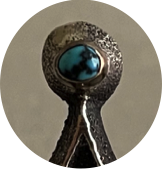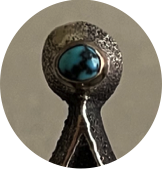 Lander Blue Turquoise
Rita J. Hapgood, a blackjack dealer at the Nevada Club at Battle Mountain discovered this turquoise deposit in 1973 while picnicking at Indian Creek. Later that year, she sold her claim to Marvin Syme and Henry Dorian, who formed the Lander Blue Turquoise Corporation. Lander Blue is almost entirely spider-webbed turquoise with colors from medium to deep blue and a black contrasting matrix. Although some other grades were found, only 90 to 110 pounds of the beautiful spider-web turquoise was mined. Lander Blue was a "Hat Mine," so called because you could cover it with a hat. Today, this is the rarest of all Southwestern turquoise "classics" is also of the highest grade and thus pound for pound, the most valuable turquoise in the world.
-Photo and quotation source and © Waddell Gallery, Scottsdale, AZ