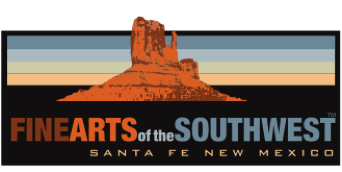 © 2010-2022 by Fine Arts of the Southwest, Inc. All rights reserved.
Unauthorized reproduction or use is strictly prohibited by law.
A beautiful Modernist Navajo silver and
Kingman turquoise "shadow-box" style bracelet
by Albert Cleveland, c. 1980
We don't know a great deal about this Navajo artist except for the fact that he was born in 1954 and that he could clearly make some really beautiful and unique-looking jewelry as evidenced by this stunning bracelet.
The bracelet has an interesting construction, it is made of fairly heavy cast silver into which a series of cut-outs were deliberately cast in in a very specifically designed configuration. These cut-outs were then oxidized or blackened to provide a darker contrast to the brightly polished silver upper surface of the bracelet's shank and the cut-outs were then set with beautifully matched hand-cut and polished bright blue natural Kingman, Arizona turquoise nuggets,15 nuggets in all.
The stones are all individually set in old-style "Foldover" type silver bezels. It's a lovely, clean-lined very Modernist-looking shadow-box style presentation which somewhat recalls the Hopi overlay style of jewelry which uses different layers of silver to provide depth or layering. The contrast between the brightly polished silver surface, the deeper recessed darker areas and the vibrant blue turquoise stones is visually quite striking.
Kingman Turquoise
Copper mining in the Mineral Park Mining District around Kingman has produced a large supply of turquoise through the years. The Kingman mine re-opened in September 2004 after being closed since the 1970's. About 95% of Kingman is stabilized which makes it very affordable. The remaining 5% of the Kingman turquoise stays in its natural state. High-grade Kingman turquoise is medium to dark blue color and frequently flecked with pyrite and sometimes quarts. In its high-grade form it has always been considered among the top quality turquoise. The best Kingman being produced today is deep blue with black matrix with some being spider web.
-Kingman turquoise photo and text source and © Waddell Gallery, Scottsdale, AZ

The bracelet measures a good-sized 2 1/8" in width at its widest center point and tapers down to 1/2" in width at the terminal ends. The inner circumference end-to-end is 5 3/4"and the gap between the terminals is 1 1/8" for a total interior circumference of 6 7/8". The bracelet weighs a fairly substantial 155 grams or 5 1/2 ounces but it sits very comfortably on the wrist. The bracelet is in very good original condition with a fair amount of visible age-appropriate wear and it is signed "AC" on the interior and it is also very lightly inscribd "Kingman" in electric pen.
This bracelet is a very impressive and substantial sculptural jewelry piece, extremely satisfying to wear and rewarding to gaze upon, a uniquely original, dramatic and elegant presentation by a clearly very talented artist.
No one will miss you when you're walking down the street, the grocery isle or the red carpet wearing this baby!
Price $1,575