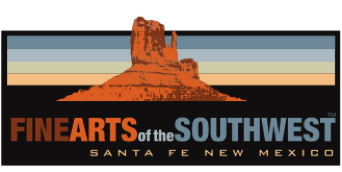 © 2010-2021 by Fine Arts of the Southwest, Inc. All rights reserved.
Unauthorized reproduction or use is strictly prohibited by law.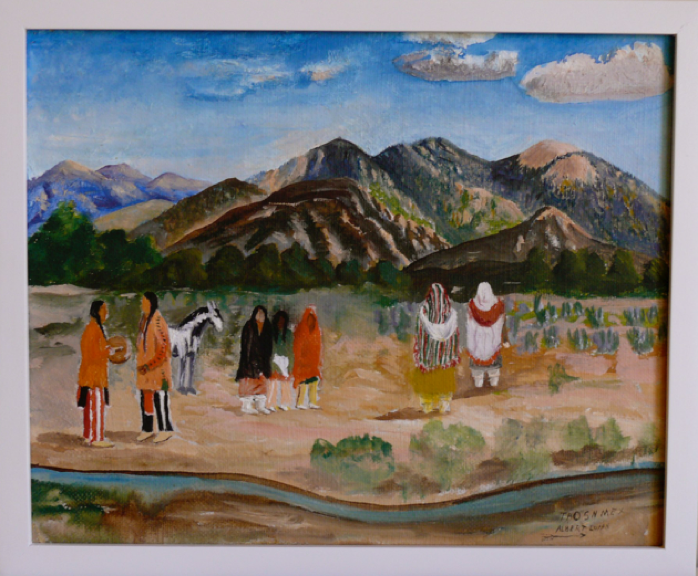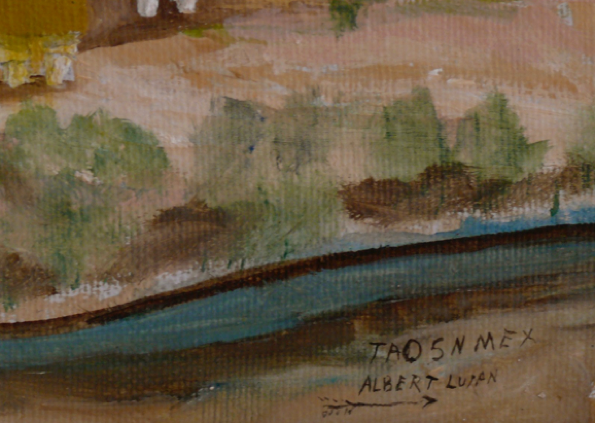 A Taos Pueblo painting of a group of
Taos Indians at Taos Pueblo by Albert Lujan, (Weasel Arrow) circa 1920's
Albert Lujan (1892-1948) was one of the very first Native American painters to paint in the European academic easel-painting manner. Lujan, along with two other early Taos Pueblo painters, Albert Looking Elk and Juan Mirabal, learned to paint by working as models and/or painting assistants for the early members of the famed Taos Society of artists. Critical acceptance eluded Lujan for decades. Early collectors and local museums showed little interest in his work as it was not identified as "Indian." However, in the past fifteen or so years that has begun to change rapidly. Several years ago, the influential Harwood Foundation Museum in Taos opened a comprehensive and excellent retrospective exhibition of works by Lujan, Looking Elk and Mirabal.
This marvelous painting is somewhat unusual piece for Lujan for a couple reasons. First and most significant, is the largely figural subject matter. Lujan very rarely painted people. His preferred instead to paint the various buildings at Taos pueblo, many without people altogether, although there may be an occasional figure silhouetted in the distance on a rooftop or in a doorway. His typical paintings usually include one of the main multi-storied pueblo houses, or a single adobe home, often with a traditional horno oven, the Taos mountains in the background and a bright blue sky studded with puffy clouds above. Second, is the size of this piece. Lujan's paintings are more typically postcard size (easier for tourists to carry and faster to paint than larger subjects) although he occasionally painted larger pieces such as this one.
This painting is a unique and fascinating cultural and artistic statement, especially for its early time. A traditional Taos Pueblo Indian taught to paint in the European academic easel painting style by American anglo artists in the early part of the Twentieth Century has depicted a traditionally-dressed group of his own people engaged in some unknown activity at their traditional home, the Taos Pueblo. The beautiful stream which runs down from the sacred Blue Lake through the Pueblo is in the foreground and the blanketed figures and a horse are presented in a somewhat flattened folk-art like perspective with the ever-present beauty and the awe-inspiring looming bulk of the Taos mountains in the background beneath the beautiful blue sky.
This painting is a story within a story, beautifully captured and presented by the particular nuances of a unique artist's eye. In this painting, Lujan shows himself to be the "Grandma Moses", so to speak, of Taos Pueblo. The painting measures 7 ½" by 9 ½' (sight), 8 ¾" by 10 3/4'" (framed) and is signed "Albert Lujan, Taos N. Mex " at the lower right. The signature is underlined with Lujan's arrow insignia representing his Taos Pueblo name, "Weasel Arrow". The painting is simply and appropriately framed in a hand-painted white wooden frame. The painting is in excellent original condition.
Price $3,750