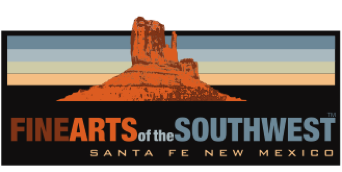 © 2010-2022 by Fine Arts of the Southwest, Inc. All rights reserved.
Unauthorized reproduction or use is strictly prohibited by law.

A superbly-crafted historic Navajo tufa-cast silver buckle set with rare Lone Mountain, Nevada spiderweb turquoise stones by Ambrose Roanhorse, c.1930's-50's
This remarkable buckle by the Internationally renowned Navajo silversmith and educator Ambrose Roanhorse (1904-1982) has a strikingly modernist, yet classic design sensibility and a formidable technical virtuosity and command of traditional Navajo jewelry-making methods. This is all completely consistent with the beautiful refined appearance and extremely high technical level of achievement we have always associated with Roanhorse's exceptional silverwork. This
is the reason why he remains the only Navajo silversmith to have ever received the honorific title of "Beshlakai Nataani"
or "Leading silversmith of the Navajo Nation", a title bestowed on him by the Navajo Tribal authority. In 1954, the French Government also officially recognized Roanhorse's superior achievements by awarding him their prestigious
"Palmes Academique" award.
"It sure feel good when you wear hand-made jewelry. If they use machine jewelry, by golly, one these days 20 years from now goin' to have big sandstorms-10 years, 8 years, maybe 5 years. That's the way I feel."
-Ambrose Roanhorse, 1936
Quotation from Billie Hougart, "The Little Book of Marks
on Southwestern Silver", TBR International, 2011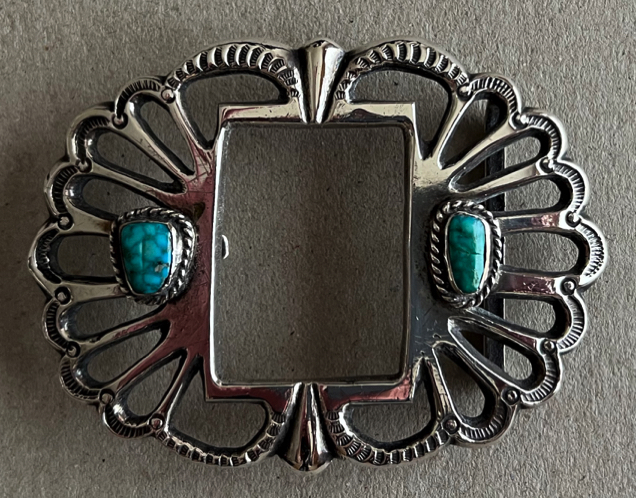 This buckle is so graceful, so harmonious and so lovely that the casual observer might never guess how painstakingly difficult the process of making such a piece really was. The buckle is gorgeously tufa-cast in a beautiful open-work design which is a nerve-wracking, uncertain and incredibly difficult process to achieve properly. It displays the ideal tufa-cast quality of strength and a certain delicacy simultaneously. Next, the buckle was beautifully and carefully decorated with fine chisel and stamp work designs and in a final flourish of artistic brilliance further embellished with the addition of two beautiful, high-grade Lone Mountain, Nevada blue spiderweb turquoise stones. Lone Mountain spiderweb is one of the rarest and most desirable of all varieties of American turquoise and now regularly sells in the range of $100 and upwards per carat when you are fortunate enough to be able to find it.
The turquoise stones are both set in old-style plain "fold-over" bezels which are further adorned with finely-twisted wire surrounds. The buckle measures 3 3/8" in width and 2 1/2" in height and it weighs a substantial 64 grams or 2 1/4 ounces. It will accommodate a belt of up to 1 1/2" in width. The buckle is signed, as we mentioned previously, with Ambrose Roanhorse's usual hallmark of a capital letter "A" inside an arrowhead with a broken tip or keystone. The buckle is in excellent original vintage condition, with a very minor crack to one stone and a hand-carved groove in the other stone but both stones are completely secure in their bezels.
This buckle is an outstanding and difficult to come by historic piece of traditional Navajo silverwork crafted by an extremely accomplished and renowned historic Navajo silversmith.
Price $3,150
Note: The leather belt pictured here is for demonstration purposes only and is not included in the sale
of this buckle. If desired, we can recommend an excellent custom belt maker here in Santa Fe.