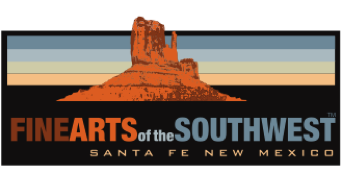 © 2010-2021 by Fine Arts of the Southwest, Inc. All rights reserved.
Unauthorized reproduction or use is strictly prohibited by law.

An exceptional Navajo Sterling Silver
and turquoise "Ranger" style buckle set
by Ambrose Roanhorse, c.1950's
The "Roan Ranger" strikes again with this marvelous piece. This Ranger-style buckle is the handiwork of the renowned Navajo master artisan Ambrose Roanhorse, the only "Beshlakai Natani" or "Leading Silversmith of
the Navajo Nation" ever to be officially recognized as such by The Navajo Tribal Authority.
Ambrose Roanhorse (1904-1982) was a towering giant of Navajo silversmithing; instructor at The Santa Fe Indian School, Supervisor of the U.S. Government's Indian Arts and Crafts Board quality assurance program, Director of the Fort Wingate Guild, Co-Founder and first Director of The Navajo Arts and Crafts Guild and as educator and lifelong brilliant artist he was an inspiration to many. In 1954, Roanhorse was one of a select group of Native American artists to be awarded the prestigious "Palmes Academique" award by the French Government. His work is on display at many major museums including the Smithsonian National Museum of the American Indian in Washington D.C., The Millicent Rogers Museum in Taos, New Mexico and The Wheelwright Museum in Santa Fe, New Mexico.
This Ranger set consists of three perfectly-crafted pieces in all; buckle, keeper and tip. All three pieces are set with beautiful bright blue round hand-carved turquoise stones, possibly from the Sleeping Beauty turquoise mine in Arizona. There are three stones set in the buckle and one each in the keeper and tip. All the stones are set in beautifully serrated silver bezels. All three pieces are finely decorated with very precisely and beautifully applied delicate stampwork designs and in a lovely final touch all three pieces are outlined with finely-twisted silver wire surrounds. It's a level of superior artistry and craftsmanship worthy of this master's touch.
"Hi-Ho Silver!"
-The Lone Ranger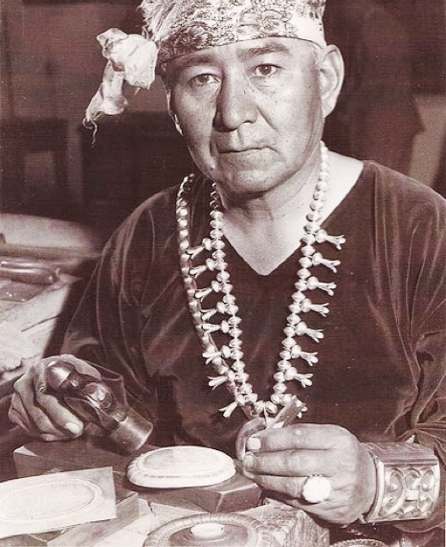 "It sure feel good when you wear handmade jewelry."
-Ambrose Roanhorse, 1936
Clayton Moore, a.k.a."The Lone Ranger"
Photo source and © Alamy
Ambrose Roanhorse, a.k.a."The Roan Ranger"
The buckle measures 2" in length and 2 3/8" in width, the keeper measures 1 1/8" in width and 1/2" in length and the tip measures 1 1/4" in length and 3/4" in width. The three pieces together weigh 37 grams or 1 1/4 ounces.
The buckle and keeper will accommodate a belt of up to 7/8" in width. As can be seen here the set is not currently mounted on a wearable belt; just on a leather demonstration strip. We can recommend an excellent Santa Fe custom leather shop to make you a belt, if desired.
The Ranger set is properly signed on the back of the buckle with Ambrose Roanhorse's distinctive capital letter "A" inside a keystone signature and it is also marked "Sterling". All three pieces of the set are in excellent original condition with a slight amount of age-appropriate wear.
Be a star of stage and screen and your own living room with this beautiful Ranger buckle set.
The Lone Ranger himself would be very jealous!
SOLD