© 2010-2023 by Fine Arts of the Southwest, Inc. All rights reserved.
Unauthorized reproduction or use is strictly prohibited by law.
A beautiful pair of Mid-Century Modernist handmade brass earrings by Art Smith, New York City, c.1940's-1950's
These earrings are wonderful pieces made by an extraordinary and unique jeweler. Arthur George (Art) Smith (1917-1982) was born in Cuba of Jamaican parents and moved to Brooklyn in New York City with his family when he was three years old. After his initial art training at Cooper Union and NYU, Smith went to work for the talented New York City jewelry-maker, Winifred Mason, another Afro-American artist with a Caribbean ancestry, who owned and operated an independent jewelry shop in Greenwich Village with a prestigious national and international clientele for her custom-made one-of-a-kind jewelry pieces.
After his apprenticeship with Mason, at the tender age of 29, Smith opened his own tiny storefront
jewelry shop in 1946 also located in Greenwich Village which he maintained until 1979. During those thirty-plus years Smith made his wildly-inventive individualistic highly-Modernist brand of jewelry, like his mentor Winifred Mason, working largely in copper and brass due to financial restraints and only very rarely in silver or gold and usually then just for commissioned pieces.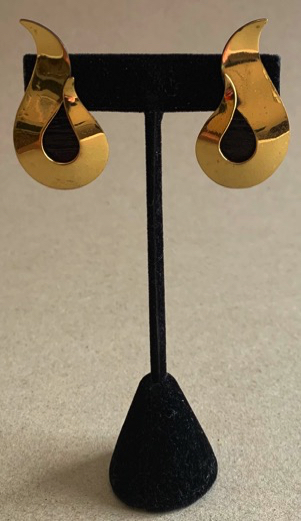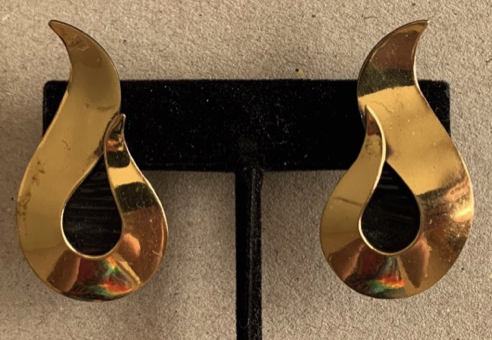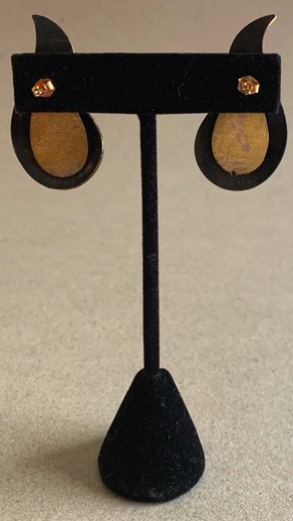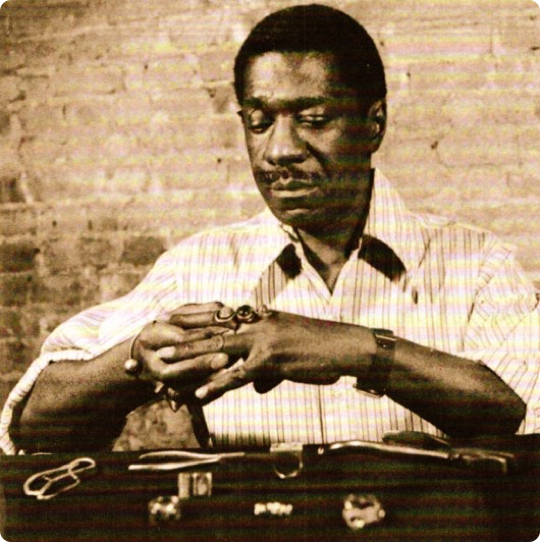 Art Smith with some of his jewelry, c. 1950
Photo source and © ganoskin.com
Art Smith was also a serious Jazz and Modern dance fan and in this capacity, he became well-acquainted with some of the leading Jazz musicians of the period including Lena Horne, Harry Belafonte and Billie Holiday and they and others were the source of numerous commissions for Smith. As his reputation grew, Smith's work was featured in Vogue and Harper's Bazaar magazines and was the subject of an exhibition at the Museum of Contemporary Crafts. Smith died in 1982. In 2008, The Brooklyn Museum put on a major retrospective exhibition of his life's work. Smith's highly-collectible jewelry is held today in numerous important private collections as well as in major institutions such as The Cooper-Hewitt Museum, The Museum of Arts and Design and The Boston Museum of Fine Arts.
These striking earrings most likely date from the late 1940's or 1950's and they feature a unique type of overlay construction with hammered, dramatically curving and contoured teardrop-shaped one-piece sections of brightly-polished brass metal placed over or on top of a blackened or patinated inner panel to create a beautiful sense of contrast, depth and relief. The blackened inner panel is also deliberately ridged to add a further degree of subtle texturing and contrast to the earrings.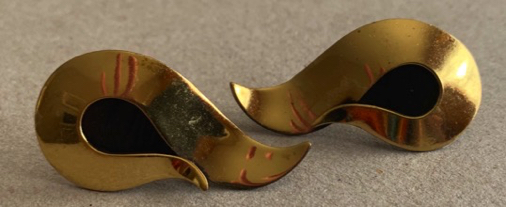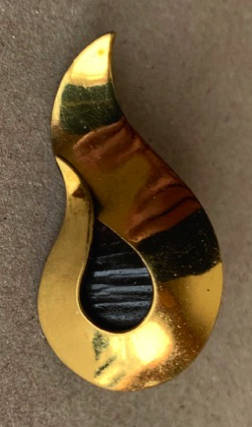 The earrings measure 1 3/4" in height and they are 7/8" in width at their widest points and they weigh an extremely comfortable and wearable 7 grams or 1/4 ounce each. The earrings are in excellent condition. They were originally mounted on screw back closures which had somewhat deteriorated over time. We asked our professional fine jeweler
to replace these with more up-to-date post-type closures and this work was done extremely well and the posts work perfectly. The earrings are properly signed "Art Smith" on the back of each earring in Smith's usual cursive signature.
These earrings are unique and beautiful Modernist jewelry made by an important and unusually talented American
artist possessed of a distinct and highly-original point of view. In this capacity, they are beautiful and unique wearable artworks; true "statement" pieces of the highest order.
Price $1,750