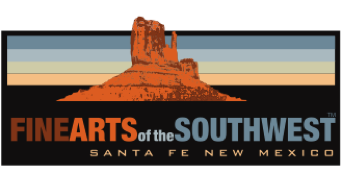 © 2010-2021 by Fine Arts of the Southwest, Inc. All rights reserved.
Unauthorized reproduction or use is strictly prohibited by law.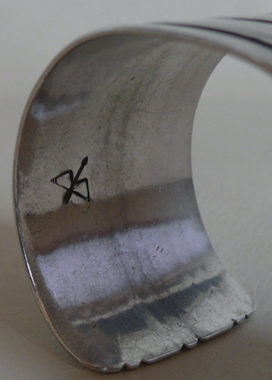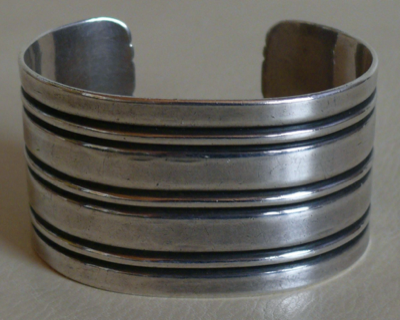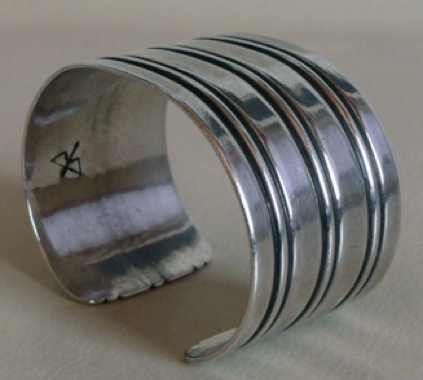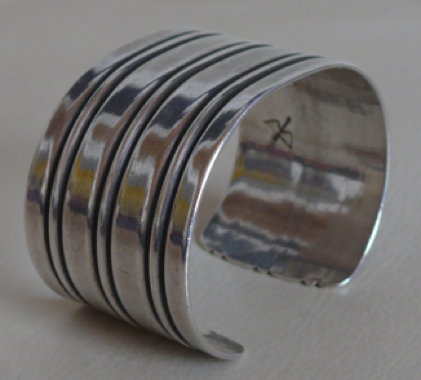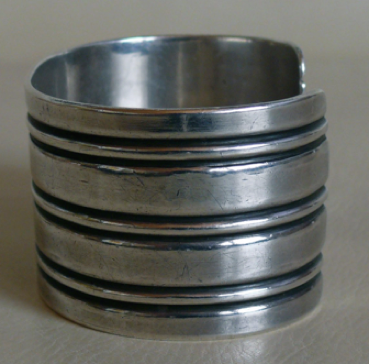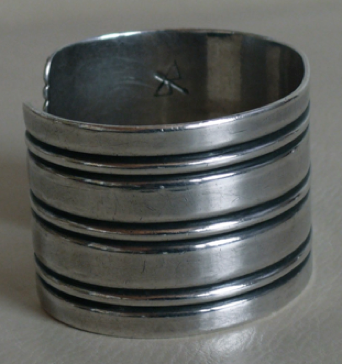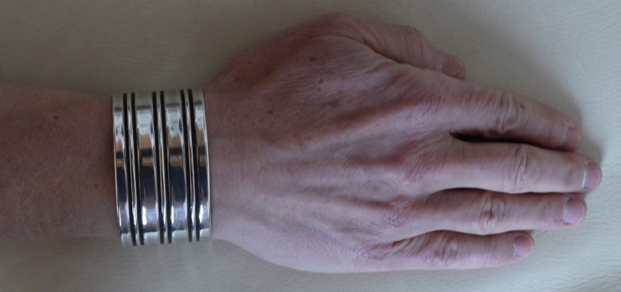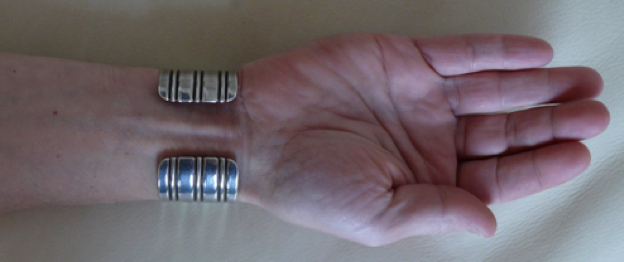 An exceptionally fine modernist-style
Navajo silver cuff bracelet by Austin (Ike) Wilson,
c.1930's-1950's
One of the titans of 20th Century Navajo silversmithing, Austin Wilson (Active 1930's-1950's) was an extraordinarily accomplished artist. Like his talented contemporaries and colleagues, Ambrose Roanhorse and Kenneth Begay, Wilson also had a distinctly Modernist design sensibility and he used his formidable mastery of traditional Navajo silversmithing techniques to create pieces, like this lovely bracelet, with a startlingly spare and highly-refined design sensibility. The bracelet is defined by six beautifully-applied, parallel and continuous bands of deep chisel-work and the shank is thus "divided" into four wide and three narrow encircling bands. The contrast created by the subtle beveling of these bands give the bracelet an elegant, streamlined appearance and a certain feeling of lightness. To achieve this feeling in thick metal is quite something. It may look simple but it is truly anything but.
The bracelet measures 1 3/8" in width along its entire length. The bracelet's inner circumference end-to-end is 5 3/4" and the gap between the terminals is 7/8" for a total interior circumference of 6 5/8". It weighs a substantial yet comfortable 63 grams or 2 1/4 ounces. The bracelet is in excellent original condition with a fine soft patina from age and use. The bright "color" of the silver on this piece is particularly beautiful.
The bracelet is properly signed with Austin Wilson's characteristic "Bow-and-Arrow" hallmark. You can argue with your husband or Wife, your Boyfriend or Girlfriend or your Significant Other, as the case may be, about who gets to wear this outstanding and elegant piece more often. You will both win—there is more than enough enjoyment to go around here for both wearer and admirer alike!
Price $3,150