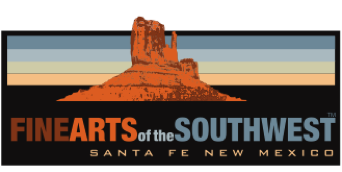 © 2010-2023 by Fine Arts of the Southwest, Inc. All rights reserved.
Unauthorized reproduction or use is strictly prohibited by law.
An exceptionally fine and beautiful
Navajo ingot-silver and turquoise bracelet
by Austin (Ike) Wilson, c.1930-1960
One of the towering titans in the distinguished history of 20th Century Navajo silversmithing was Austin Wilson
(Active 1930's-1960's) who was a most extraordinary and accomplished artist. Like his talented contemporaries and colleagues, Ambrose Roanhorse (1900-1981) and Kenneth Begay (1913-1977), Wilson also had a distinctly traditional training completely-versed in classic technique, but artistically often ventured into a more Modernist design sensibility and this combined with his formidable mastery of Classic Navajo silversmithing methods allowed him to create pieces such as this lovely bracelet, with a startlingly refined and elegant design sensibility combining the old and the new.
The bracelet combines and conveys the unique ideals of delicacy and strength giving it an elegant, streamlined appearance and a certain feeling of lightness and delicacy. To achieve this ethereal feeling in the unforgiving medium
of precious metal is quite something. It may look simple, but in reality it is truly anything but. The unique details of the craftsmanship here are many and extraordinary and they are well worth examining in some detail. The bracelet's shank is made of cast ingot-silver, most likely from melted-down old American silver coins. The silver shank was beautifully triple-split to allow for greater width.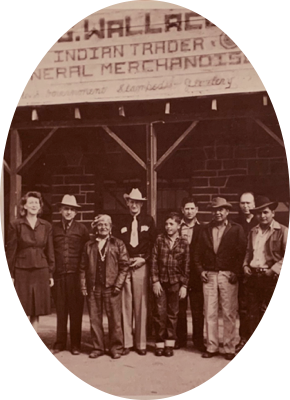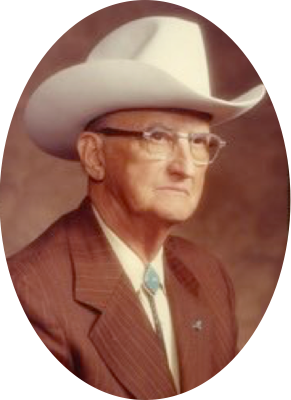 At left, Charles Garrett (C.G.) Wallace, c. 1920's. At right, C.G. Wallace with some of his Native silversmiths at his trading post at Zuni Pueblo, c. 1920. Austin Wilson might possibly be pictured here.
Left and right photo source and © Sotheby Parke Bernet
This bracelet is a veritable textbook of technical and artistic virtuosity at the highest level and it's fun to speculate upon whose hands it might have passed through over the course of its 60-90 year lifespan. It is well worth keeping in mind that Austin Wilson spent a great deal of his professional career working for the renowned Zuni Pueblo Indian Trader, Charles Garrett (C.G.) Wallace (1898-1993) and making jewelry for Wallace's discerning ultra high-end clientele. One can easily imagine this bracelet to have been a special piece made for and sold by C.G. Wallace to one
of his special clients. As an interesting historic sidebar, Austin Wilson was not only a great silversmith himself,
he was a formidable silversmithing teacher and mentor as evidenced by the runaway success of the extraordinary
work of his talented apprentice and nephew, the contemporary Navajo silversmith, McKee Platero (b. 1957).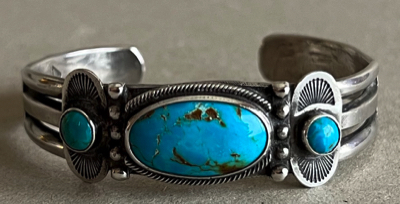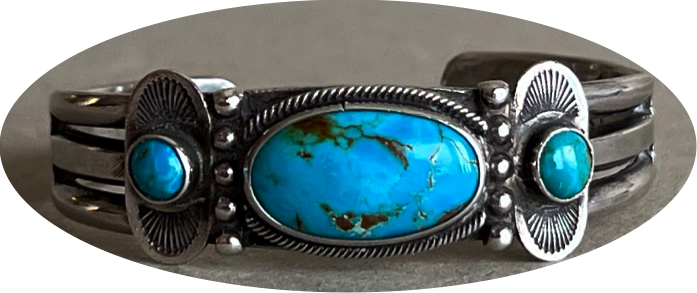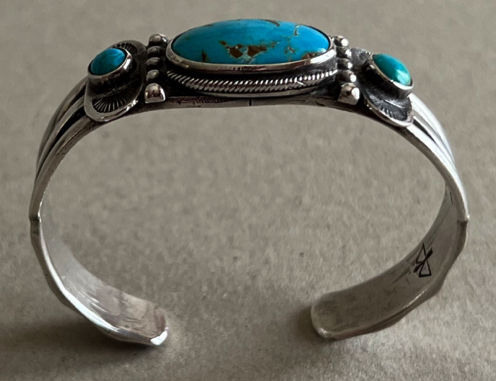 The bracelet features three beautiful matching intensely sky-blue turquoise stones with a lightish brown matrix. We are not completely certain which mine these stones are from, but the particular vibrancy of their blue color and the matrix suggest the storied Tiffany Cerrillos mine in the historic Cerrillos Hills some 20 miles or so south of Santa Fe, New Mexico, a favorite stone of the ancient pre-historic Puebloan civilization of Chaco Canyon in Northwestern New Mexico. Alternatively, the stones might possibly be Bisbee, Arizona turquoise, but we give the slight nod to Cerrillos. The center stone is a larger oval cabochon set horizontally which is flanked on either side by smaller round stones.
Things really get interesting, however, when you examine the details of the finely-wrought bezel platforms and surrounds; all the stones are simply set in plain silver foldover style bezels but the simplicity ends there. The central stone is flanked on the top and bottom by an exceptionally well-stamped silver wire surround and also bordered on both sides by two rows of five finely-applied silver "raindrops" and the two side stones are both mounted on vertical oval-shaped applied silver plates which have also been perfectly and profusely decorated with precise stampworked designs. Both ends of the bracelet's silver shank are also beautifully decorated with stampworked designs.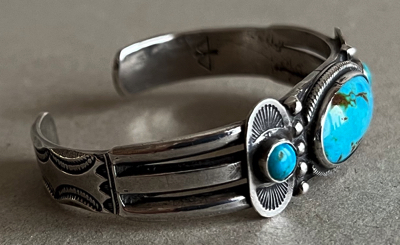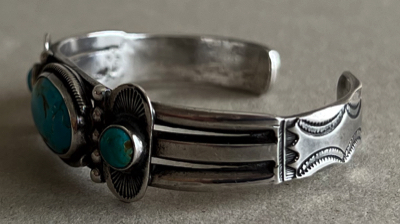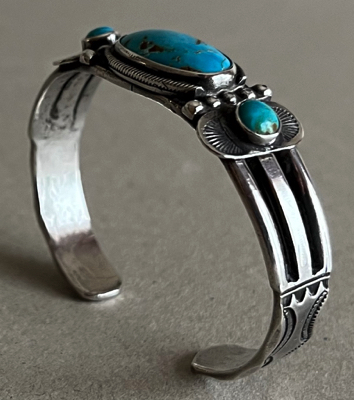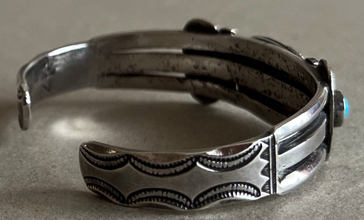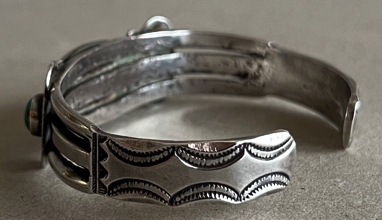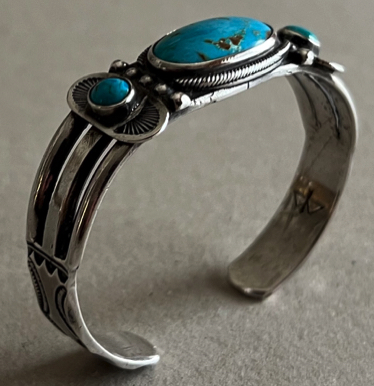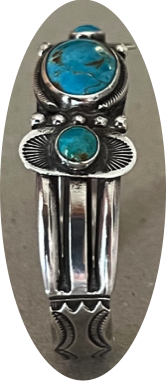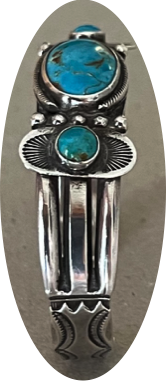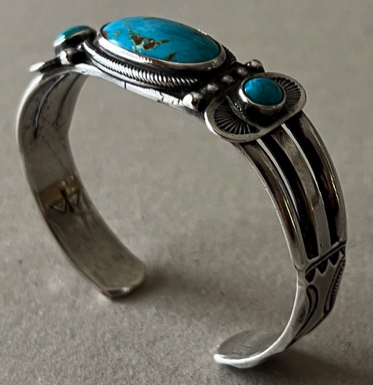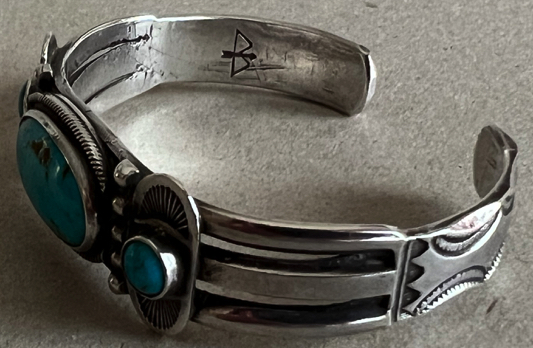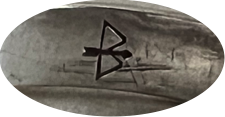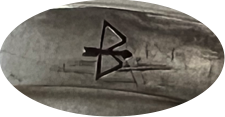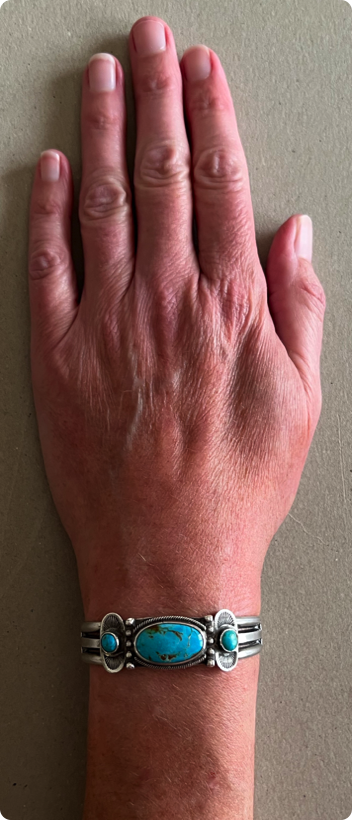 The bracelet is sized for the smaller wrist. It measures 5/8" in width at its widest center point and tapers down
to 3/8" in width at the terminal ends. The bracelet's inner circumference end-to-end is 5 1/4" and the gap between the terminals is 3/4" for a total interior circumference of 6". It weighs a very comfortable and easily wearable 30 grams
or 1 ounce. The bracelet is in excellent original condition with a fine soft patina from age and use. There are a number of visible tooling marks on the ingot-silver shank which only adds to the authenticity of the piece as does the bright whitish "color" of the silver which is a particularly beautiful indicator if the use of coin ingot silver. Finally, the bracelet's terminals are just the tiniest bit misaligned, but this is of no real consequence.
The bracelet is properly signed with Austin Wilson's characteristic "Bow-and-Arrow" hallmark on the interior.
You can argue with your husband or wife, your boyfriend or girlfriend or your significant other, as the case may be, about who gets to wear this outstanding and elegant piece more often. You will both win, of course, as there is more than enough enjoyment to go around here for both wearer and admirer alike!
This bracelet is an exceptionally precious and elegant piece from the hands of a formidable artist and its next fortunate owner(s) will be able to admire and enjoy it at great length for its unique beauty, history and artistry.
SOLD